A group of 3 adjoining cottages with the Tithe Number 488 leading from Nowhere Lane. To see link to another building in garden click on candle factory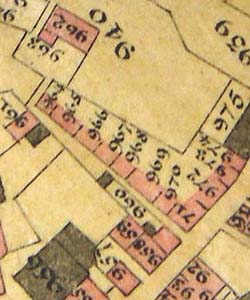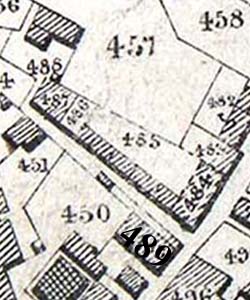 Nowhere Lane in 1837 & 1841
The coloured plan pre-dates the later Tithe Map and is more detailed in that it shows specific houses in pink within the later tithe number. For example 962 shows the main 3 gabled House (similar to Wastfield House (489) and an adjoining house(963) wherein 4 families were shown living in 1841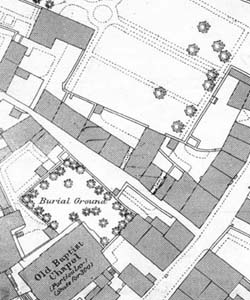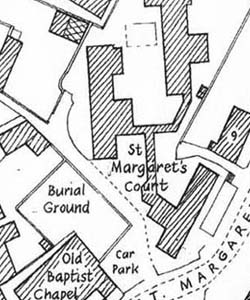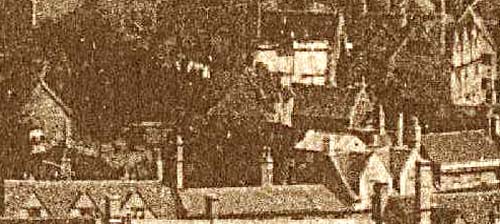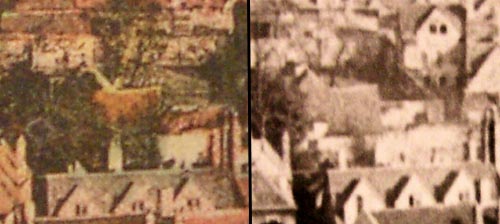 The 3 gabled building (t.no. 488 in 1900 and 1880)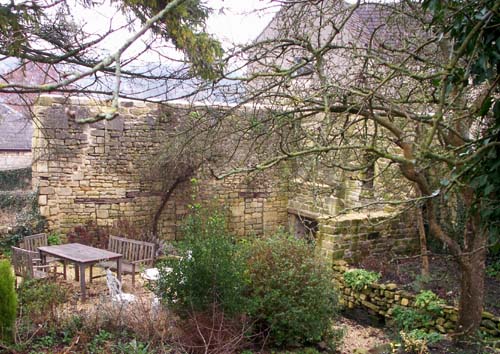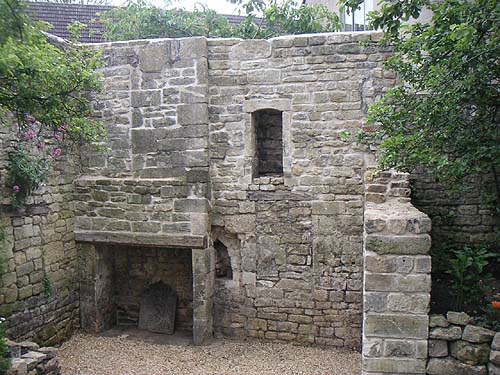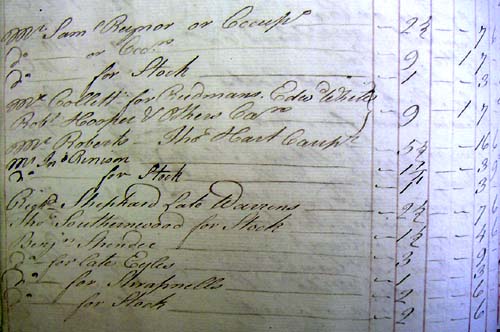 Poor Rates 1789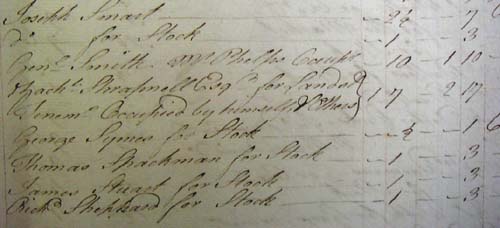 The Will of Zachariah Shrapnell 1794
In the name and by the Grace of God Amen I Zachariah Shrapnel of Bradford in the County of Wilts. Esq. ...all that my messuage or mansion House wherein I now Dwell situate and being in St. Margaret's Street in Bradford aforesaid together with the offices, Garden, Paddock, Stable, Chaise House and appurtenances hereunto belonging and near adjoining. Also all that Messuage or tenement near adjoining to the said Mansion House in St. Margaret's Street aforesaid with New Workshop and other Appurtenances thereunto belonging now in the Occupation and Renting of Benjamin Richardson, Cloth worker. Also all that Messuage or Tenement Situate at the Bottom of a place called "Nowhere Lane" in Bradford aforesaid with the New Building adjoining and Appurtenances belonging now in the occupation and renting of Richard Sheppard (who is described as a Victualler in the 1791 directory for the town).

1841 Census:
The Building is owned by the Shrapnells and let to:
488(i)
Smith Robert 25 Ag.Labouer
Smith Ann 25
Smith John 5
Smith Elizabeth 10 months
488(ii)
Hedge Samuel 65
Hedge Charlotte 60
Hedge Mary 15
488(iii)
Frankling Frederick 20 Maltster
Frankling Leah 25 Dress Maker
Frankling Jevis 7
Frankling William 5
488(iv)
Grinnell James 60 Sawyer
Grinnell Elizabeth 66

By 1851 Census none of these people are shown living there, it may have been converted by the Frickers or longs into Workshops soon after they move in. As can be seen from the 1851 Census Henry has 9 children and would have had to have had workshops. Frederick Fielding, a Carpenter had moved to Bridge Street since 1841.
FRICKER Henry HD M 40 Plumber Painter
FRICKER Ann WI M 40
FRICKER Ann S.W. DA U 19 Scholar (At Home-Deleted)
FRICKER Sarah E. DA U 18 Scholar (At Home-Deleted)
FRICKER Emily Mary DA U 17 Scholar (At Home-Deleted)
FRICKER Emma M. DA U 16 Scholar (At Home-Deleted)
FRICKER Henry E. SO U 14 Scholar (At Home-Deleted)
FRICKER Frederic D. SO U 13 Scholar (At Home-Deleted)
FRICKER Julius A. SO U 11 Scholar (At Home-Deleted)
FRICKER George H. SO U 9 Scholar (At Home-Deleted)
FRICKER Sidney A. SO - 8 Scholar (At Home-Deleted)
WEST Francis VR W 39 Plumbers Lab
Reference Book to 1864 Bradford Map :
486/487 occupied by Hedges(Candle Factory)
488 Shrapnell Fricker Old Building included with well.
This indenture made the first day of February 1868 between Henry Fricker of Bradford on Avon, plumber and glazier
........ and also all those workshops with the land, outbuildings and erections and premises belonging thereto adjoining the last described hereditaments leading out into Nowhere Lane and numbered 488 and the said Tithe Map and in the said Book of Reference therefore said stated 8 perches and which said workshops formally consisted of three cottages or tenements but have recently been converted into workshops by the said Henry Fricker and which are now in or lately was in his possession and part of the same in the occupation of Charles Long Builder.