Scroll down to find out more about the property.
Click on images or Charmouth Home to return back.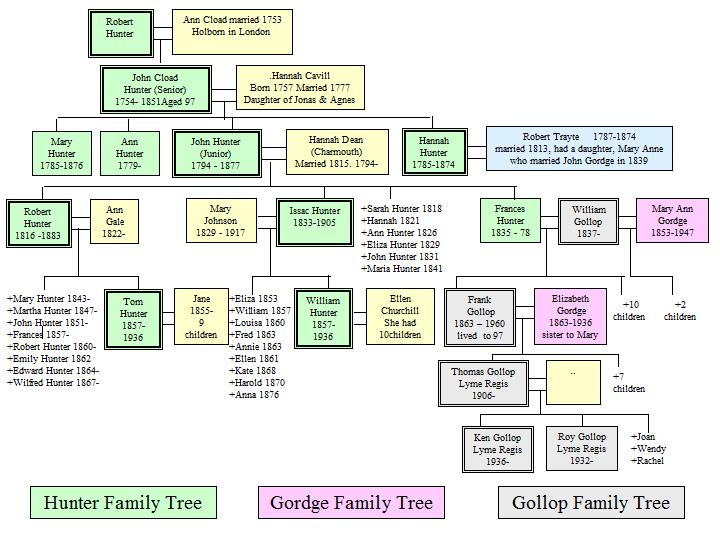 John Hunter Senior (1754-1851)
The Hunter Family were to play an important Role in the History of Charmouth. Their lives were mainly centred on the Beach, where they were involved with Fishing, Bathing Machine, Bathing Tents, Fossil Hunting and many other activities over the centuries. I have been through all available records and the earliest reference is of a marriage between Hannah and John Hunter at the Independence Chapel. The family seem to have been regular worshippers there and most of the information I have gathered comes from their patchy records.
John was born in 1754 in London and was to live to be 97 years of age, when he died in 1851. Sadly his latter years were spent in the Almshouse on the Street, surviving on Parish Relief. He married Hannah Cavill in 1777,whose family lived in the village. This may be the reason for him moving to Charmouth as he was aged 23 at the time. They were to have at least four children. The first was Ann in 1779 and the last John in 1794. The 1807 Land tax shows John Hunter renting Farrs from William Edwards, who was also renting the 3 Crowns (Coach and Horses) to Joseph Bradbeer. The property once owned by the Farrs was Beech House.
The Poor Rates for 1814 show John moving to "Granville House" at this time next to that of John Potter, a Shoe Maker and Benjamin Diment, the village Blacksmith, where the Fossil Shop is today. A Census for 1812 describes him as a Labourer and having 2 males and 4 females living there.
The Clandestine marriage of Robert Hunter to Ann Cload on the 16th September 1753 of the parish of St. Andrews in Holborn.Their entry appears in the May Fair Register,St. Georges Chapel,Hyde Park, London. the May Fair Chapel was used by professional classes and the aristocracy for marriages, including the Dukes of Cleveland and Hamilton, Lord Stanley, and Lord George Bentinck .

John Cload Hunter, son of Robert and Ann Hunter is hown here being baptised on the 17th November 1754 at St. Andrews Church, Holburn in London.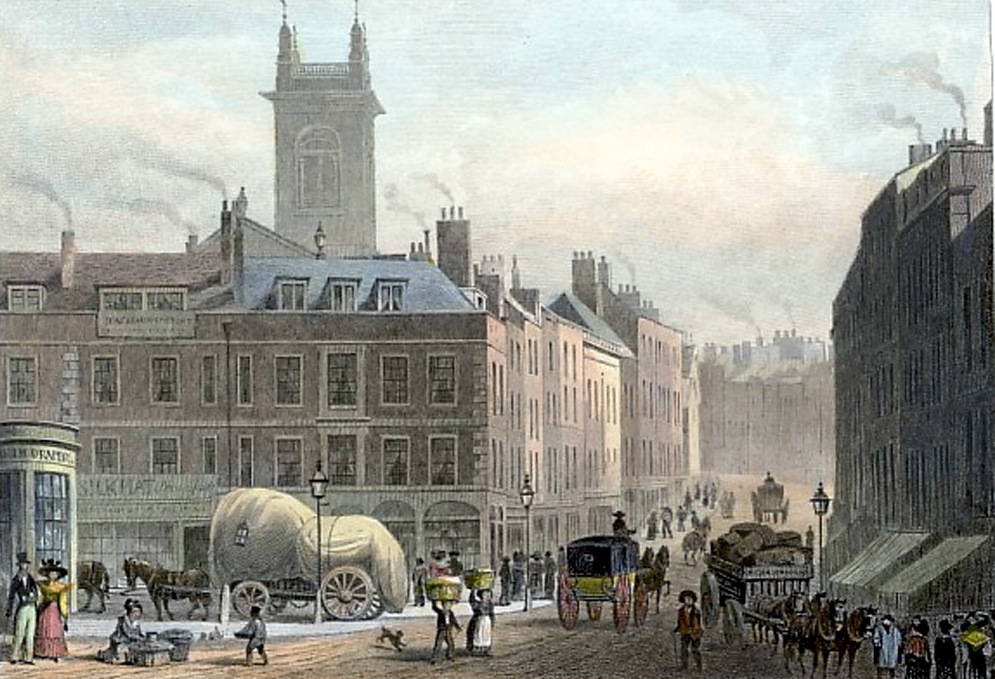 This view of Holborn shows St. Andrews Church in the background.

Hannah, daughter of Jonas and Agnes Cavill baptised on February 27th 1757 at the independent Chapel in Charmouth. Hannah would marry John Hunter

Marriage Banns for John Hunter and Hannah Cavill at Charmouth in 1777

Marriage for John Hunter and Hannah Cavill at Charmouth in 1777. Edward and Elizabeth Farr are witnesses and the ceremony is carried out by the Rector, William Coombes.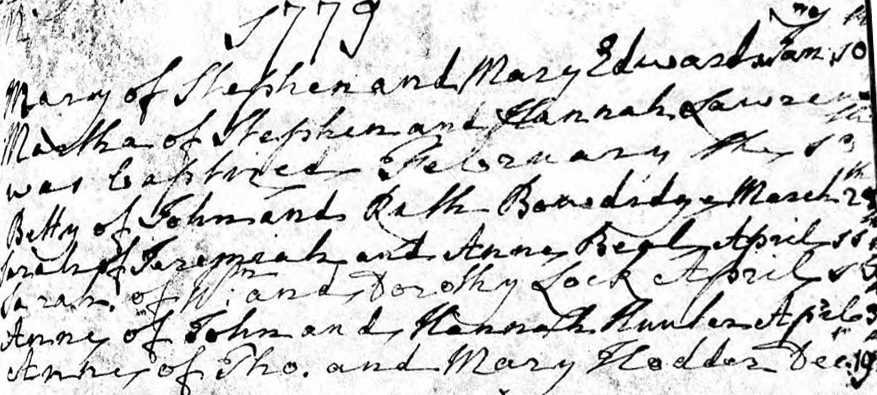 Anne to John and Hannah Hunter baptised in Charmouth in 1794

John Hunter Jnr, is baptised at the Independent Chapel on May 18th 1794.

The 1807 Land tax shows John Hunter renting Farrs from William Edwards, who was also renting the 3 Crowns (Coach and Horses) to Joseph Bradbeer. The property once owned by the Farrs was Beech House.

A Census was taken in the Village in 1813 and it is interesting as it shows John Potter Snr., living at "Granville House " with 5 Males and 3 Females in his household. He was renting the adjoining building to John Hunter Jnr, described as a Labourer, with 2 Males and 4 Females. Their neighbour was Benjamin Diment, the Village Blacksmith in what is the Fossil Centre on The Street today.
The House to the right, where John Hunter lived from 1815 until 1832. It was rebuilt after a disastrous fire in 1880 and renamed Granville House.

It was first owned by John Potter in 1814 and then his son William Potter a cordswainer (Shoe Maker).The old house occupied a space at least 8 feet further away from the pavement.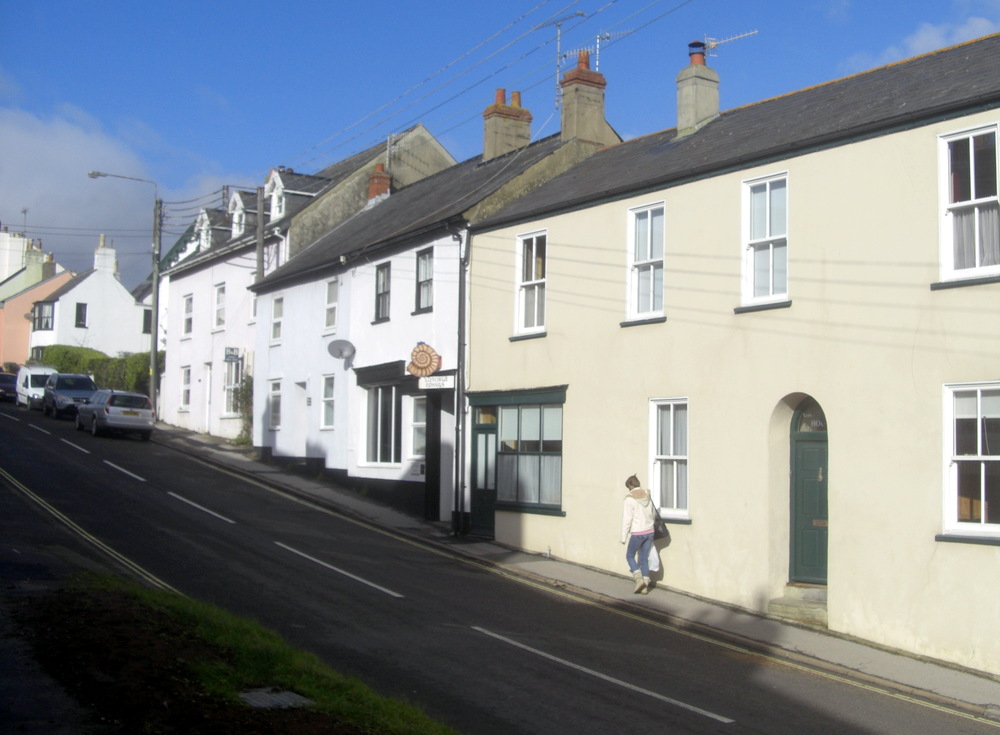 The Same View Today

Poor Rates for 1816 show John Potter renting a house to John Hunter Snr.

Poor Rates for 1832 show William Potter still renting a house to John Hunter Snr.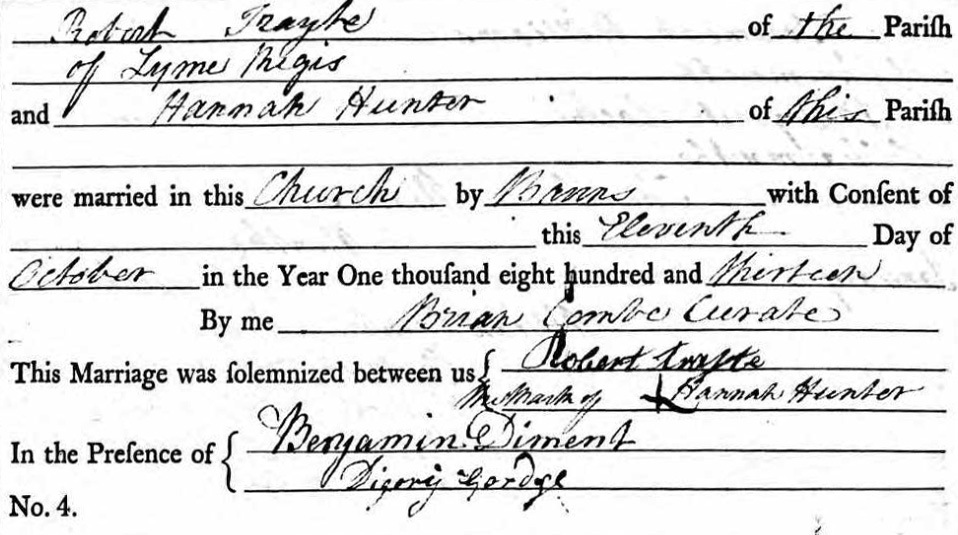 In 1813, Hannah, daughter of John and Hannah Hunter was married in Charmouth to Robert Trayte of Lyme Regis. The couple continue to live in Charmouth on the Street on the 1841 Census. He appaers on the 1837 Jury List as a Boot and shoe maker. In 1874 there is a curious record for Hannah(aged 88) and her husband Robert(aged 86), who are shown being buried on the same day.

The 1841 Census shows John Hunter (Senior), now 86 with his grandaughter, Eliza, living on the Axminster Road in Charmouth.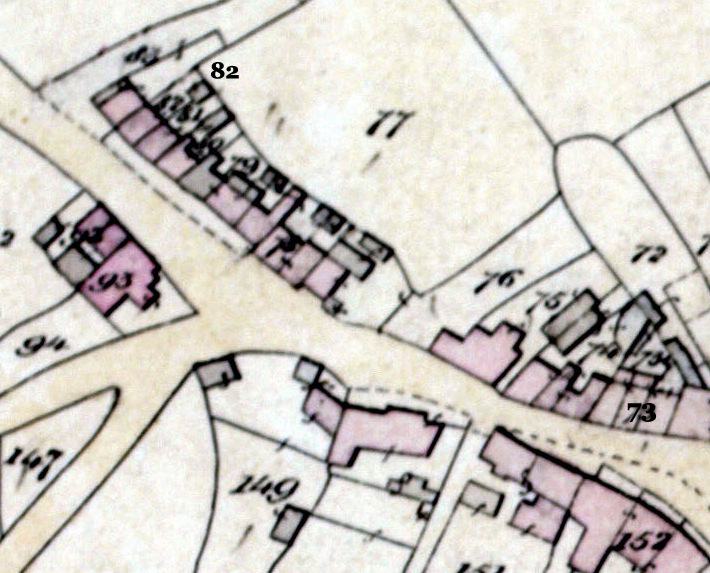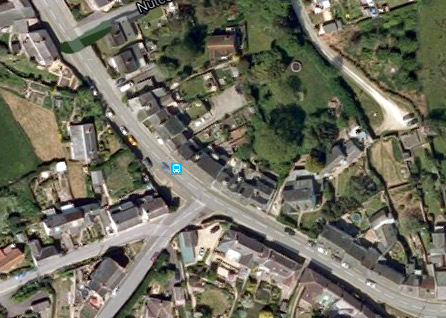 The 1841 Tithe Map shows John Hunter Senior at no. 82 on the Axminster Road. The map also shows his former house no. 73, where the Fossil Shop is today. He is still living there in 1841 as can be seen by the Tithe Map and Census for that year. He is a widower by then and his grand-daughter, Eliza aged 10, is staying with him.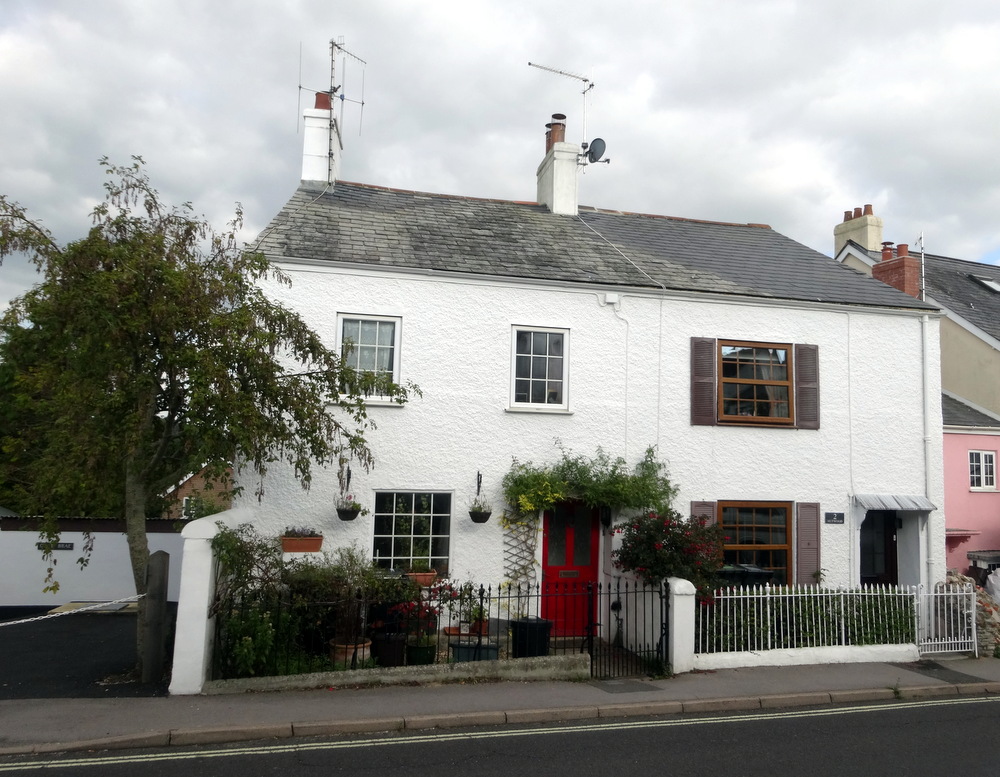 The house on the right where John Hunter Senior lived in 1841.

By 1851 john Hunter Senior is 97 years of age, an amazing feat for those times. He is living in the Almshouse, which stood just below The Court on the Street. It is especially interesting that it shows him originating from London in 1754. This was the year that he died.
John Hunter Jnr. (1794-1877)
John Hunter Jnr. was to make his name as a Fisherman and Collector of Fossils. He was born in 1794, and at the age of 21 married Hannah Dean also living in Charmouth at the Independent Chapel. They were to go on to have 10 children, all of whom are recorded at being baptised almost annually at the Chapel. When their first is born and christened Robert, John is described as a Sail Cloth Weaver, which continues almost each year until 1831, when he is shown as a Fisherman, which he was to remain for the rest of his life. He would have worked from home supplying Cloths to William Burnard who had his factory near the Bridge. Sailcloth manufacture was Charmouth`s major business, but went under with the ending of the Napoleonic Wars. The largest firm was that run by Jacob Ridley Kitt on a site where Charmouth Lodge is today, which went bankrupt in 1815. William Burnard was a stalwart of the Independent Chapel, as were most of the businessmen of the times. J.Garland, of Dorchester, wrote in the Naturalist in August 1854,
"I observed at Charmouth, in this county, one day en passant, the following newly described Trade " on a sign "John Hunter, Fossiler.N.B. Pleasure boats for hire."
John was once caught in the act of smuggling which was rampant along the coast at that time, and was heavily fined and had his property confiscated. As a result of this he abandoned this sideline and stuck to selling Fossils, Fishing and keeping pleasur boats.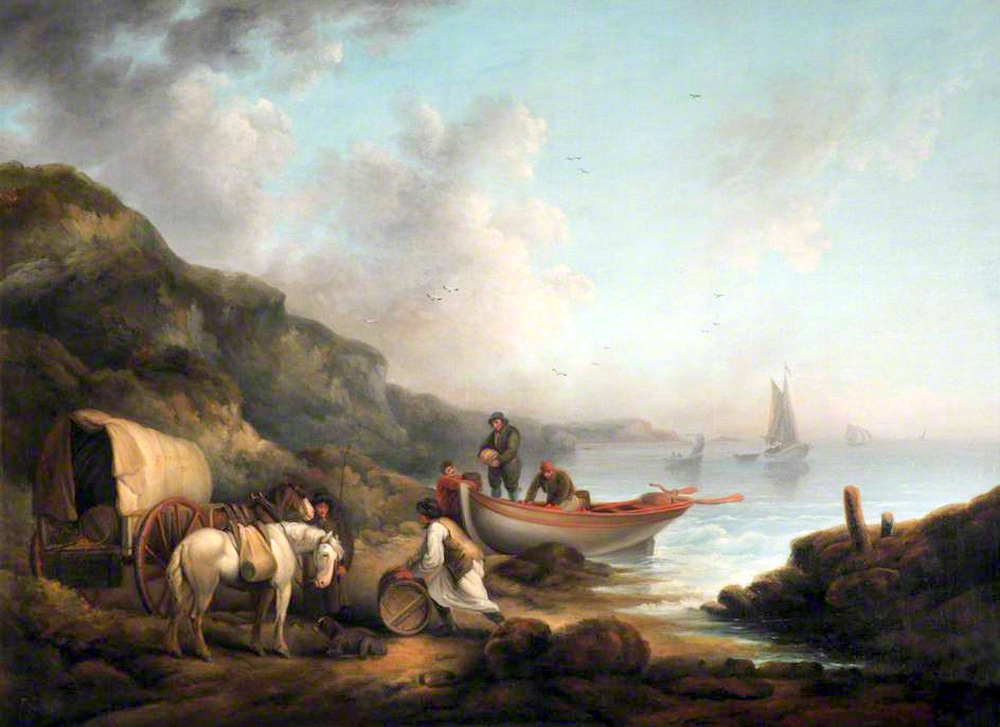 A painting of Smugglers on the Dorset Coast.


Robert Hunter is baptised at the Independent Chapel in Charmouth on June 9th, 1816 to John Hunter jnr.and Hannah. Her maiden name is given as Dean and he is described as a Sail Cloth Weaver. He would have worked for William Burnard at the Mill where he had a factory.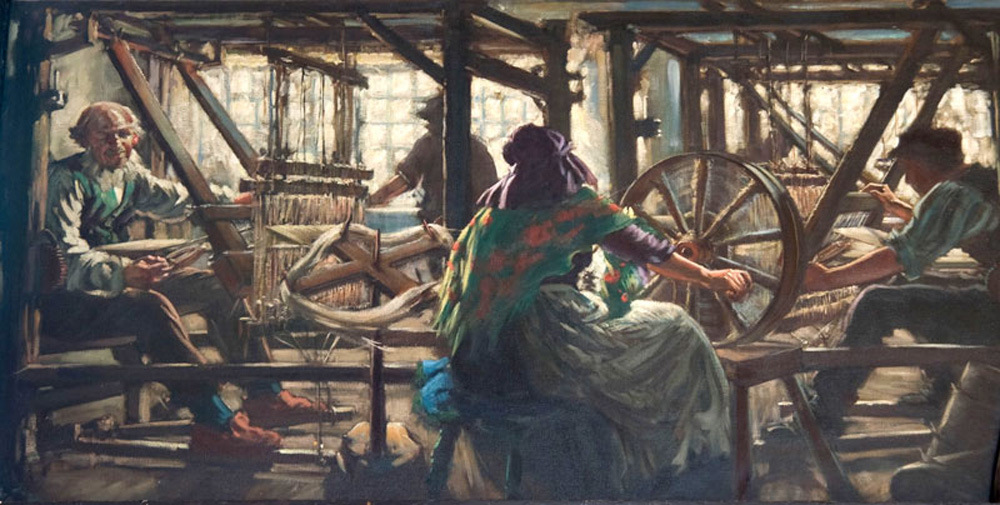 A Sailcloth Workshop, similar to that operated by William Burnard at The Mill in Charmouth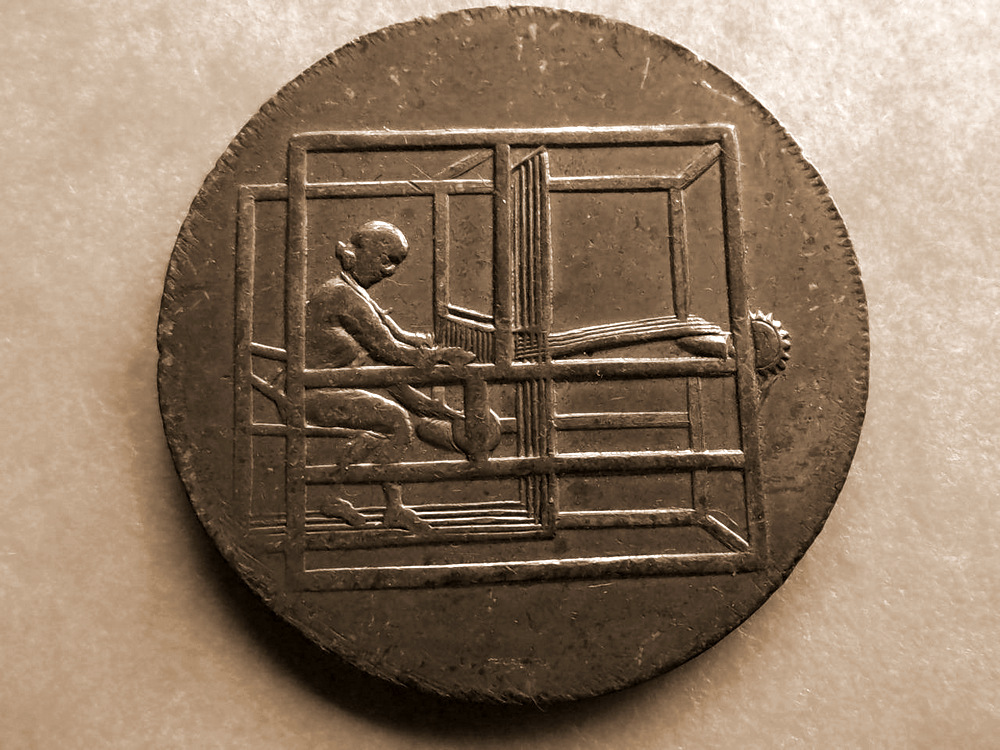 This a Token dated 1797 produced for sailcloth manufacturers Brett & Cayme of Yeovil showing a loom .

The Hunters have a number of children and it is not until 1830 that he is described as a Sailcloth Worker and Fisherman in the records of the Independent Church.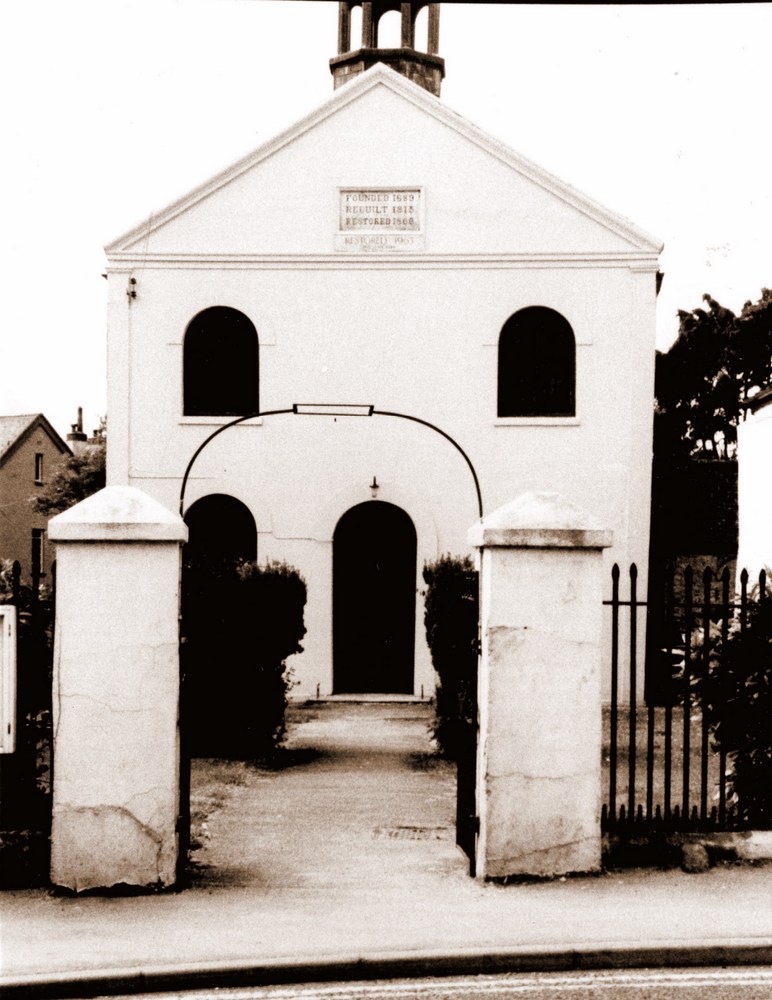 The Chapel in Charmouth, where The Hunters attended the Services.

Isaac Hunter was born in 1833 and baptised in the Non Conformist Church in 1834.His father, John, was a Fisherman and his mother as Hannah nee` Dean. Benjamin Jeanes is the Dissenting Minister at the Chapel at that time.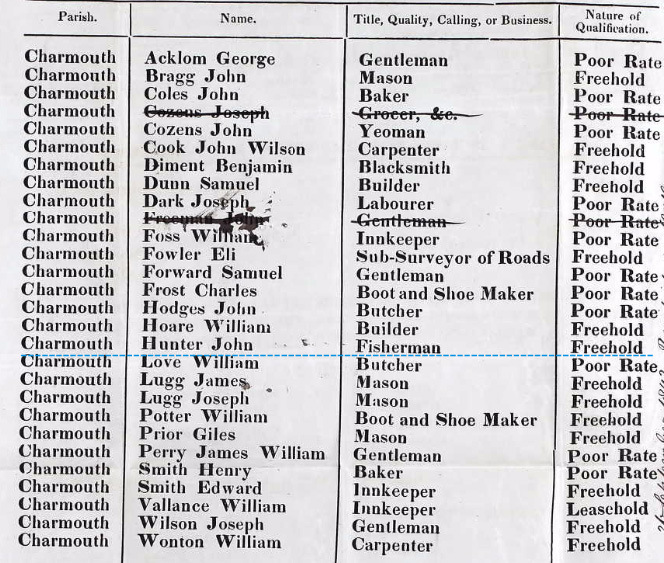 The 1842 Jury List shows John Hunter as a Fisherman with a freehold. Further down is his neighbour William Potter, Boot and Shoe Maker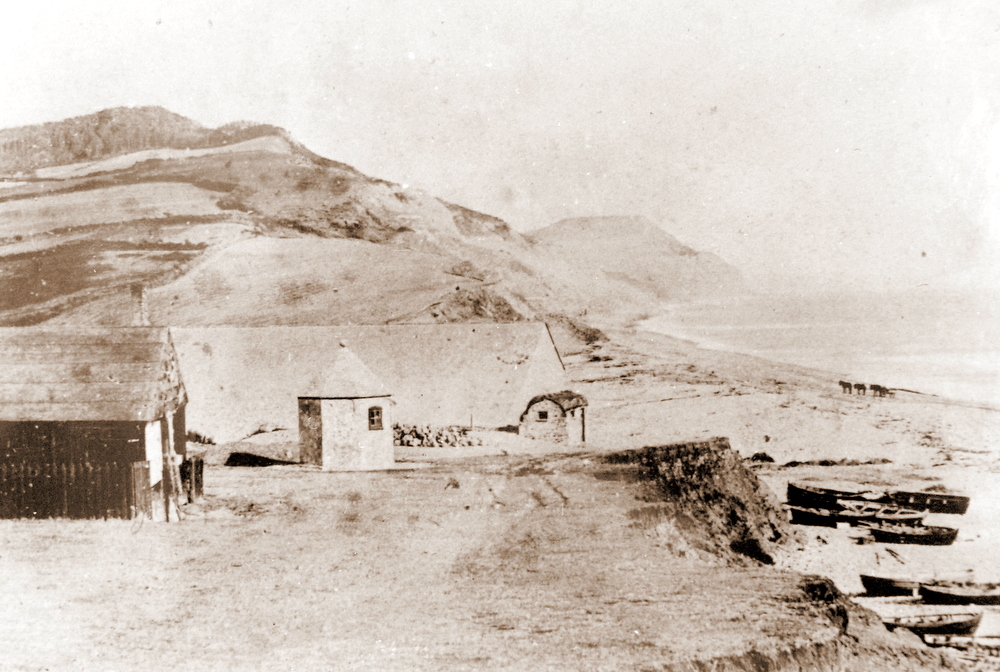 A very early photograph c.1860 showing the Lerets (Herring Boats) on the shore. Lerrets are double-ended with a high stern post to enable them to be launched off the steep beach and hauled up onto the beach. Their wide beam and unusually flat bottom makes them very buoyant and they will survive all but the most extreme seas.
The 1841 Census shows John Hunter (Junior), aged 45, as a Fisherman, married to Hannah, aged 45, with their sons,John ( 10) Isaac (6) Frances (5) and Maria (7 months). They are living in "Granville House", next to the Potters at the time.

The 1851 Census shows John Hunter, aged 57, a Widower living with John, a Shoemaker, and Isaac, a Fisherman. Frances Hunter, aged 15 and Maria, aged 10. Frances was to go on to marry William Henry Gollop.

The 1851 Directory for Charmouth shows John Hunter as a Collector of Fossils and pleasure boat owner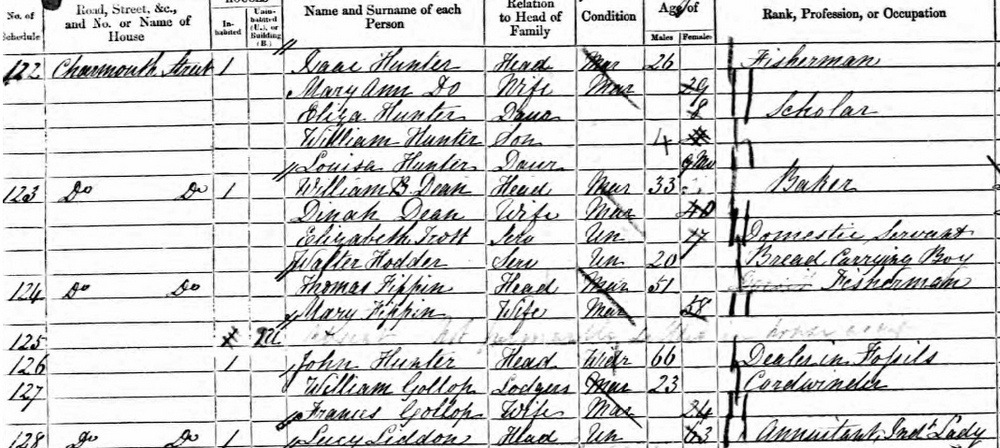 The 1861 Census is very interesting as it shows how close the families of Gollop and Hunters were. The shop below "Askew House" was for some years a baker's occupied by Dean, He was a Baker at Melville House, which was rebuilt after a fire in 1867. The 1865 Directory for Charmouth shows him as a Fancy Bread and Biscuit Maker.
John Hunter Jnr. is now a widow living with his daughter Frances who is married to William Gollop a Shoe Maker at Foxley Farm House. He is described as a dealer in Fossils. His son Issac is at Knap Cottage at the junction of Higher Sea Lane and the Street.

1865 Directory showing John Hunter as a Collector of Fossils and pleasure boat owner.

1871 Census shows John Hunter, now aged 77 as a Fisherman living at the top of the Street at Granville House. He died in 1877.
Robert Hunter (1816-1883)
The first mention of Robert and Ann, his wife is the baptism of their daughter on 24th November, 1843.
He lived at "Sea View", and besides fishing taught swimming and owned the Bathing Machines. his family say that his death was caused by remaining in the water too long without wetting his head. He was buried in the Chapel Yard, and in 1883,the Rector and Churchwardens walked in the Procession to mark the respect in which he was held by the village, which had seldom, if ever, seen a larger funeral.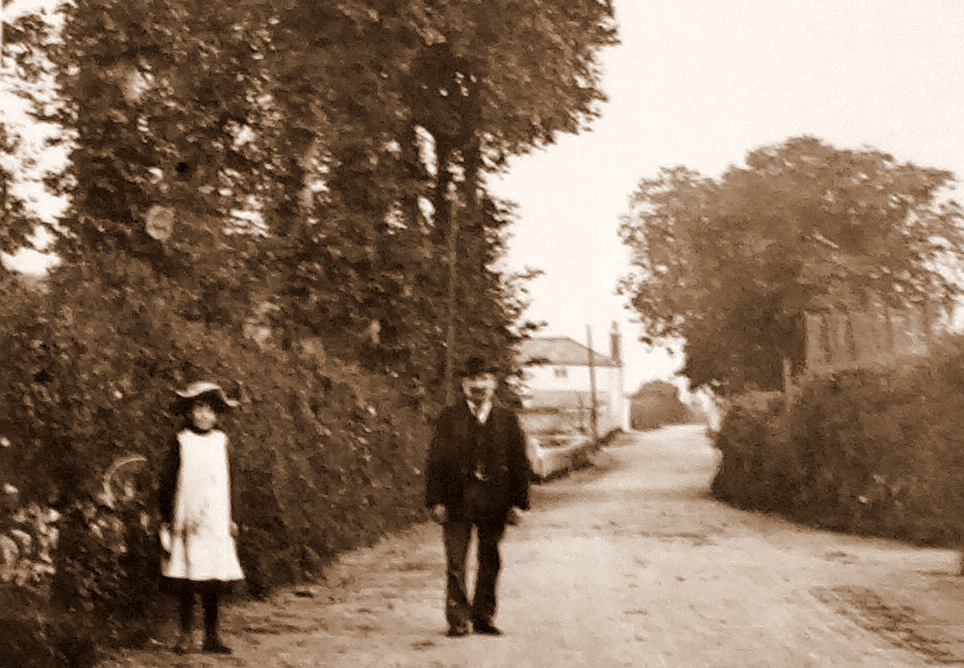 Robert Hunter`s "Sea View" can be seen in the distance in this photograph of Lower Sea Lane in 1910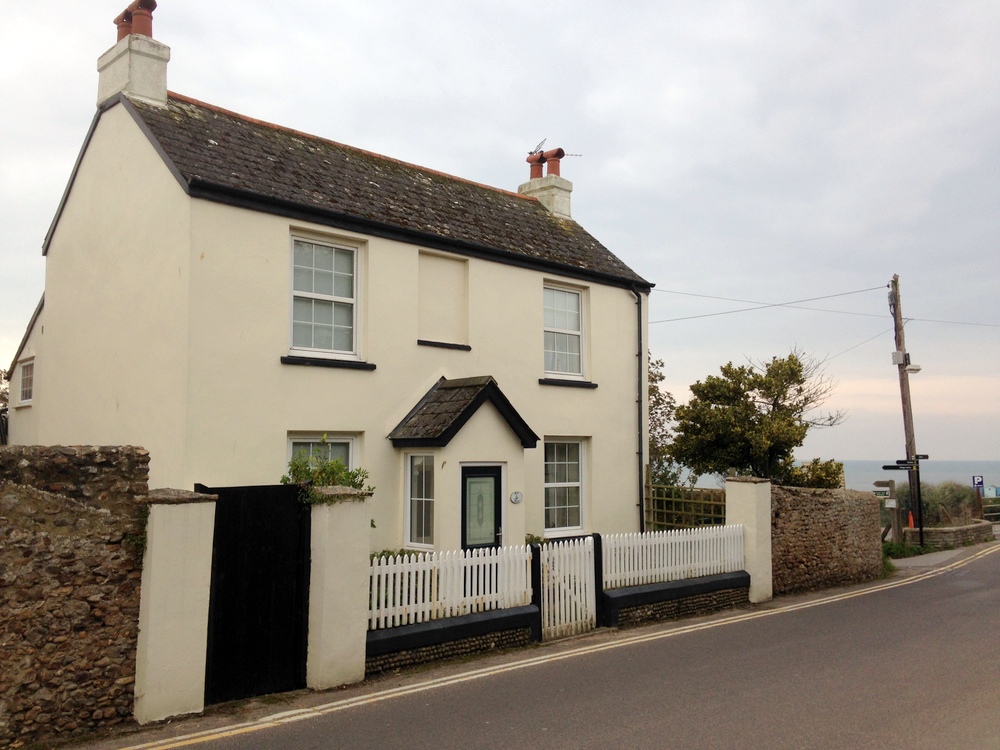 Robert Hunter`s House - "Sea View" today
For many years Sea View, where they lived was known as "Robert Hunter's House' as he was the first tenant. He had five sons and five daughters. Once he was nearly caught by the press gang, but escaped by hideing in the roof. On another occasion, when he was fishing with a companion, he sighted a ship on fire and sailed towards her, finally hailing her. She answered that she was bound for the Irish mountains with Devil Darby aboard. Devil Darby of Lyrno, a notorious scoundrel, had died that night. In 1843 Robert Hunter married Ann Gale and is mentioned in Kelly's Directory as Bathing machine proprietor, collector of fossils and pleasure boat owner.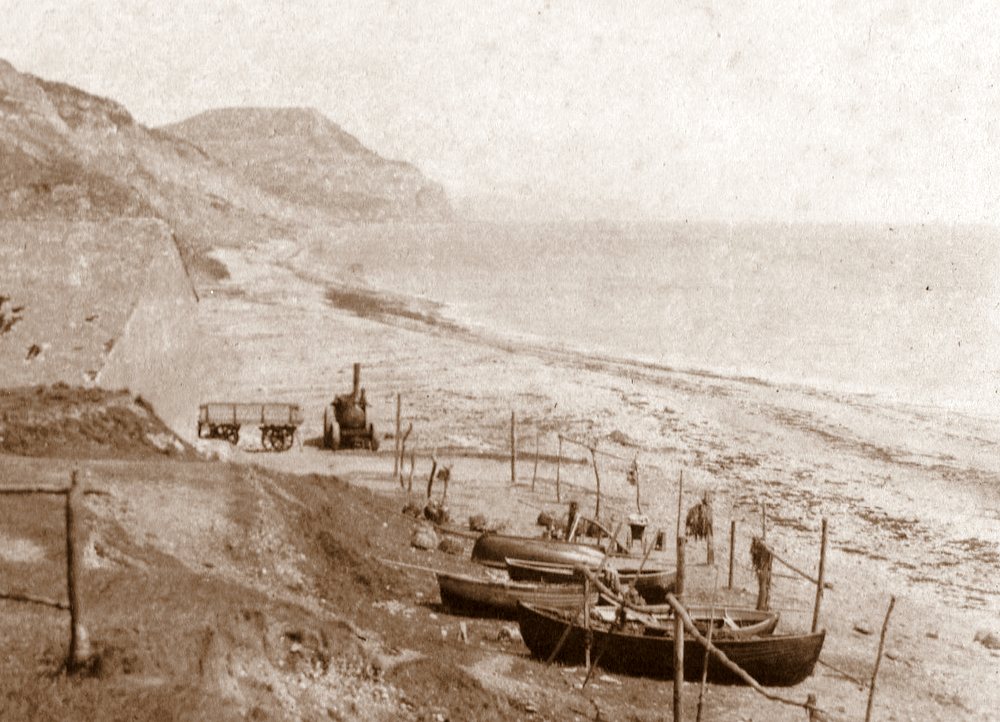 1895 george Buglers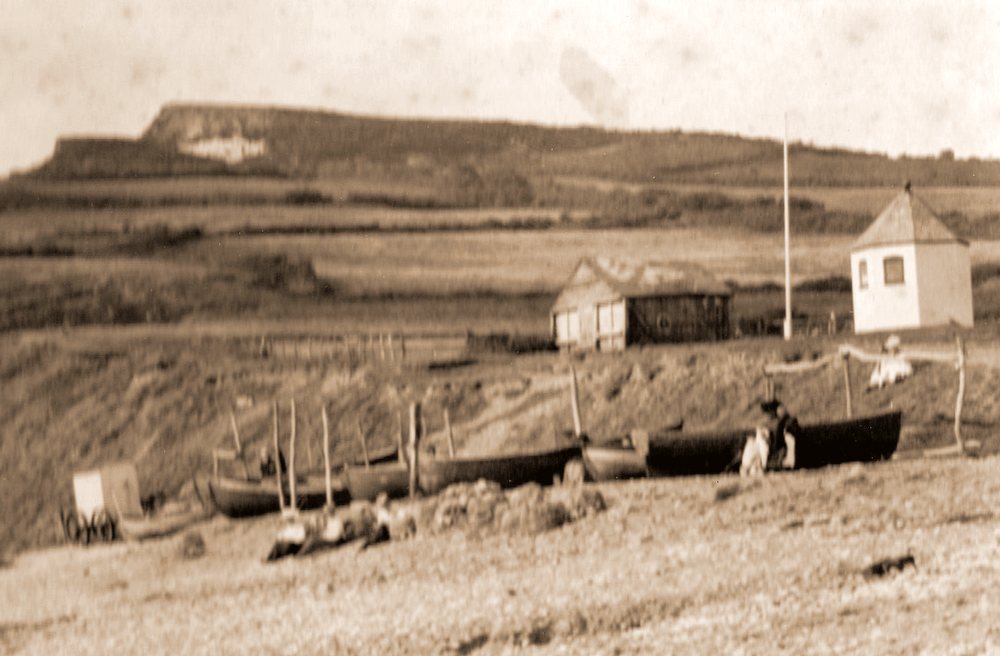 The beach in 1890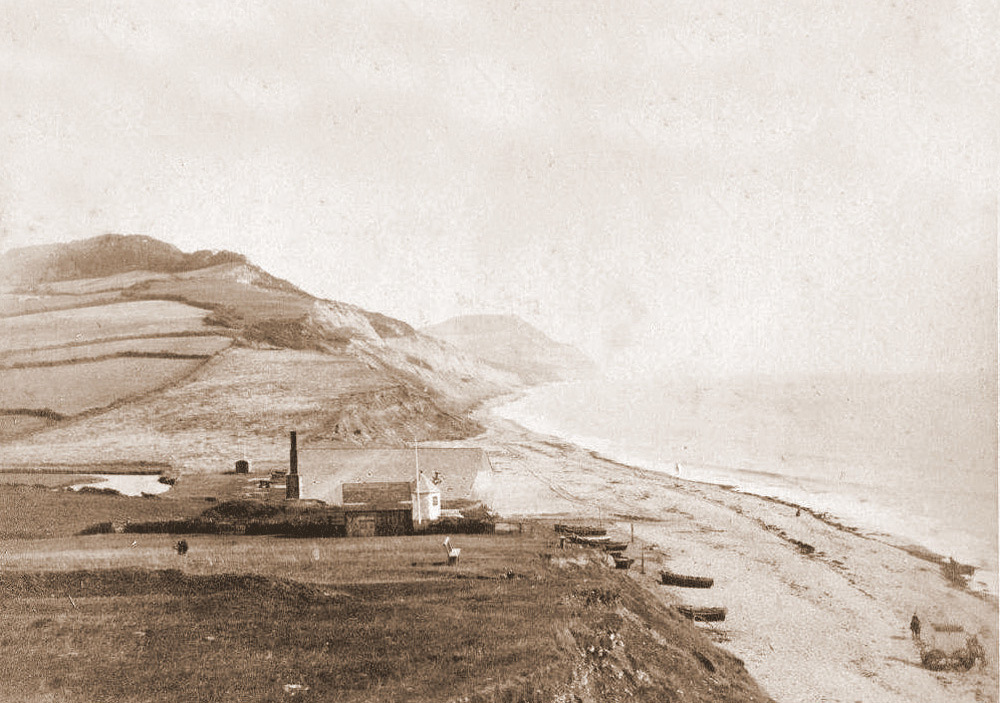 Charmouth Beach 1888 showing Larret boats and Bathing Machine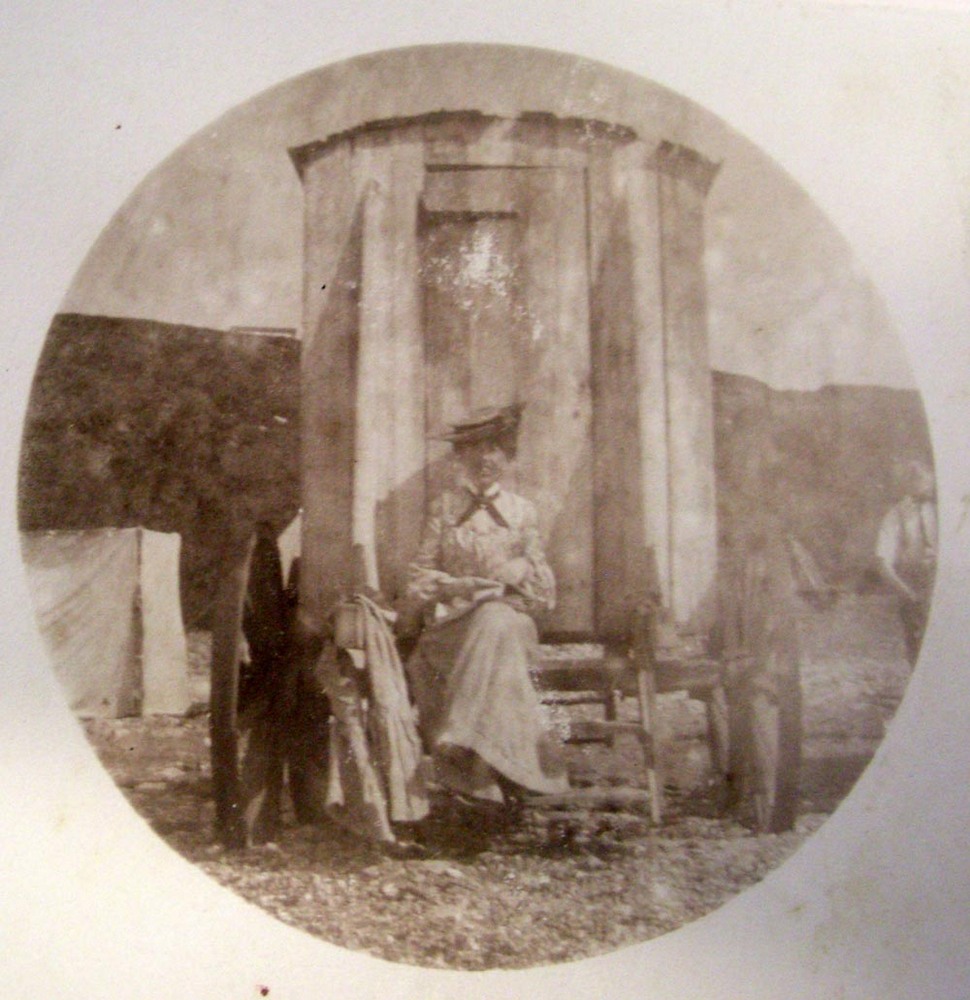 A Bathing Machine off Charmouth Beach c. 1890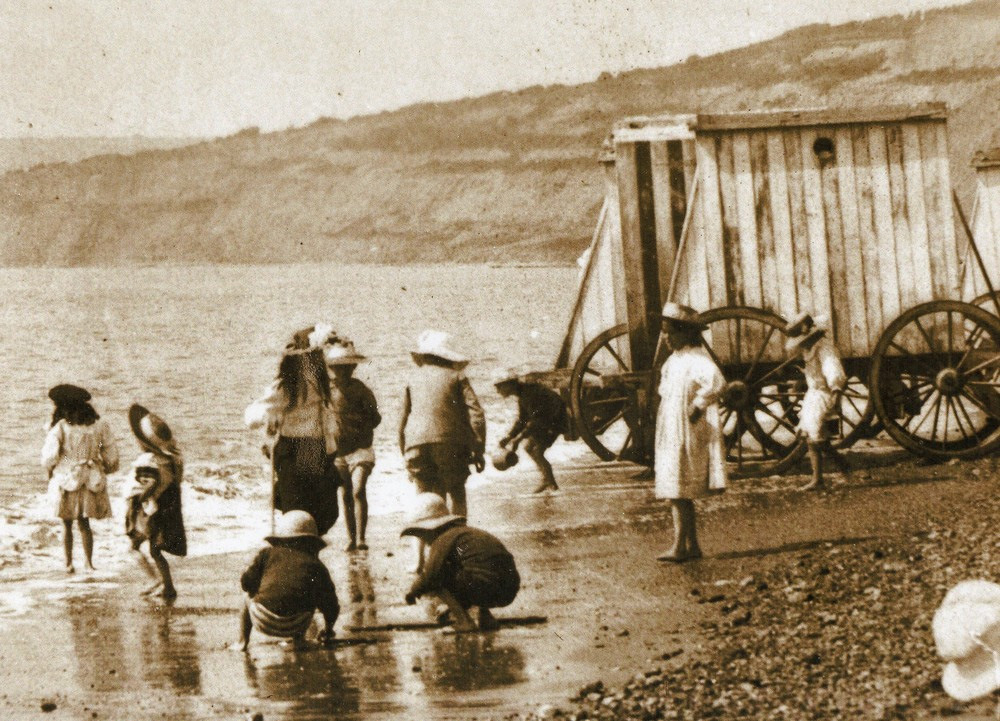 A Bathing Machine off Charmouth Beach c.1890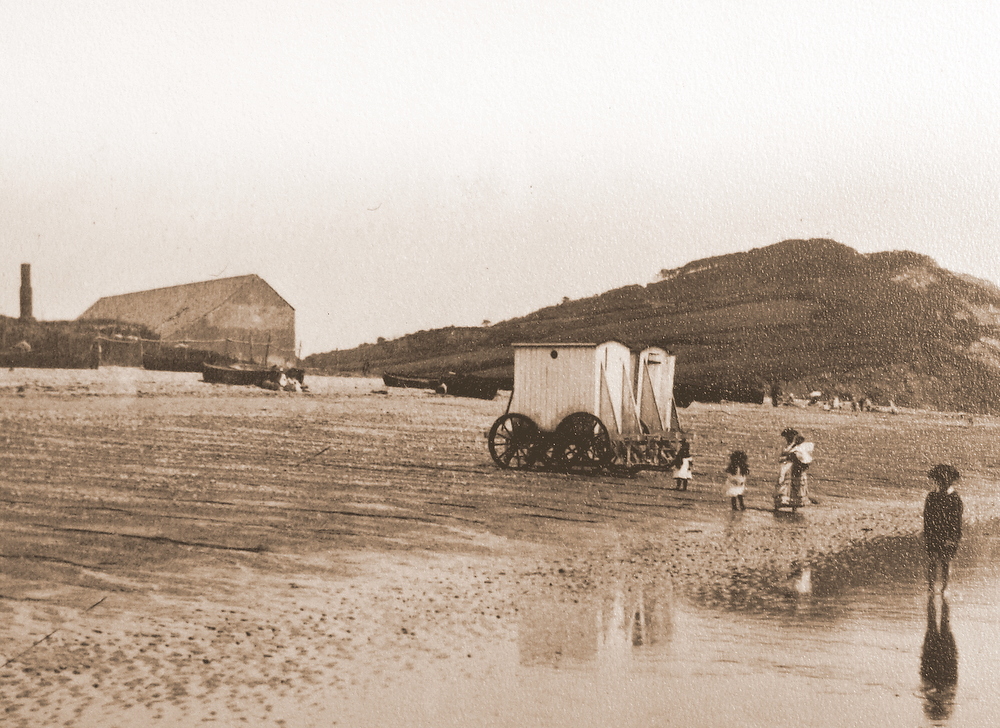 A group of the Hunter`s Bathing Machines on the Beach at Charmouth c.1890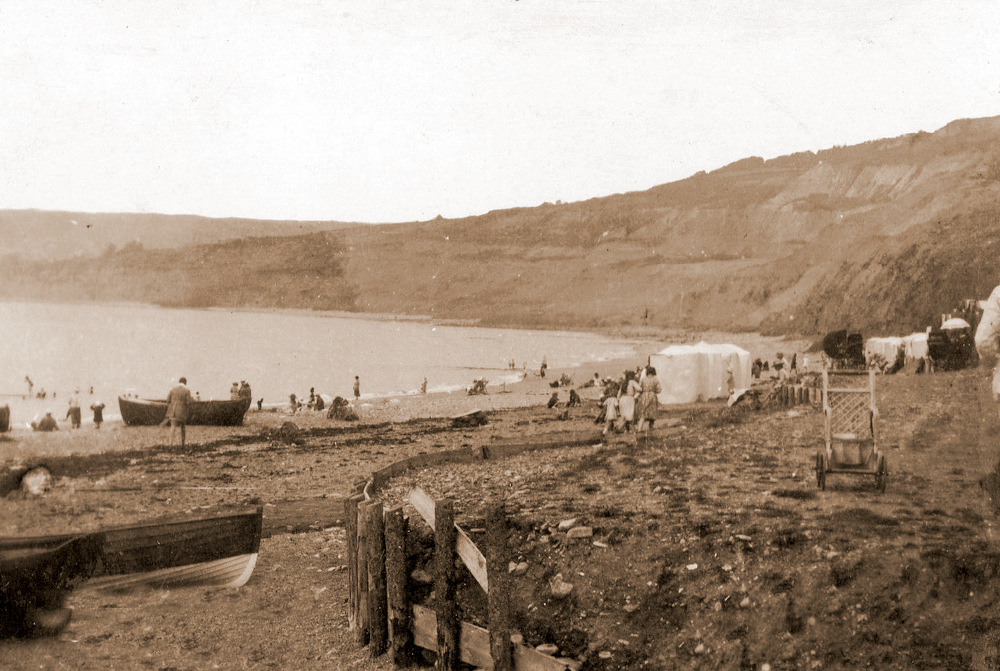 The Beach in 1923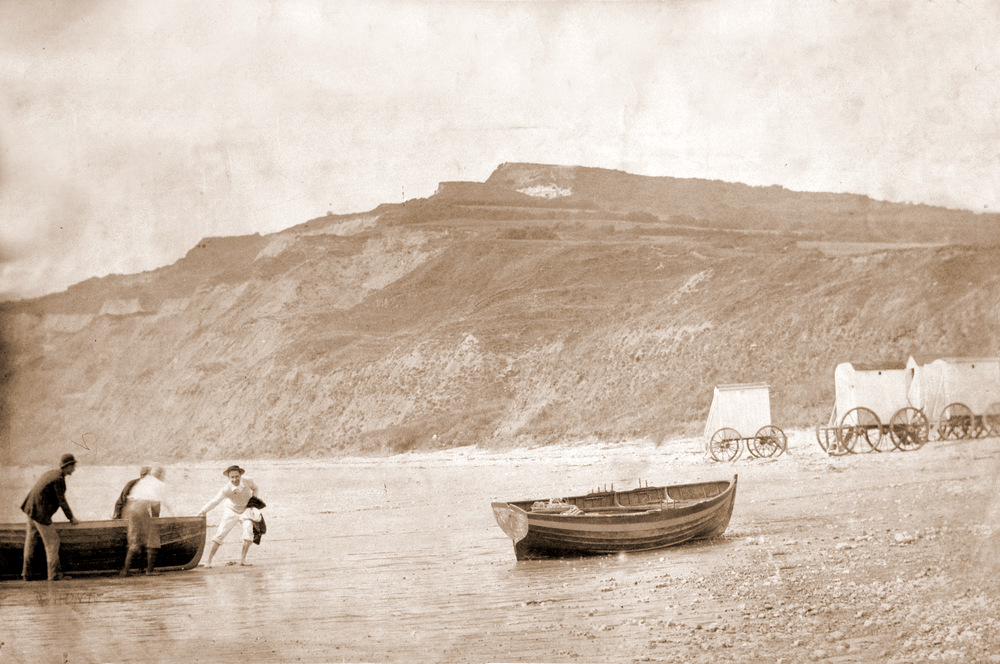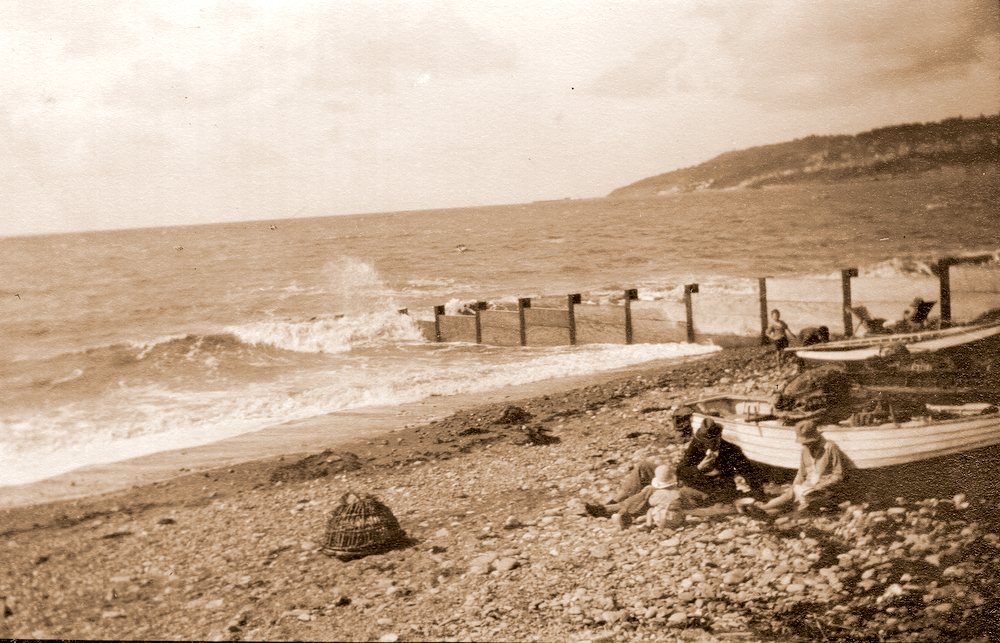 The Beach in 1895 with the Coastguards boat.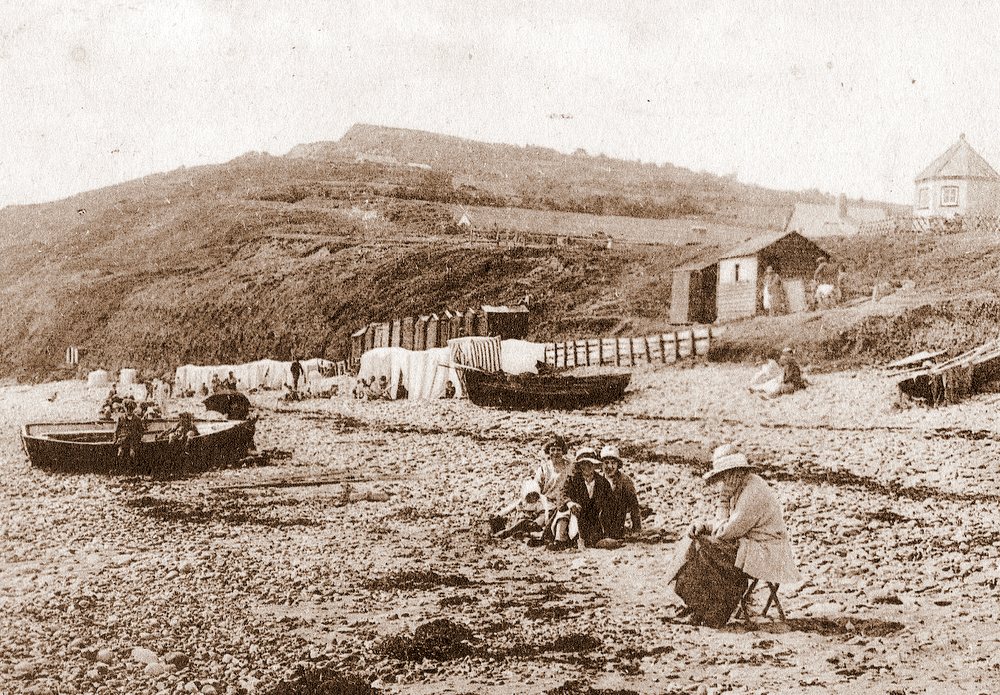 The 1851 Census shows Robert Hunter as a Fisherman, aged 35 and his wife, Ann, aged 28 living with their 3 daughters.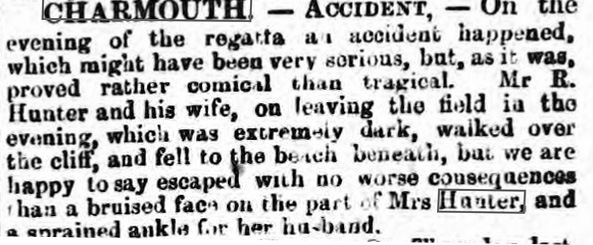 Bridport News - Saturday 30 September 1865

The 1871 Census shows Robert Hunter, aged 55, with his wife, Ann, aged 49 and his family, living at Sea View in Lower Sea Lane.

The 1881 Census shows Ann Hunter, aged 59, with her sons, Thomas, Arthur and Wilfred, all Fishermen.

The 1891 Census shows Ann Hunter, aged 59, with her children living at Sea View. Her son Thomas was living at the house now known as "Way a Long" further down Lower Sea Lne.
Isaac Hunter (1833-1905)
There are many legends and stories about Issaac, brother of Robert, than about the other Hunters, which at least shows him to be a character. Prawns and Lobster fishing seems to have been his chief care. This being a tidal occupation, took him to sea at any hour of the day or night, which may probably responsible for the legend of his long absences, alone in his boat, for several days. But on one occasion he is said to have rowed or drifted as far as Plymouth, and on another,as far as Cowes,while here he was mobbed by the local fishermen and forced to bring self and his boat back by rail. He certainly was a powerful oarsman, as his challenge to row against any man living between West Bay and Lyme was never accepted.
For many years he lived opposite the Blacksmiths on the west side of the Knapp, and then built himself the cottage in Higher Sea Lane opposite Gresham House. In 1898, Isaac Hunter paid £5 to James Coulton and built a shed to house his fossils, an Ichthyosaurus being the chief specimen, An inverted boat formed the roof. Eventually he built a cottage on the site in which he lived for many years. It is now known as "Victoria Cottage". The 1901 Census shows Isaac aged 66, Fisherman, living there. Ten years later, his widow, Mary Ann, aged 82 is described as an Old Age Pensioner. He dies in 1906.
Isaac Hunter (1833-1905)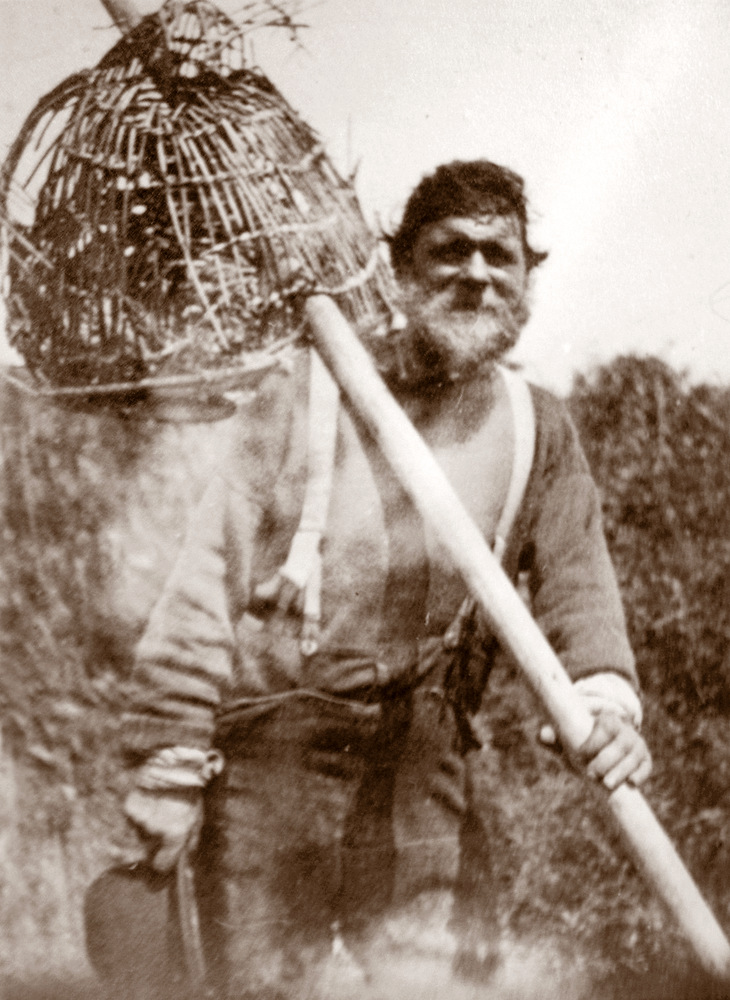 Isaac Hunter (1833-1905)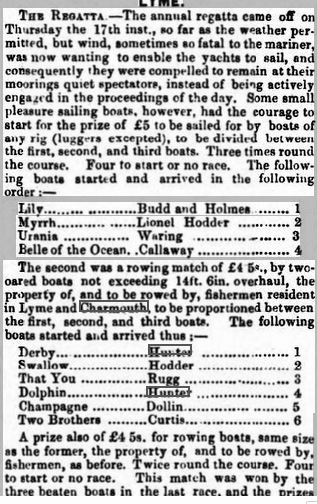 Lyme Regis Regatta, The Bridport Times 26th September 1857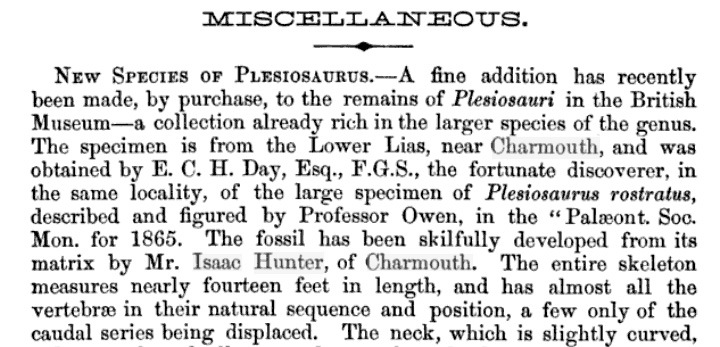 The Geological Magazine 1867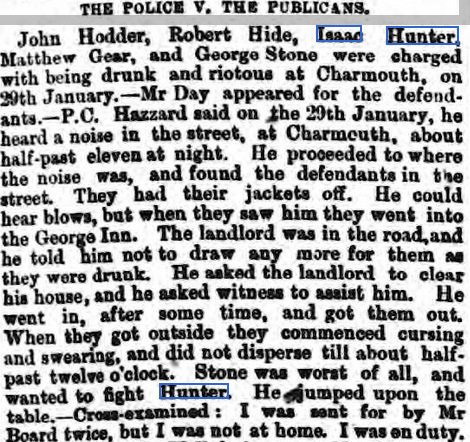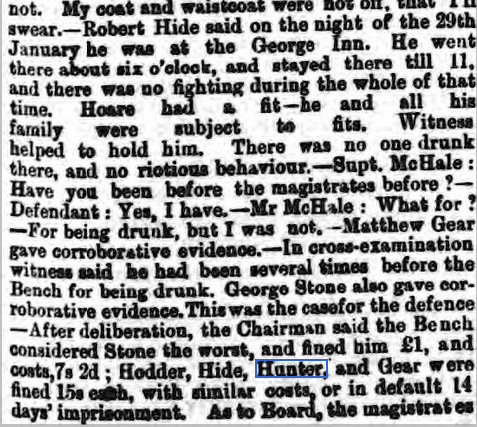 An extract froma court case reported in The Bridport Times relating to The George Inn on the 15th February, 1868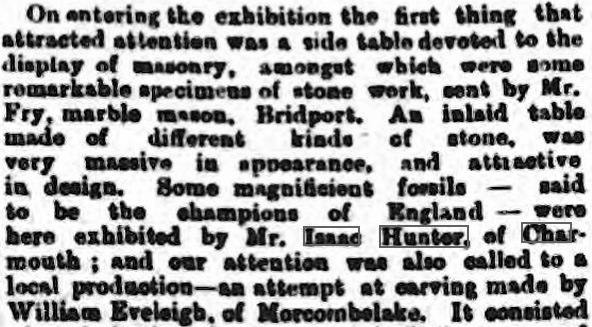 Bridport News - Friday 06 June 1873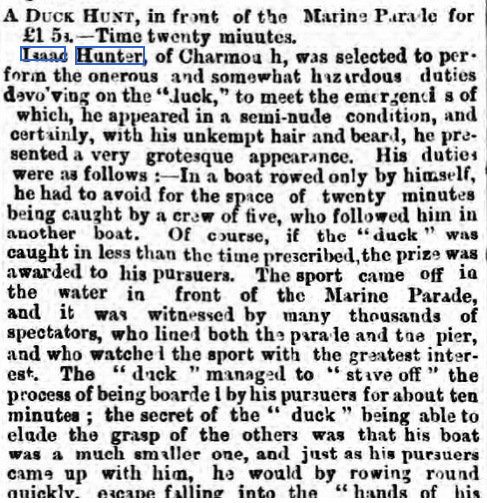 Bridport News - Friday 20 August 1869 Lyme Regis Regatta
Charmouth Shipwreck on 24th November from the Briport News 29th November 1872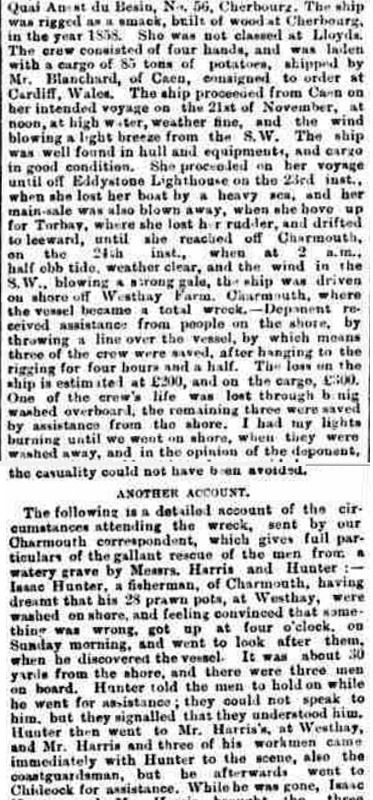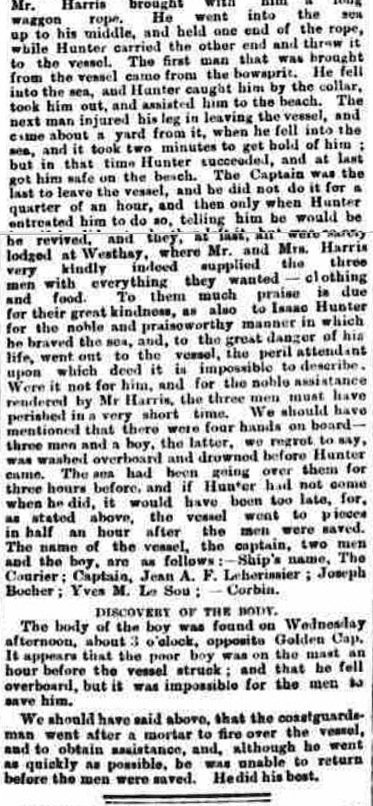 Accounts of disasters at sea have reached us from all parts of the coast during the past week, the recent gale having been excessively fruitful in its havoc, but perhaps the one nearest home is the loss of a small vessel, and the life of one of the crew, a boy of sixteen, which occurred off Westhay, Charmouth, early on Sunday morning. When the news became known, great excitement was caused in the neighbourhood, and for miles around curious sightseers flocked to the scene of the wreck. Owing to the singular circumstances under which the misfortune was brought to the notice of those on shore (for it must be remembered that at 2 a.m. the chances of a 65 ton smack being seen from land were very distant). It was some time before a reliable account of the whole affair could be arrived at. First of all there were coast guardsmen, sailors and fishermen by the score, who were all ready - with an eye to the "Jolly Neptune" - to volunteer a thousand and one stories of the mishap. At length we came upon a well known resident of the place, who told us of a fishermen who had had a dream, but our readers may little dream that from the nocturnal gentleman we derives information sufficient to convince us that , perhaps through him alone - by the intervention of some supernatural and omnipresent providence - the three of the crew who were saved from the vessel owed their lives. The dreamer was said to be no other than Isaac Hunter, of Charmouth. Certain it is, that whether this vision was a fact or not, we were informed that Hunter dreamt that certain lobster pots he had on shore were in danger of being broken and sent adrift. This was at half past four, and if readers refer to the official enquiry below it will be seen that at the time the vessel had been ashore for two and a half.
The story goes that in consequence of the dream so disturbing his mind, Hunter dressed himself and repaired to the beach to see after his pots. He was proceeding on the way from Charmouth to Wetshay, when he met a coast guardsman, who advised him to go back, on account of the rough sea on. He however, would not desist in his determination, and went on to Westhay, where he discovered the vessel had gone upon the beach. The lobster pots, of course did not occupy Hunters attention long, seeing as he did the peril the ships crew were on. Two of them appeared to be clinging to the rigging and another to the bow-sprit, but the boy must have been washed overboard sometime before, as no trace of him could be or had been seen by those on deck for nearly an hour. Hunter called to his assistance Mr. Harris, of Westhay Farm, and they immediately informed the Coastguard, who resolved to despatch a messenger to Bridport for the rocket apparatus. This done Messrs. Harris and Hunter took immediate steps themselves to rescue the fatigued men from their perilous situation, and after many attempts they succeeded in conveying a line to the crew, who, availing themselves of the same, were bought ashore in a very exhausted state. The Captain ( who gives a very intelligent account of the circumstances preceding the Catastrophe) and the mate were very little the worse for their long exposure to the wild elements, but the other man was seriously injured in the leg. It is rumoured that the mate lost £25 in gold, but the remainder of £50 in notes was saved. The notes, however, were soaked and damaged to such an extent that their worth was considerably depreciated. His watch he managed to retain. Mr. Harris behaved with great kindness. He took the rescued men to his farm and regaled them with the best of breakfasts, and did everything in his power to restore their drooping energies. Mrs. Stuart, of Charmouth, with characteristic generosity, gave the men a considerable sum of money with which to purchase immediate necessities, and replenish their comparatively empty purses, prior to their return to France. On Tuesday the French Vice-Consul visited them and supplied them with new clothes. The ship by morning was a total wreck, and her remains, consisting of a new hawser, ship standing gear, ropes, caboose, moan boom, anchors, chains, sails, mast, water tubs, bowsprit, and sundry pieces if wood, were sold by auction by Messrs. Woodward and Son on Thursday afternoon.
The loss, as will be seen from the Captains evidence, is estimated at £500 - £200 on the ship and £300 on the cargo.
An enquiry was held on. Sunday morning, at Westhay, before L.M. Maxton, Esq. Collector of Her Majesty's Customs, and receiver of wreck, when the following evidence was taken:
Jean Auguste Francois Le Herrissier, deposed: I am master of the ship Courier, of the port of Cherbourg, France, and of 65 Tons burthen. The ship is owned by Madame Gouslein, residing at Quai Aust du Besin, no.56, Cherbourg. The ship was rigged as a smack, built of wood at. Cherbourg, in the year 1858. She was not classed at Lloyd's. The crew consisted of four hands, and was laden with a cargo of 85 tons of potatoes, shipped by Mr. Blanchard, of Caen, consigned to order at Cardiff, Wales. The ship proceeded from Caen on her intended voyage on the 21st of November, at noon at high water, weather fine, and the wind blowing a light breeze from the south west. The ship was well found in hull and equip mets and cargo in good condition. She proceeded on her voyage until off Eddystone Lighthouse on the 23rd instant. When she lost her boat by a heavy sea , and her main sail was also blown away, when she hive up from Torbay, where she lost her rudder, and drifted to leeward, until she reached off Charmouth, on the 24th instant, when at 2 am, half ebb tide,weather clear, and the wind in the south west, blowing a strong gale, the ship was driven off Westhay Farm, charmouth, where the vessel, by which means three of the crew were saved, after hanging to the rigging for four hours and a half. The loss of the ship is estimated at £200, and on the cargo, £300
One of the crew's life was lost through being washed overboard,the remaining three were saved by assistance from the shore. I had my lights burning until we went ashore, when they were washed away, and in the opinion of the deponent, the casualty could not have been avoided.
Another Account
The following is a detailed account of the circumstances attending the wreck, sent by our Charmouth correspondent, which gives full particulars of the gallant rescue of the men from a watery grave by Messrs, Harris and Hunter:-
Isaac Hunter, a fisherman, of Charmouth, having dreamt that his 28 prawn pots, at Westhay, were washed ashore, and feeling convinced that something was wrong, got up at four o'clock, on Sunday morning, and went to look after them, when he discovered the vessel. It was about 30 yards from the shore, and there were three men on board. Hunter told the men to hold on while he went for assistance, they could not speak to him, but they signalled that they understood him. Hunter then went to Mr. Harris's at Westhay, and Mr. harris and three of his workmen came immediately with Hunter to the scene, also the coast guardsman, but he afterwards went to Chideock for assistance. While he as gone, Isaac Hunter and Mr. harris brought the three men on shore,they did it this way:- Mr. Harris brought with him a long wagon rope. He went into the sea up to his middle, and held one end of the rope, while Hunter carried the other end and threw it to the vessel. The first man that was brought from the vessel came from the bowsprit. He fell into the sea, and. Hunter caught him by the collar, took him out, and assisted him to the beach. The next man injured his leg in leaving the vessel, and came about a yard from it, when he fell into the sea, and it took two minutes to get hold of him. But in that time Hunter succeeded, and at last got him safe on the beach. The Captain was the last to leave the vessel, and he did not do it for a quarter of an hour, and then only when Hunter entreated him to do so, telling him he would be revived, and they, at last, were safely lodged at Westhay, where Mr. and Mrs. Harris very kindly indeed supplied the three men with everything they wanted - clothing and food. To them much praise is due for their great kindness, as also Isaac Hunter for the noble and praiseworthy manner in which he braved the sea, and, to the great danger of his life, went out to the vessel, the peril attendant upon which deed it is impossible to describe. Were it not for him, and for the noble assigned rendered by Mr. Harris, the three men must have perished in a very short time. We should have mentioned that that there were four hands on board- three men and a boy, the latter, we regret to say, was washed overboard and drowned before Hunter came. The sea had been going over them for three hours before, and if Hunter had not come when he did, it would have been too late, for, as sated above, the vessel went to pic else's in half an hour after the men were saved. The name of the vessel, the captain, two men and the boy, are as follows:- Ship's name, The Courier, Captain, Jean A. F. Leherissieur, Joseph Bocher, Yves M. le Sou, Corbin.
Discovery of the body.
The body of the boy was found on Wednsady afternoon, about 3 o'clock, opposite Golden Cap. It appears that the poor boy was on the mast an hour before the vessel struck, and that he fell overboard, but it was impossible for the men to save him.
We should have said above, that the coast guardsman went after a mortar to fire over the vessel, and to obtain assistance, and although he went as quickly as possible, he was unable to return before the men were saved. He did his best.
This is an article about "Isaac Hunters Dream" that appeared in the Chatterbox"
" It is a very curious thing, indeed; but I should like to hear about it from the man himself," I said, rather doubtfully, in reply to the lady who had been telling me the outline of the following story. " Very well," she returned; " come down to Charmouth, and F ------ will take you to see him. I have only repeated to you what he told us while she was painting this portrait. We heard the story often: but the account was always the same, even to the smallest details.
" I gladly accepted the invitation, and turned with renewed interest to look at the picture, which hung on the walls of the Whitchurch school-room, where a little exhibition was being held for the benefit of the church which needed a new roof. It was the portrait of a fisherman—a handsome, stronged-limbed fellow, with rough brown hair, and tawny beard, and keen blue eyes—standing on the sea-shore by his boat, which seemed to have been just drawn out of the water. It was ticketed " Isaac Hunter," and many people paused to look at it, making remarks which showed that his name was well known in the neighbourhood.On the following Friday, June 6th, I went down to Charmouth. Two miles before entering the place the pretty village was well in sight, as it stretched itself into white lines of comfortable cottages and cosy villas on either side of the road which climbs the steep hill leading to Axminster and Lyme Regis. Even at that distance people could be seen walking up the street, or gossiping on the pavement, looking like little black dolls against the white road and the white houses which peeped out from the sheltering foliage of laburnums, lilacs, and syringas. To the right there is a little valley dotted with grey farmsteads, and, beyond it one hill after another rises towards the northern horizon, their tops crowned with clumps of trees, which break the distant sky­line.
A glimpse of the sea is caught below Lyme Regis, but the nearer view of the bay is hidden by Golden Cap and the adjoining hills, which rise upwards in slopes of grassy down, but end seawards in jagged cliffs of blue lias and yellow clay, sometimes rising, as at Golden Cap, to the height of one thousand feet, and again sinking to a range of from twenty-five to thirty feet above the pebbly beach which lies at their base. At Charmouth the cliffs cease for a short distance, a belt of shingle and sand reaches up to the two lanes which approach the village, and the little river finds its wav through marshy beds of rush and yellow flag till it spreads over the shore in half a dozen bright little streams, making the long, narrow bridge of planks across the rush-beds a necessity for those who would reach the East Beach dryshod.
On Saturday morning, as soon as breakfast was over, F ----- said, " Now we will go and see Isaac Hunter; perhaps he will be at home, but if not we shall find him on the shore."
So we went up the steep, white street, past pretty gardens, and tiny, smooth-shaven lawns, and little greenhouses, bright with many hued flowers, and nearly at the top of the village we turned into a long, low, stone cottage on the left of the road, with a deep porch standing at the top of two or three steps, and a flagged passage running down the centre of the building and dividing the two houses, which snared the roof between them.
F ---------- turned into the doorway on the right, and a tall, gentle-mannered woman came forward from the bustle of a Saturday cleaning which was going on in the kitchen, conjointly with dressmaking: work for a lovely little girl about eight years old, who, attired in the skirt of a new garment and the body of an old one, came shyly up to F -------, and in answer to her inquiries, said that her sister in service had sent her a new frock, which was being tried on.
Mrs. Hunter told us that her husband was in the garden, and proposed sending for him; but we felt that we should be interfering with the house-work if we stayed in the kitchen, and so we said we would go to him.
" But I'm afraid you can't get into the garden, ma'am," objected Mrs. Hunter. " It's not our own; we rent it from next door, and we have to go up a ladder to get over the wall."
This sounded formidable, but on going to see we found the wall was not more than five feet high, and a very easy ladder made it no difficult task to reach the garden, which, owing to the steepness of the hill, stood on a much higher level than the cottage.
We went up, attended by five bright-eyed, curly-headed little children, and found Isaac, in a blue jersey and fishing-cap, earthing up potatoes at the far end of the enclosure.
After a little talk about the weather, the potatoes, and the mackerel—that topic of special interest to every fisherman on the South Coast during the months of May and June—I said:
" Will you tell me about the wreck, Mr. Hunter ? It is a very curious story, and I should like to hear about it from yourself."
" It is a very curious story, and I can't account for it noway; but it's true, for all that." replied Isaac, resting on his hoe as he began, while F ------ and I sat down among the potatoes, for the day was hot, though a fresh north wind was blowing.
The children grouped themselves by F ------ , and tried to make her play with them, for they were great friends, and I recognised in their curlv heads more than one of the studies which hung on the wall of her painting-room.
"We had all gone to bed as usual on the Saturday night, when I had a dream that troubled me ever so, " began Isaac "I thought I was out under Golden Cap and that all my Lobster pots had come ashore, and the waves were washing up round me, and I couldn't find a place to put them safe. I tried to put them first in one place and then another, but the sea came higher over the sand,for in my dream the shore was not covered with shingle, as it really is, but with sand—and the water got closer and closer, and I was in ever such a way lest the pots should be lost. After a bit I awoke; but the dream hung about me, and I could not be easy, it seemed as if I must get up and go to the shore. So 1 told the missus about it, and got her to light the candle. It was between one and two o'clock, and it seemed foolish to get up at that time, and, as the missus said it were nothing but a dream, we put out the light, and after a bit I fell asleep. But the dream came back to me. All the pots had been washed ashore, and I couldn't find a place to put them safe. Well. I awoke again, and for a little while I lay still, thinking it was all nonsense to be troubled about a dream, and trying to make mv mind easy; but it wasn't any use: do what I would I couldn't rest, and it seemed to come upon me stronger and stronger that I must get up and go down to the shore to see to those pots."
" Had you ever been uneasy about them before? " I asked. " No, ma'am ! It's often weeks together before we go to the pots in winter time; we put them out, and then, if the weather is bad, they stav till it gets fine." " How long had yours been out? "
"About three weeks: and I don't suppose I had given them a thought all that time. It had been rough weather for a good bit, and a gale blowing inshore for nigh a week, so there had been no chance of going off. But that night, do what I would, I couldn't rest. I seemed forced to get up, and it was no use trying to stay in bed: so I asked the missus to light the candle again, and my second boy—he's about ten years old—came with me, and we went along the Upper Sea Lane to the shore. As we went through the lane a feeling came over me as if I'd got a rope in my hand and were trying to heave it aboard a ship. It was a very queer sort of feeling, the same as if I was in a dream; but I didn't take any notice, and down on the shore we met one of the coast-guard men - Cripps, his name was.
" 'Hullo!' says he. 'What are you after?'
" So I told him, and he laughed, and said I had best go back to bed, for he had seen no pots, and it would be as much as I could do to get along to the eastward. So it was, for the waves were running in close up to the cliffs, and I kept tight hold of the little lad's hand, or he would have been off his feet more than once.
" We went on pretty near two miles, and as the tide was coming in, and a terrible strong sea on, for it was blowing a gale straight in-shore, it grew worse and worse, till we could hardly get round one of the points; we had to watch till the wash of the wave went back, and make a run; but it was getting dangerous when it came to that, and I says to the lad, ' We'll go home if we don't see anything round the next turn,' for the more I thought of it the more foolish it seemed to be out of bed at three o'clock on a Sunday morning, just because of a dream.
" But as we turned the point I saw something on the beach in front of us; a bit of cliff was between us and it, and in the dim light (for there was driving clouds over the sky, and a little bit of moonlight now and then, ancf things looked uncertain when you were not close to them), I thought that a piece of Golden Cap had tumbled down, or that the mists made the cliff look queer. I never thought what it was; but in a minute we were round, and there was a ship lying up on the beach, bow­sprit on, and her mast standing up against the sky !
" I rubbed my eyes then, and wasn't sure whether I was dreaming again or not, for to find a ship tossed up on the shingle like that gave me a turn; it was such an unlikely thing to happen along our coast, you see, for if there's ever so little wind ships give the bay a wide berth, knowing it to be dangerous. But there it was, and the little lad was terribly frightened of seeing the dead bodies washed in, for the waves swept over her in great sheets of water, and we made sure nothing living could be aboard. I told him not to mind, and kept hold of him while we ran as fist as we could across the shingle; and then, when we came as close to her as was possible, we saw something on the bowsprit. It was a man, and I shouted to him; but he did not take any heed for a bit, and I made sure he was dead: but I went on shouting, and after a time he hailed back, but it was some foreign words that I could not make out; and I don't suppose he could understand me, for I wanted to make it clear to him to hold on while I went for help, but I suppose it was about ten minutes before he took it in. But he threw up his arms at last, and I knew it was all right; so me and the little lad ran away and up the steps, for the ship lay a few yards to the westward of the station at Westhay. where there is a coastguard on duty by day, but he hasn't any night-work, and lives a little way inshore. I called him first —he was nearest, and then we ran on to Westhay Farm, Mr. Harris's."
" How far was that? " I asked. " Half a mile, and all up hill; but we weren't long going; we did run that night: and Mr. Harris was down in a minute when he knew what was the matter. He knocked up a couple of labourers living by the farm, and got some strong rope, and were back again by the ship as quick as we could. There was no time to lose, you see, for any of the great waves that came thundering in over the beach might wash the man away; or still more likely, break up the ship: and it seemed a race between us and the sea as to which should have him.
" The coast-guard was there before us, and by that time he had made out three men- the one on the bowsprit, another in the rigging, and a third hanging on the ladder by his hands and feet; but he never stirred.
" We tried to get the line aboard, and it was over the ship times and times, but the sea was beating over the poor fellows so heavily that not one of them could move; and if it didn't fall just where they could lay hold of it, it was swept back to us before they had the chance to make it fast. We all tried—the coast-guard, Mr. Harris, and me; we went right into the water and heaved the line again and again, but the sea and the dead wind were against us, arid at last the coast-guard says : ' This isn't a bit of good : we shall never do it without the rocket.'
" ' Then you had best be off to Sea Town and fetch it,' says Mr. Harris; and the man was off almost before the words were out of his mouth, running as hard as he could go.
" But it was over two miles to Sea Town, and terrible steep hills to climb, and I savs to Mr. Harris: 'If they aren't saved without the rocket, they'll never be saved with it, for she won't hold together till he gets back.
" We stood for a minute getting our breath, and looking at the poor ship: all of a quiver she was, as the great rollers fell over her with a crash and a roar, as if they wanted to swallow her up, and then we took Up the coil. I had one and he another, and the labourers held on to the shore end, and we went down again; and stuck to it we did, for we knew it was the only chance, and at last Mr. Harris threw his line almost into the hands of the man on the bowsprit, and he was able to make it fast." We thought the worst of the job was over then, for they hadn't far to come." ' How far?" I inquired. ' Why, when the wash of the waves was down, it wasn't farther between the beach and the ship than from here to that hedge." And he pointed to a fence about twenty-five yards away from us. " That is not a great distance."
' No, but it was too much for him : he started all right, and we looked to see him going along with his hands and feet caught over the rope ; but whether he was beat with cold, or whether he lost his head, I don't know, for he had hardly gone four feet when he loosed his hold and fell into one of the biggest waves that had come over us that night.
" We made sure he was gone then. I wouldn't have given a halfpenny to a thousand pounds for the chance of his life," continued Isaac, getting excited as he recalled that narrow escape. " We got him, though; for the next wave brought him in, and I ran to pick him up before the suck took him under : but I ran a bit top far, for the beach gave way under me just as I gripped him, and the water got hold of us both and washed us out to sea. It was a bad job for us then, and we were as near drowning as men could be; for we couldn't have been saved anyhow if the next roller hadn't caught us and brought us in on the beach again. We got out somehow, Mr. Harris helping us; and then we fell to and shook hands all round, for we felt as glad as could be. Mr. Harris had given up the sailor for lost, and me too, and, as he said, that would have been the worst job of all, with eight children and the missus all looking to me. Besides, when you've set your heart on bringing a poor chap in, it makes you feel ever so pleased to get him safe on shore.
He was a Frenchman, but he made us understand that the man in the rigging had sprung his knee, and the one in the ladder was the captain. We got the other man first, and he came along very steady, taking his time and holding on when the wash of the wave went over him, and as soon as he was near enough we ran down and took him off the rope and carried him up. He was French too, but could talk English, and said the captain wasn't dead ; so we set our minds to get him, for there was no time to lose. It don't take long to break up a ship when the sea is running as it was then, and she had been on the beach between three and four hours, for they were driven in about one o'clock, the men thought."
About the time your first dream made you want to come to the shore ?"
" Yes, very near the same time. I thought of it in a minute when the man spoke. It was curious, wasn't it?"
Very curious !"
" Well, ma'am," resumed Isaac, after a pause, " we had pretty near given up the captain, for he wouldn't stir, though we shouted to him, and his own men shouted to him, for I suppose it was half an hour. He hung there by his hands and feet, a thin, little, atomy of a chap, looking just like a skeleton. At last he did make a move and got to the rope, but I guessed he'd never come across, and he was down in the suck of the sea almost before he was clear of the vessel's side. It took him right under her; and there he was when I fetched him, though in another moment he would have been out of reach."
" Had you a rope ?"
" Yes ; I knew what I was going to do that time, and got an end ready in my hand; I couldn't have saved him without, for I went right into the sea and they hauled us out. It was stiffish work and dangerous, of course, but we didn't stop to think of that. When we got him in he looked as if he were dead; he was white and cold as a corpse, and we couldn't feel his heart beat or see a sign of life in him. There was no more on the ship; we had got them all then : so we wrapped a coat round him, and I picked him upland carried him over the cliff. . As we got to the top we could see the coast-guards come racing down the side of Golden Cap, one after the other, trying which could get to us first; but they would have been too late anyway, for just then a great sea came rolling in and covered the ship, which lay below at our feet, we saw the mast quiver and shake, and topple over, and when the wash went back it took the timbers with it, for the vessel was all to pieces, plank from plank, regularly beaten to bits by the weight of the waves."
" And the captain?"
" He came round after a bit, for Mr. Harris had run on in front, and was back again with a jug of hot tea, before I got him half way to the farm. It did them all good, that tea did, and when we came to the house Mrs. Harris had fires and hot blankets, and hot water, and everything she could think of to make them comfortable; and after a good rest none of them were much the worse."
"How had they been driven ashore?" I asked. " How had it come about ?"
" They had lost their rudder and had been drifting about in the bay all the Saturday afternoon ; but the weather being thick they had not been seen by the look-out at the station. When they struck, they had climbed up in the rigging, but seeing how close in shore they were, they tried to get on the bowsprit; but one having his knee hurt, could not get along, and the captain was dead beat and could not move; and the boy, the only other sailor aboard, was washed off as he was trying to get to the bow­sprit. I suppose, seeing that made the others afraid to try. He was drowned, the poor lad was ; his body came in a few days after, and his mates stopped with Mr. Harris till they had seen him buried."
" Did Mr. Harris take them all in ?" " Yes, he wouldn't hear of their going anywhere else. He said he had helped to save them and they should stay with him till they could go home.
" The Roman Catholic priest and the Squire came to see them, and it seemed funny to us as couldn't understand, to hear them talk, all together some­times, and so fast 1 You wondered how they could do it. And looked so pitiful they did ! Every one was kind to them, and they went home after a bit."
" What was the name of the ship?"
" Isaac told me, but I could not catch it.
" It means ' Messenger,' anyway; perhaps you will know the words from that. I wondered what was the meaning and looked it out in the Dictionary," he said.
" ' Courrier '—is that it?"
" Ah, that's it! I can't say it right, but that's what men called it."
"And what was the date? I forgot to ask you."
" The twenty-fourth of November, Sunday morning. It was about three o'clock when I saw the wreck first, and it was just after six when we got the men up to Mr. Harris's. I thing that's all: but it was very queer, that dream was. They'd have been drowned ; and no one known about it till the bodies came ashore, if I hadn't been sent down to the eastward that night."
" What do you mean by ' sent ' ? you went of your own accord," I said, anxious to draw him out.
" Well, yes, in a way," he replied, pushing back his cap and rubbing his head, " but I couldn't bide be at home, though it did seem nothing but foolishness to turn out of bed at that time in the morning and go to the eastward for a dream. But it was more than a dream, that was, though what it was I can't say. But I was sent to the shore to save those poor fellows, that's certain."
" Do you often go to that part of the shore? had you been there lately?" I asked, trying to see if any link of association with the particular spot would account for his dream.
No, I don't suppose I had been across the bridge for nearly a twelve month ; my boat lies on the other side, and I hadn't troubled about the pots nor nothing. There's no accounting for it, that I know of : I was sent, that's what I was."
And as we sat there among the potatoes listening to the story it seemed as if indeed he was right: and that this strong man, used to perils by sea, able to face an emergency and to do good service amid the waves, had been sent to the rescue of the Courrier's crew as she lay on the beach, being 1 pounded to" pieces beneath the mighty waves of a I south-west gale. After making arrangements with Hunter to row me up the coast on my homeward journey in the I afternoon, we went down to the beach, following the Upper Sea Lane by which he had gone on the night of the wreck.
" Did he tell the story as you have heard it
before?" I asked F ------ . " Yes," she replied; " it was just the same."
We sat down on the shingle, and while F------- made friends with a flock of children in serge frocks
and white linen hats, who were building castles on the sand, I put down the particulars of the story we had just heard, fearing that some of the details might escape my memory. The children were much interested in my proceedings, and listened attentively while I read over my notes to F -------- for correction.
In the afternoon, as Hunter rowed me to the eastward on the top of the tide, we passed the spot where the wreck took place.
" It was just there," he said, pointing to a little indentation in the line of blue lias cliff, which rose about thirty feet above a bank of shingle. A little wooden hut—the coast-guard's shelter in bad weather —stood just above, and a rought flight of steps led up from the shore.
The swell broke there with a heavy thud even on that calm afternoon, when there was scarcely a ripple on the sea; and as the rattle of the falling pebbles came across to us. I thought of the brave service which had been done there last November, when the waves were sweeping in with all their fury, and tearing down the beach before their resistless force. Suddenly Isaac took off his cap and waved it with t cheery hail to a man who had appeared on the cliff.
" Who is that ?" I asked, as the greeting was returned.
" That's Mr. Harris."
So there were the two heroes together, just at the scene of their gallant rescue.
As we went on our course Hunter told me of the handsome gold watches which the people of the neighbourhood had given to Mr. Harris and him­self in recognition of their services.
Did you have any medals from the Society?" I inquired.
" No, our clergyman and some of the gentlemen wrote about it, and a paper was sent down with questions to be filled in : but there was one asking if any witnesses were present, which they left blank, though the labourers who held the rope witnessed it all, and we suppose, owing to that mistake, we never had the medals. But, we don't take no account of that, for we did not do it for that, though I dare say our missuses would like us to have them."
That is the story of Isaac Hunter's dream and its results. I do not pretend to account for or explain it, and I have simply related the facts almost in his own words. In these davs, when there seems to be a growing disbelief in all those wonders and signs which cannot be explained by the laws of nature.
This is an article that appeared in the " Chatterbox" in 1874.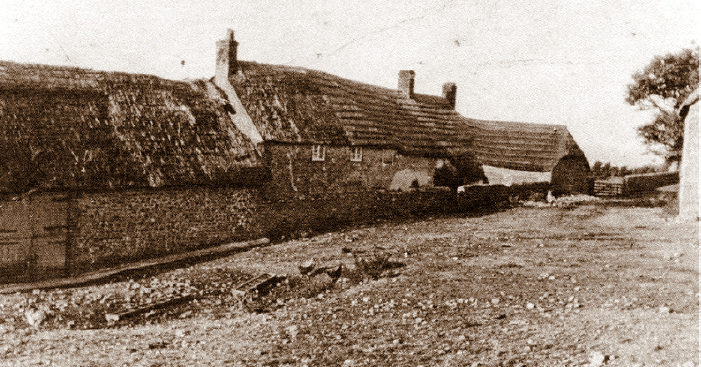 Westhay Farm
Westhay Farm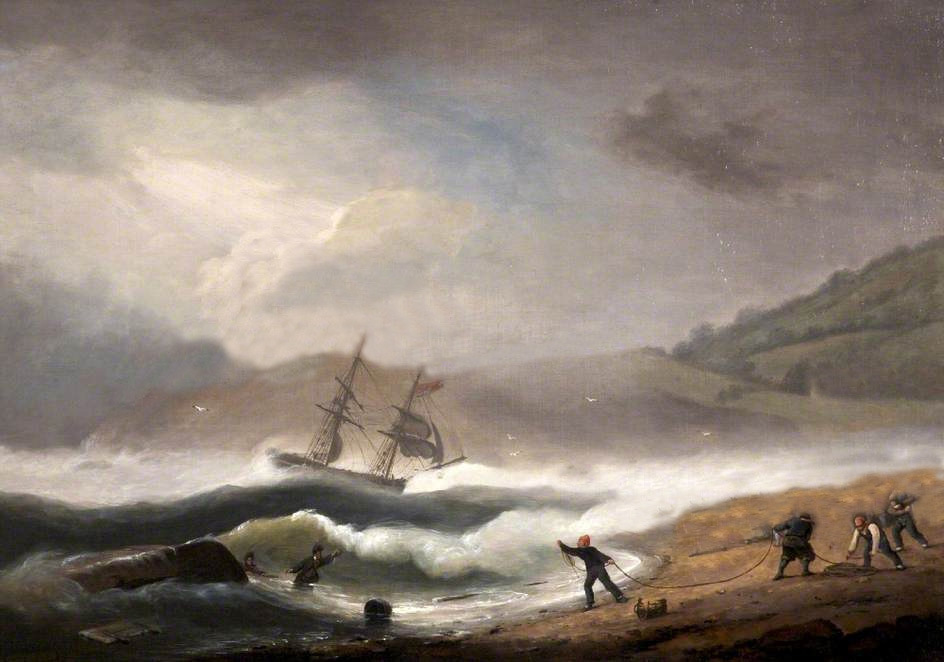 "He went into the sea up to his middle, and held one end of the rope, while Hunter carried the other end and threw it to the vessel",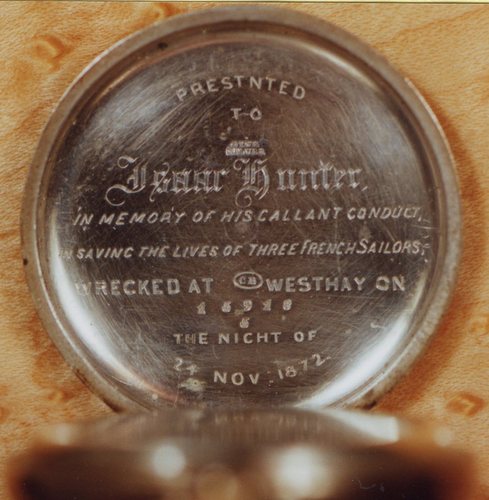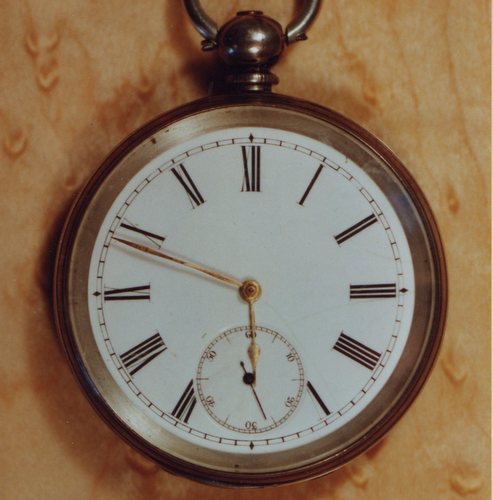 The watch presented to Isaac Hunter in memory of the three sailors he saved in 1872.
The 1841 Census showing Isaac Hunter aged 6, with his father John aged 45 and mother, Hannah also aged 45.

The 1851 Census showing Isaac Hunter aged 19, as a Fisherman living with his father, John, a Fisherman and his brother, John a Cordwinder, which was a shoemaker.

The 1861 Census showing Isaac Hunter aged 26, living at Foxley Farm House (now Badgers), Higher Sea Lane with wife, Mary, aged 29 and children, Eliza, aged 8, William. aged 4 and Louisa aged 9 months. It is interesting lower down seeing John Hunter, Widower aged 66 Dealer in Fossils, living with his daughter, Frances (24), married to William Gollop (23), Cordwinder, living with him.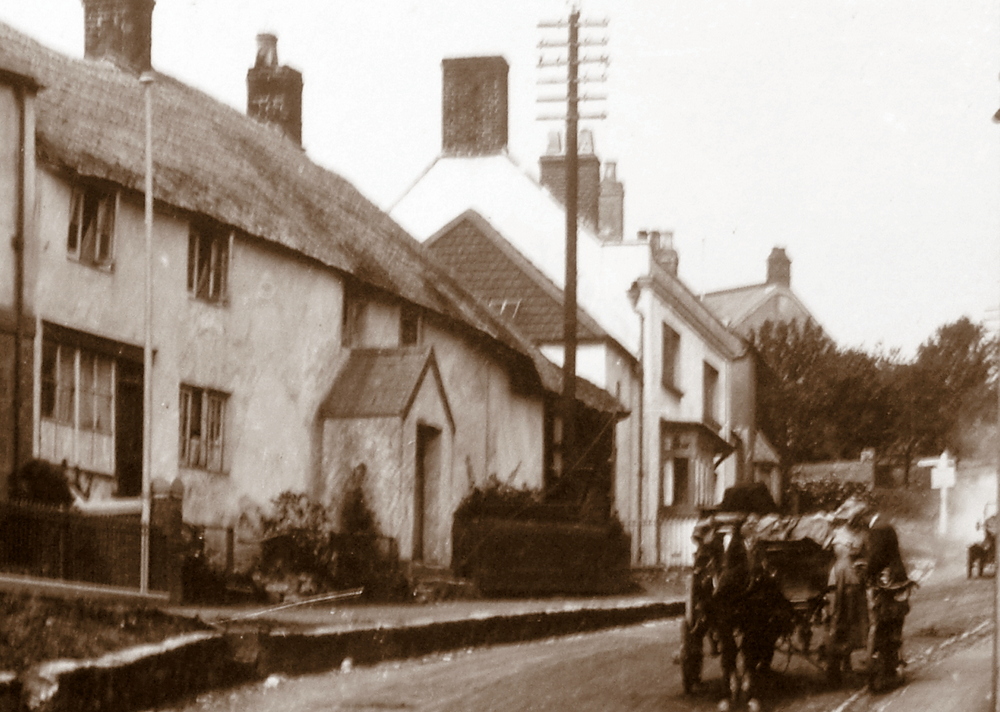 Foxley Farm House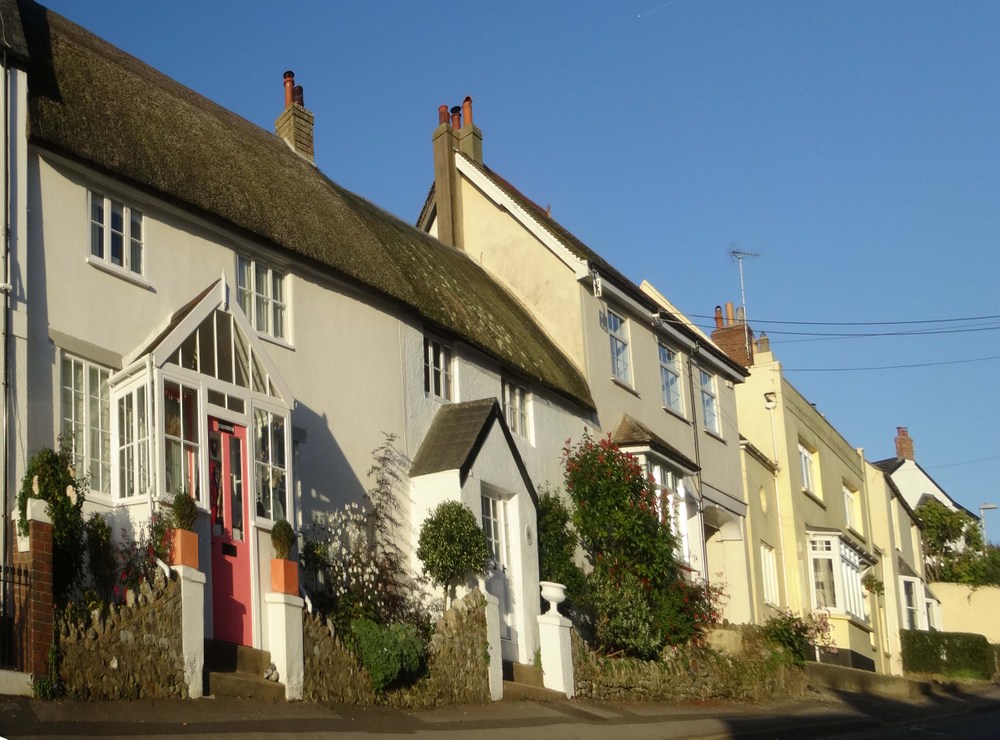 Foxley Farm House, now named "Badgers" today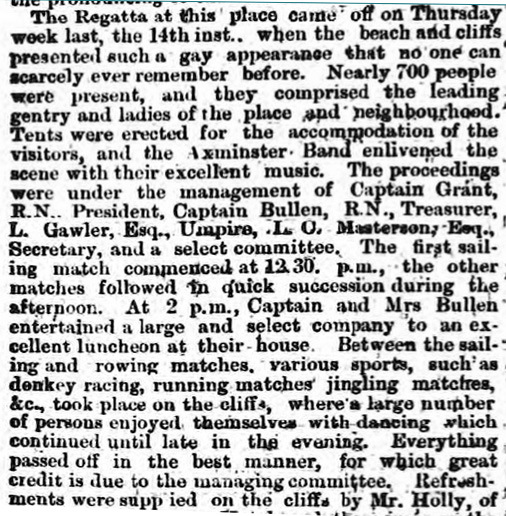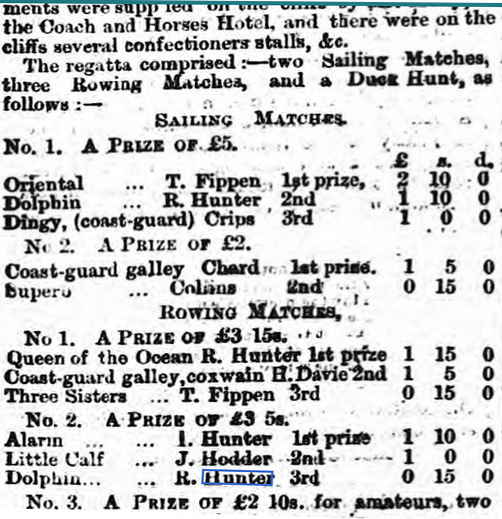 Bridport News - Saturday 23 September 1865 showing Issac Hunter and Robert Hunter winning 1st and 3rd prize for their rowing in the anuual Regatta.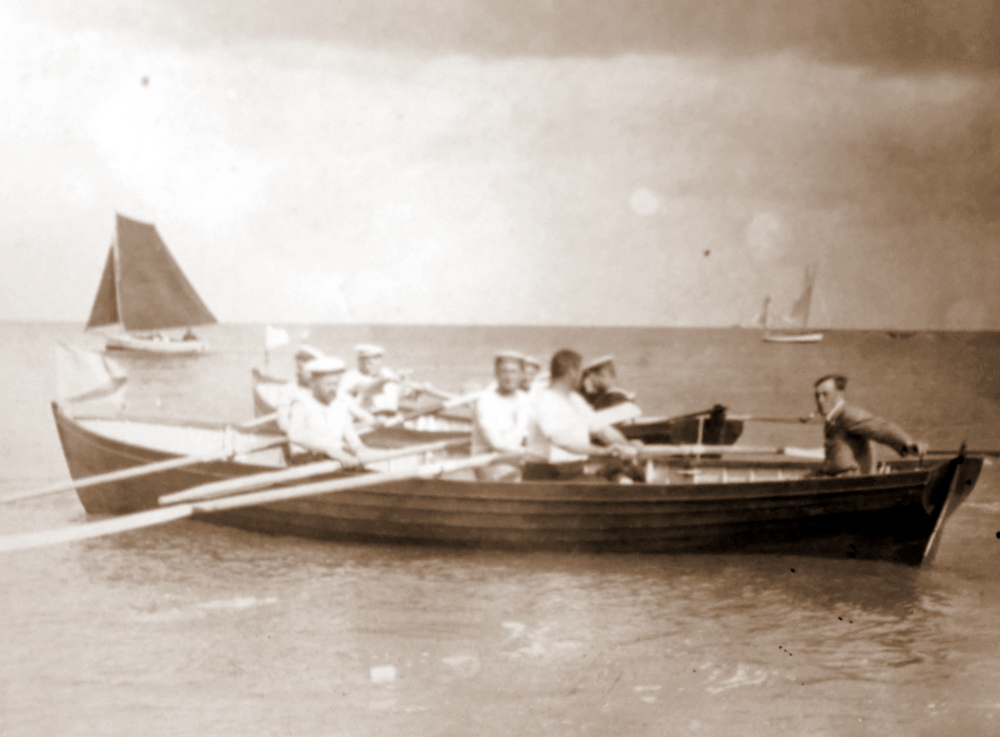 The Charmouth Regatta c.1900

The 1871 Census showing Isaac Hunter aged 38, living at Foxley Farm House (now Badgers), with his wife, Mary, aged 40 and children, William. aged 14, Louisa aged 11,Frederick, aged 8, Anney aged 8,Ellen aged 6, Kate, aged 3, Harold, aged 4 months.

1871 Directory show Issac as Pleasure Boat Owner and Robert Hunter as Bathing Machine Proprieter.

The 1881 Census showing Isaac Hunter aged 48, living at Foxley Farm House (now Badgers), Higher Sea Lane with wife, Mary, aged 48 and children, William. aged 24, Frederick, aged 17, Kate, aged 13, Harold, aged 1o and Ada, aged 5.

The 1891 Census showing Isaac Hunter aged 56, living at The Knap, on the corner of Higher Sea Lane with wife, Mary, aged 56 and son, Harold, aged 19.
Isaac and Harold, his son, and Harry Hodges, after a day in West Bay, returned to Charmouth in a rowing boat, Isaac and Harry went to in the bottom of the boat and left Harold to do the rowing. Off Cains Folly, Harold decided that he had had enough and rowed to the shore, He then shoved the boat off with the other two in the bottom and walked home, When they were mystified by the absence of Harold and were relieved to find safely at home.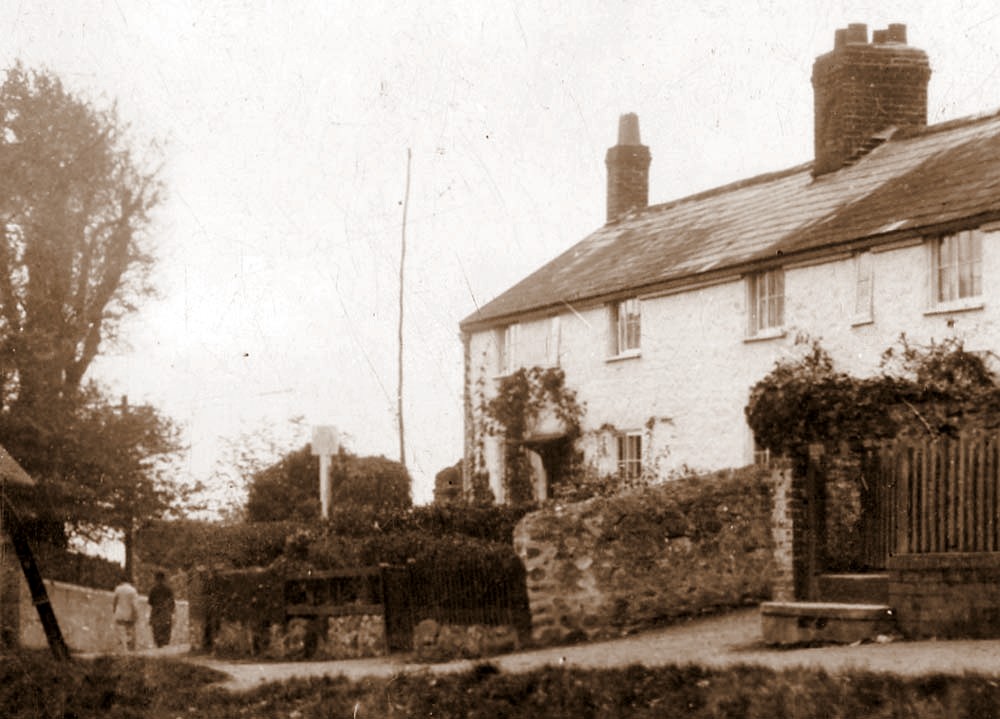 The Knap at the junction of The Street and Higher Sea Lane.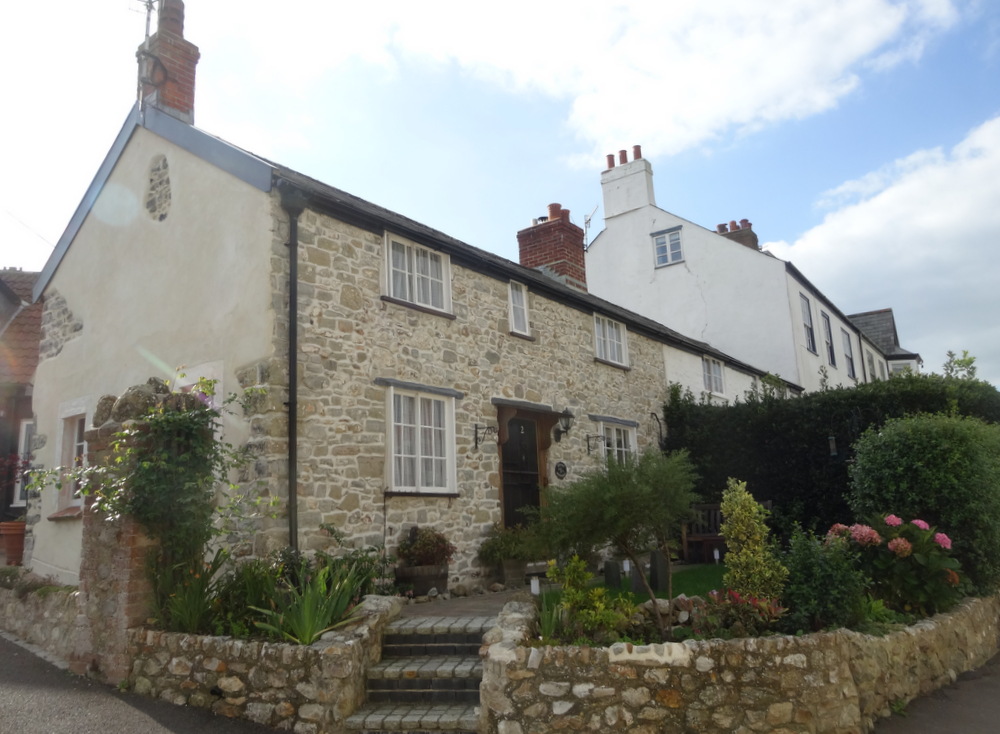 Knap Cottage today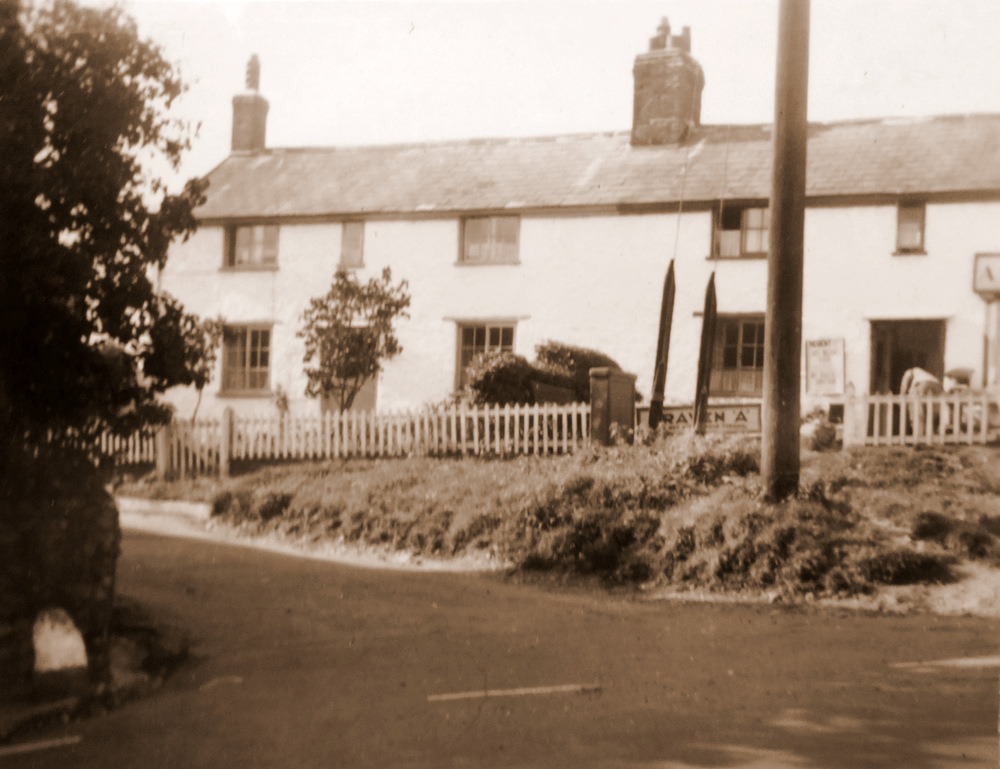 The 1901 Census showing Isaac Hunter aged 66, living at Victoria Cottage, Higher Sea Lane with wife, Mary, aged 68 and son, Harold, aged 28.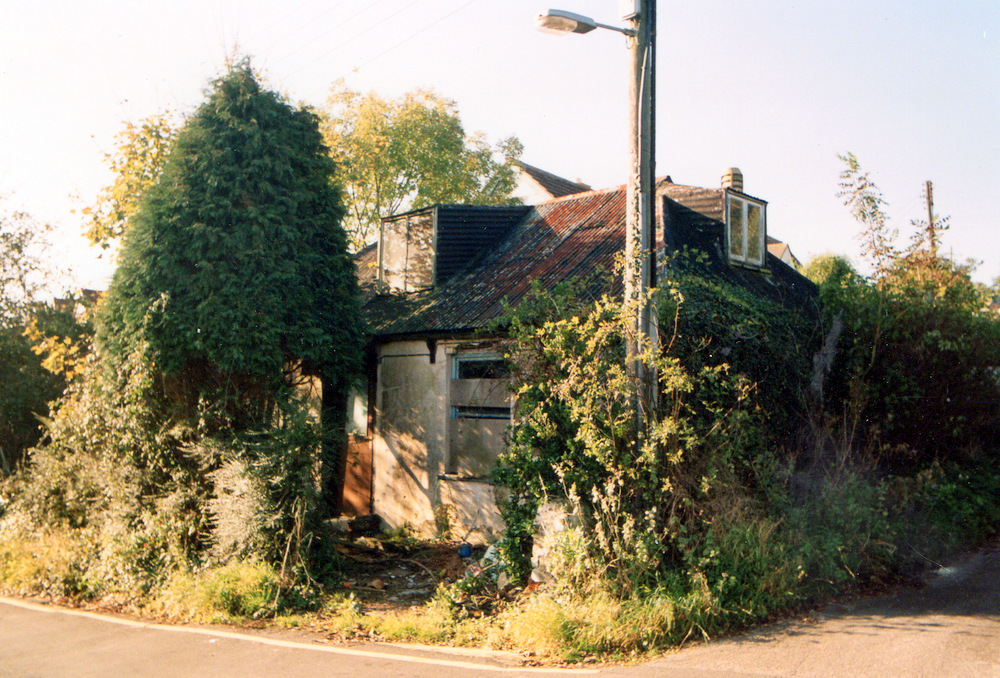 Issac Hunter`s cottage in 1998 when it was put up for sale in a dilapidated state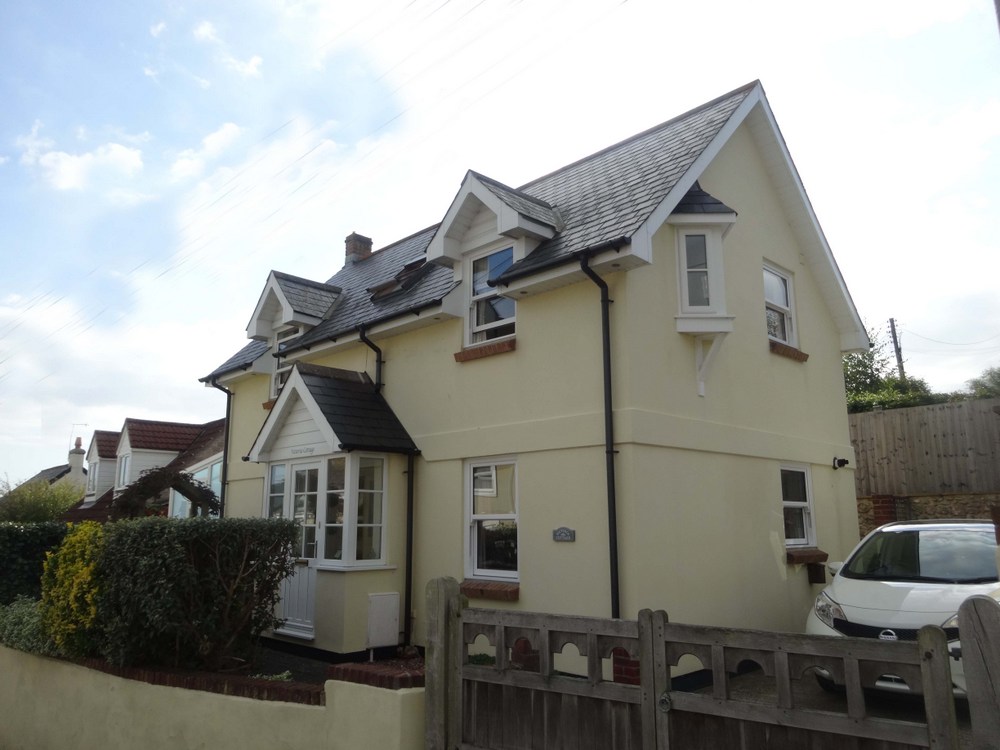 Victoria Cottage today - much altered.
1906 Proceedings of the Geologists' Association , Volume 19
"While traversing the Charmouth Road the Director called attention to the great landslips that had occurred along this tract ... A visit was paid to the home of Isaac Hunter , a zealous collector and dealer in fossils at Charmouth , who displayed his collection".

The 1911 Census showing Mary Ann Hunter aged 82, a Widow living at Victoria Cottage, Higher Sea Lane with wife, her daughter, Louisa, aged 50 and son Harold aged 39.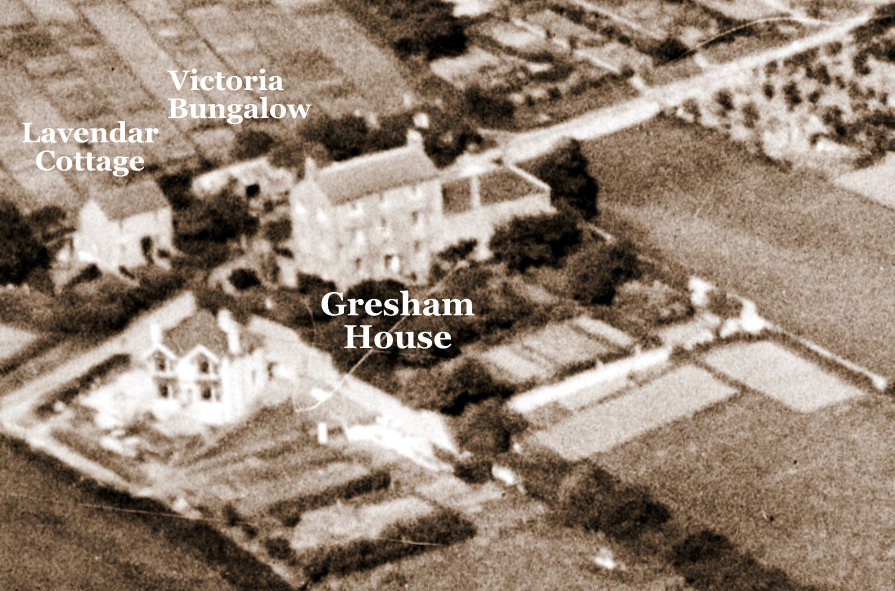 An aerial photograph taken in 1928 showing Victoria Cottage in Higher Sea Lane, Charmouth, where Isaac Hunter lived.

The family tree for Isaac and Mary Ann Hunter with their 9 children.
Tom Hunter (1857-1936)
Tom was the son of Robert Hunter and as a lad used to accompany E.C.H. Day when that geologist was making detailed observations on the Liassic strata east of Charmouth. In this way he picked up a good working knowledge of the succession of the main beds and the horizons at which saleable fossils were found.
He taught swimming,and was himself a powerful swimmer. He was seldom, if ever overtaken in the Duck Hunts at the Charmouth Regattas, when he took the part of "Duck". When his brother, Wilfred gave up the bathing machines, Tom became owner. It was the custom in the 1880s and 1890s for the ladies to bathe from the beach. There was no mixed bathing, and Tom was often known to ask gentleman to move away from the machine when ladies were bathing.
As the number of visitors increased, tents were to supplement the machines.These Tom manufactured himself during the winter months, and later on he made a few huts. For many years he was a familiar figure on the beach and was known to many visitors as it's first custodian.
He joined the Charmouth Volunteers in the early days of the movement, and he sang in the Church Choir for many years. He died in 1936, aged 79. In 1895, the Rates show him owning 4 houses and leasing these to the Parish Officers.
Bridport News 18 July, 1887
"Messrs Hunter,the well known fishermen of Charmouth were fishing for mackerel on Saturday when they discovered that a fish of unusual dimensions was entrapped and making havoc with the net and the mackerel it contained. After hard work the fish was entrapped in the net and the men managed to get a rope round it's tail and succeed in hauling it into their boat. Much to their surprise it was discovered to be a "Thrasher" measuring 11 feet 3 inches in length and about 5 feet 6 inches round it's body and 5 feet 9 inches to the Tail and weighing 3 cwt. The animal was exhibited in Charmouth and Lyme Regis during the day. The fishermen intend having the skin which is a quarter of an inch thick preserved and stuffed".
The Hunters lived in " Sea View" at the end of Lower Sea Lane and for some years the Shark hung in the shed in their garden. The fishermen were probably Tom and Arthur. Tom later on moved to a cottage up the Lane on the other side and the Shark was no longer seen.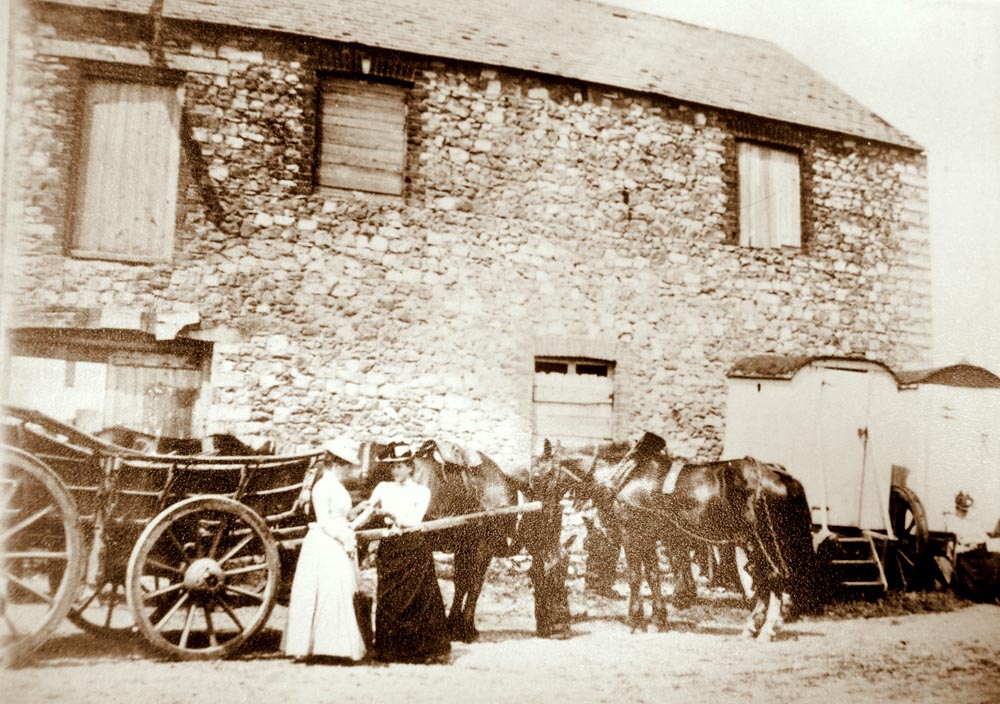 The Cement Works about 1890 showing the building boarded up with Robert Hunter`s Bathing Machines and horses that pulled them out to seaand.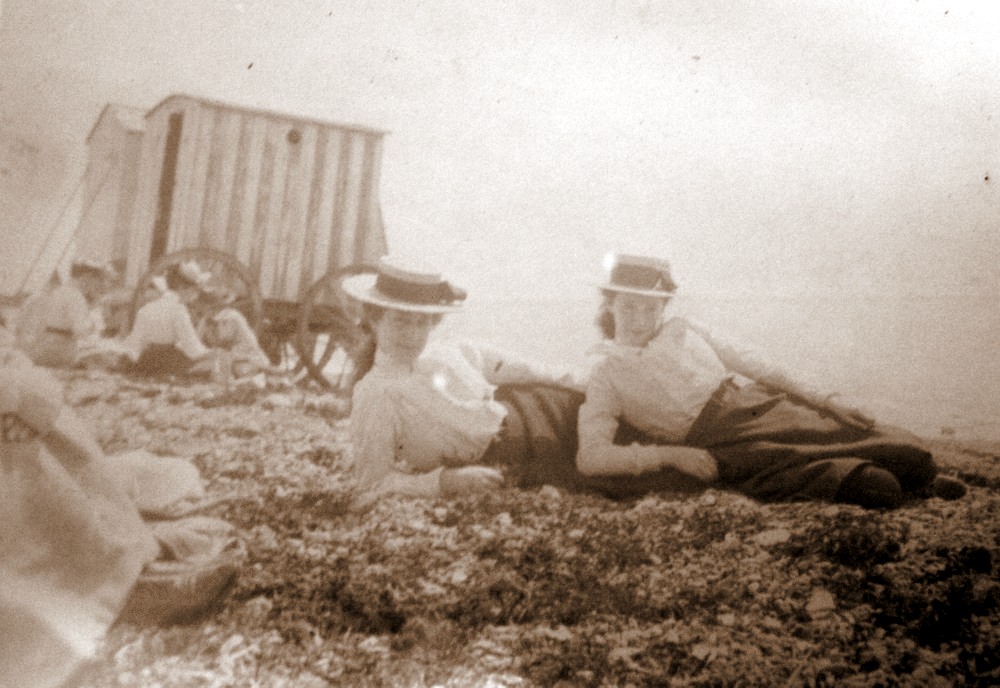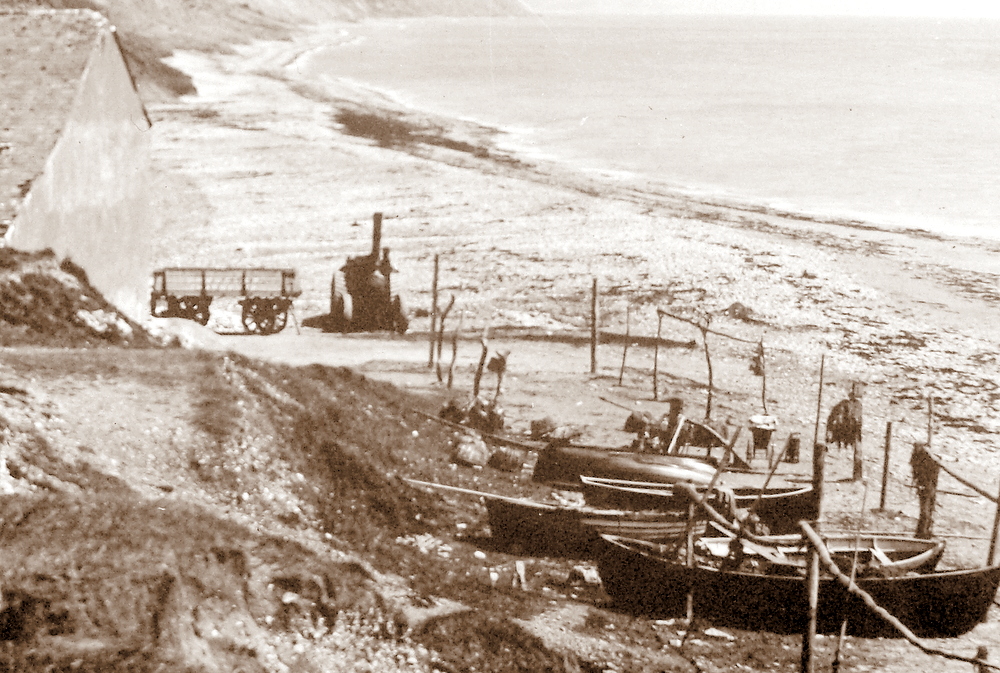 This picture shows the platform for the boats, notice the high water mark, George Bugler`s Traction engine carrying away sand and shingle. The herring boats were called Larrrets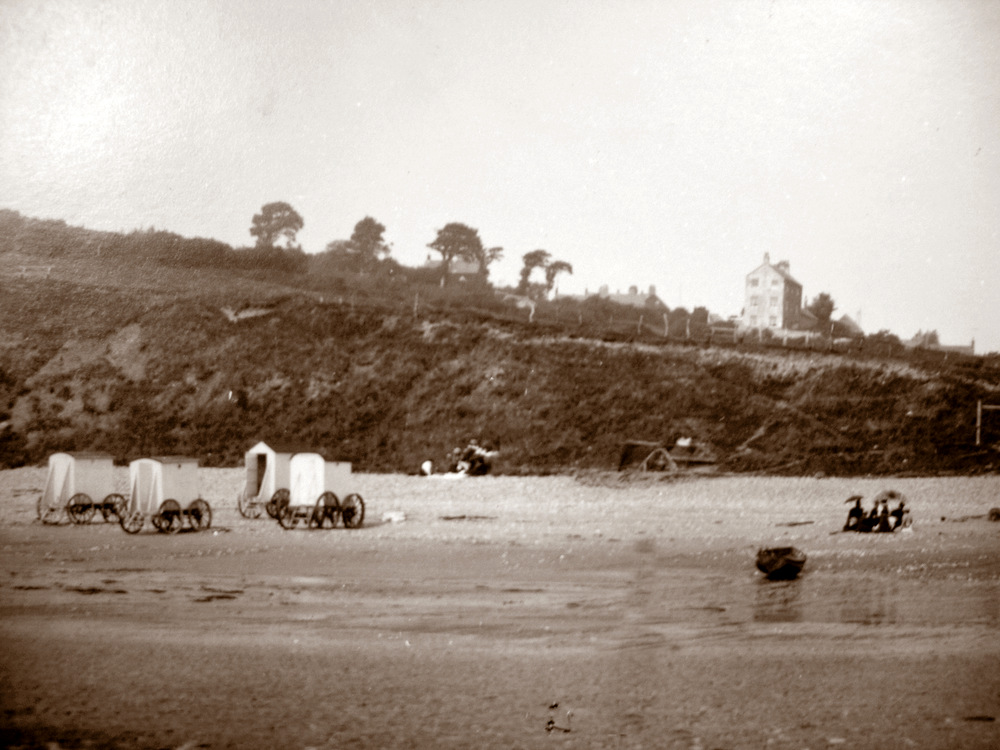 The Hunter`s Bathing Machines on the beach in front of the Heritage Centre. The Tall building in the background is Sea Horse House in Higher Sea Lane.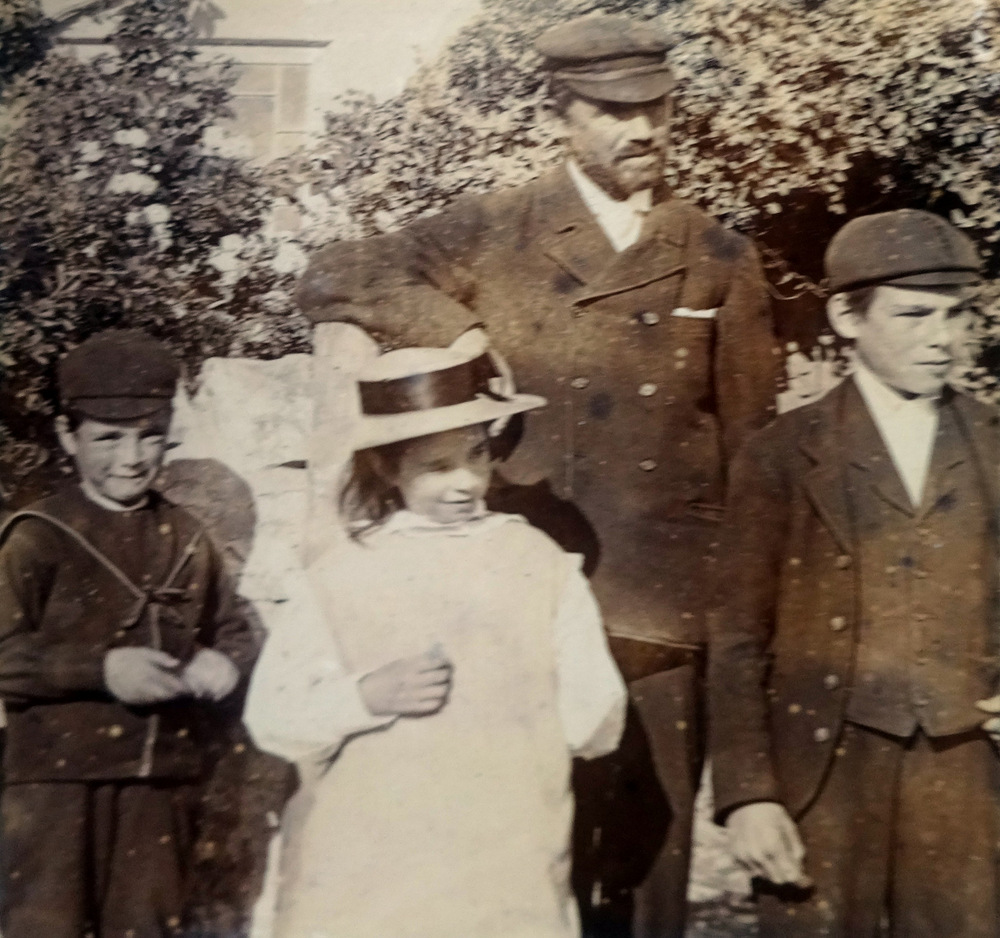 Tom Hunter with his family c.1900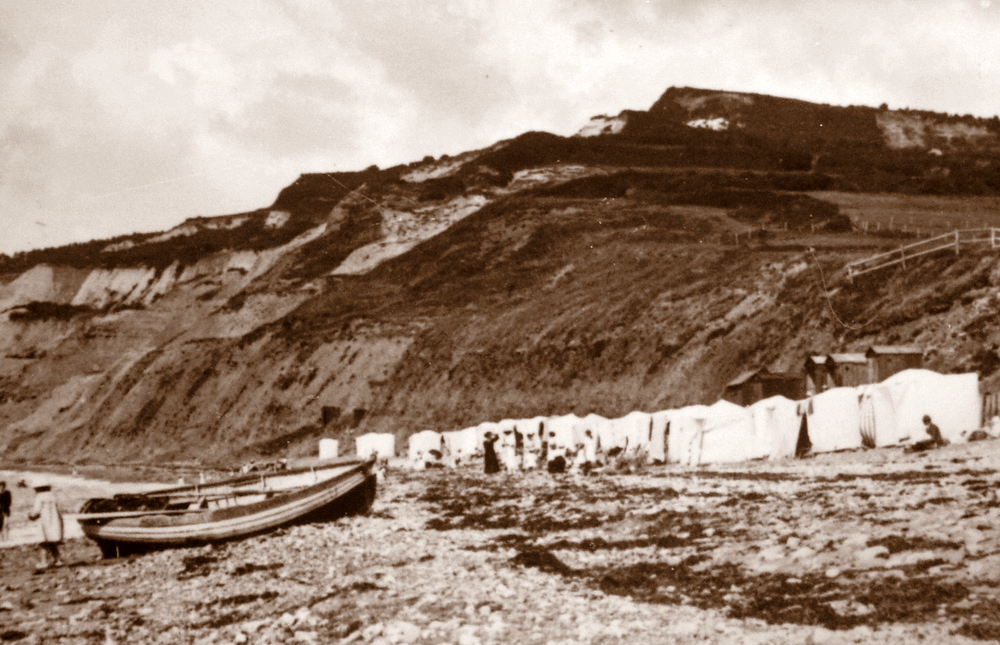 The Beach Tents owned by the Hunters along the beach at Charmouth.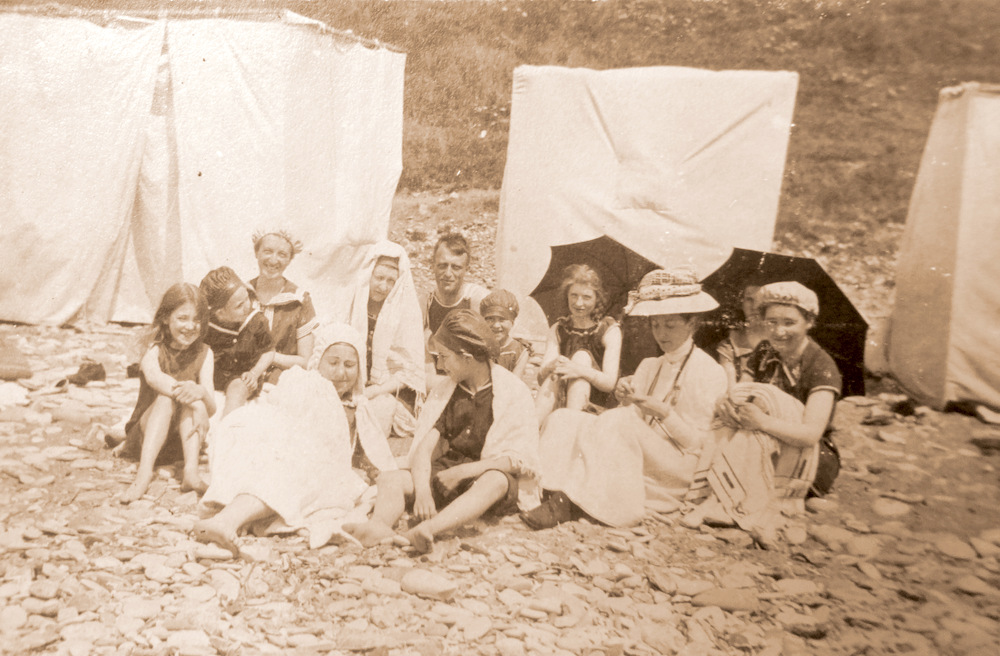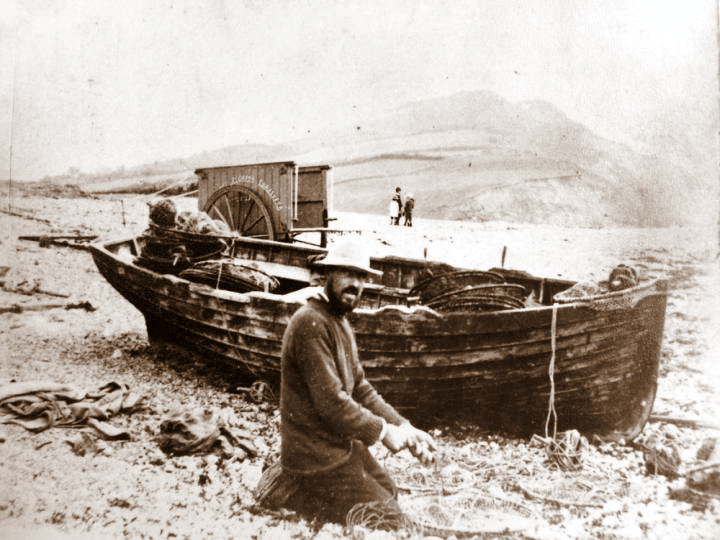 Tom Hunter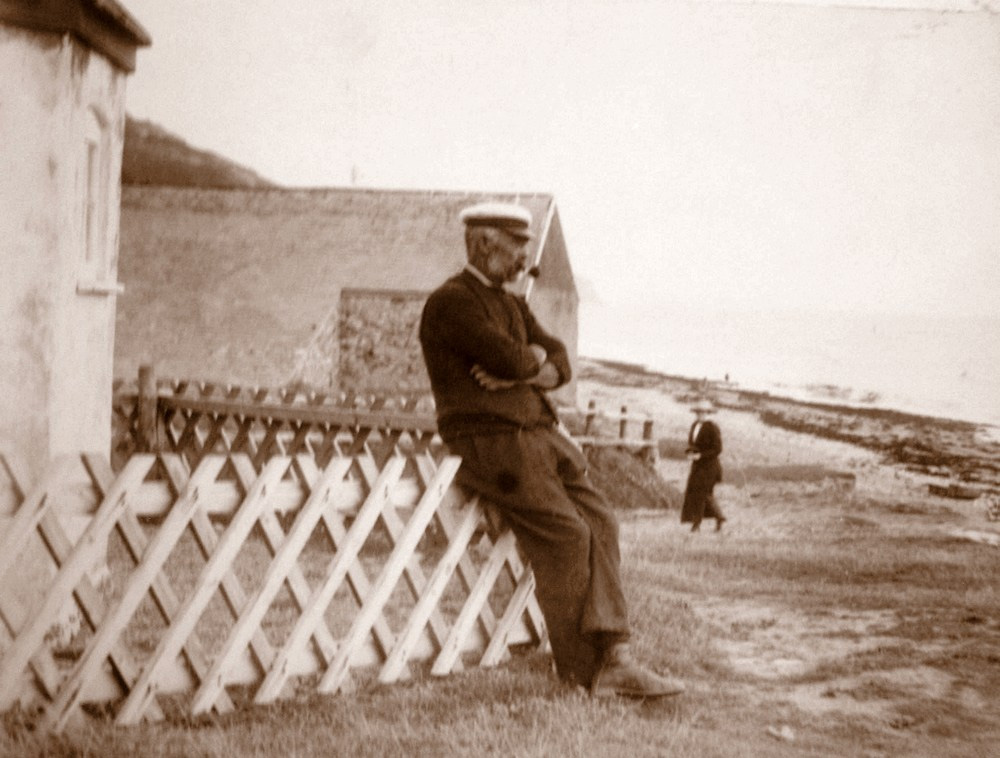 Tom Hunter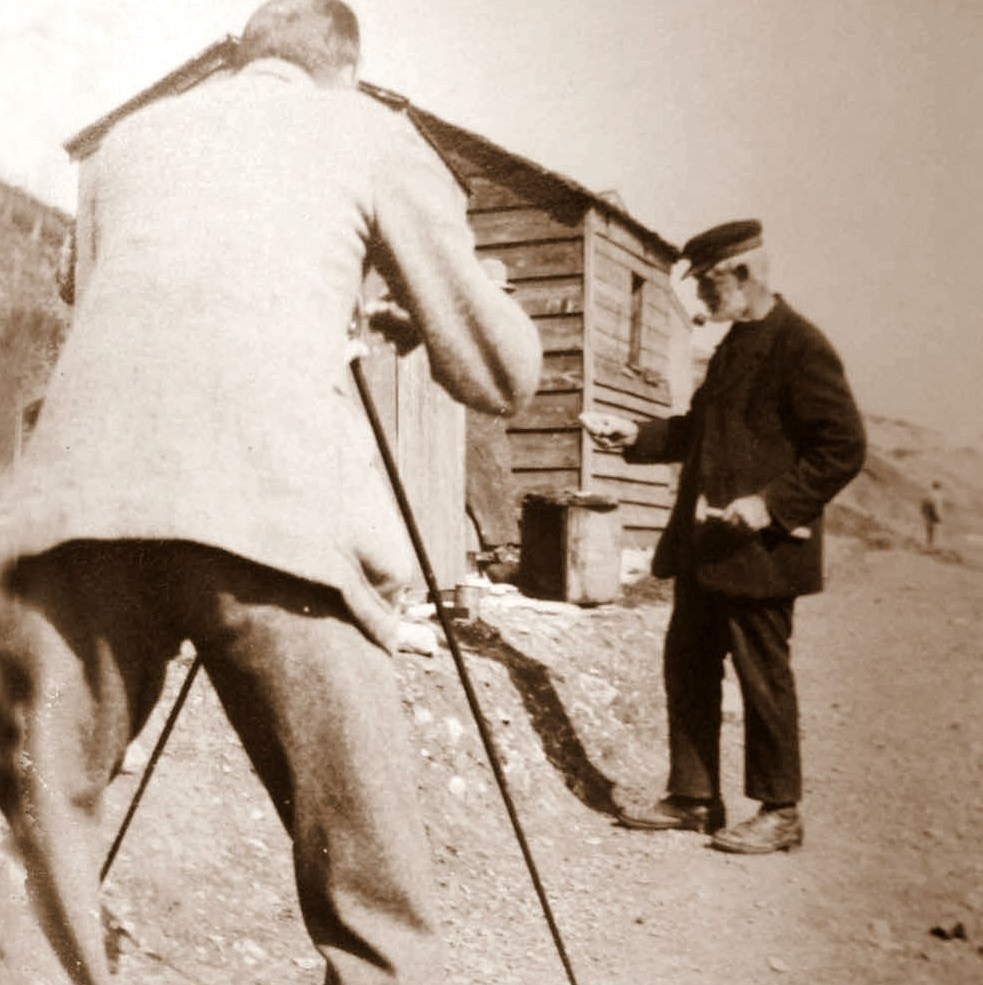 Tom Hunter being photographed by Claud Hider on Charmouth Beach c.1923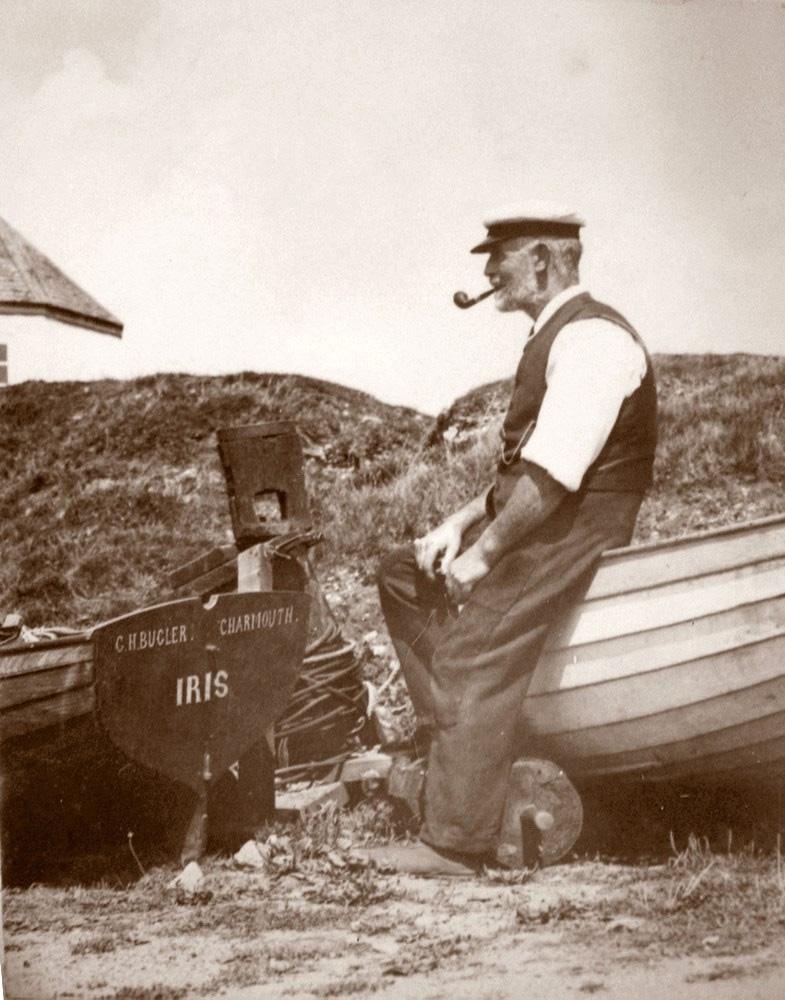 Tom Hunter
Tom Hunter

1903 Directory showing Isaac, Wilfred, Tom and William Hunter

1901 Census showing Tom Hunter (aged 44) and his wife Jane (aged 46) with son Reginald (aged 9) and daughter Margorie (aged 7). Next door shows Ann Hunter (aged 80) living with her daughter Frances M. Sheppard (45) and son Wilfred (aged 34).

1911 Census showing Tom Hunter (aged 54) and his wife Jane (aged 56) with son Robert (aged 24) and daughter Margorie (aged 17)
The Will for Tom Hunter showing him living at 2 Coast Guard Cottages in Lower Sea lane in 1936
William Hunter (1857-1936)
William was the son of Isaac Hunter. He married Ellen Churchill from Broadwinsor in Dorset in 1881, when he was 24.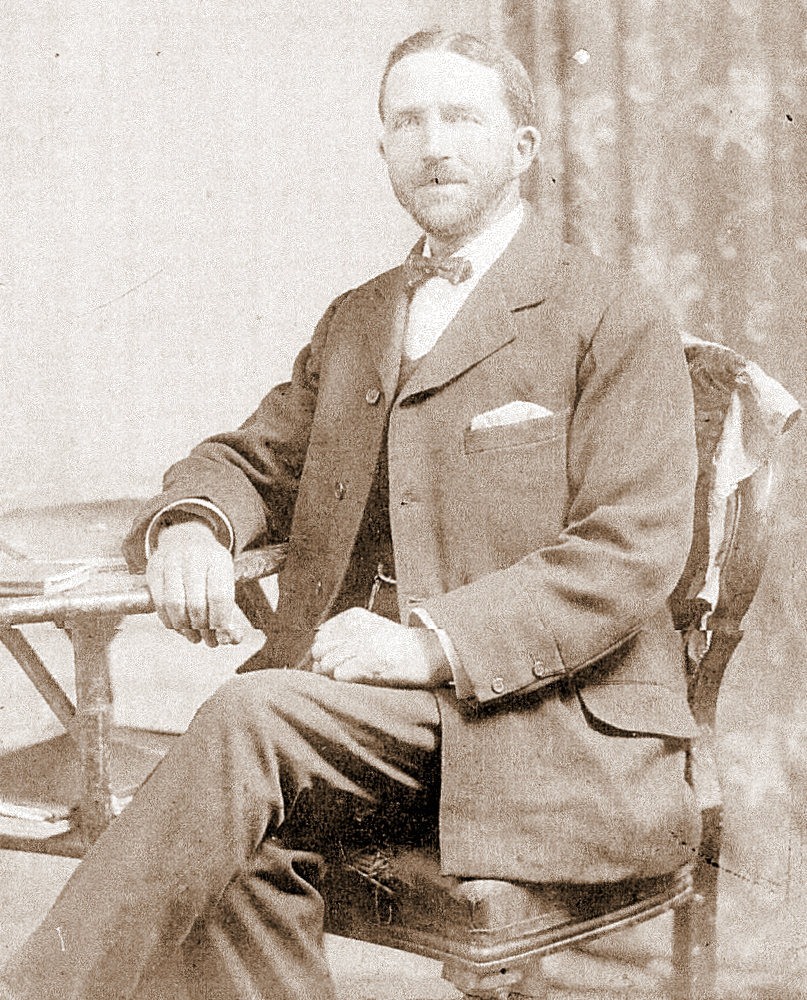 William Hunter

The 1891 Census shows William Hunter, aged 34 as a Fisherman and his wife, Ellen, aged 31 with 5 of their children. They were living at Hill View on the Axminster Road.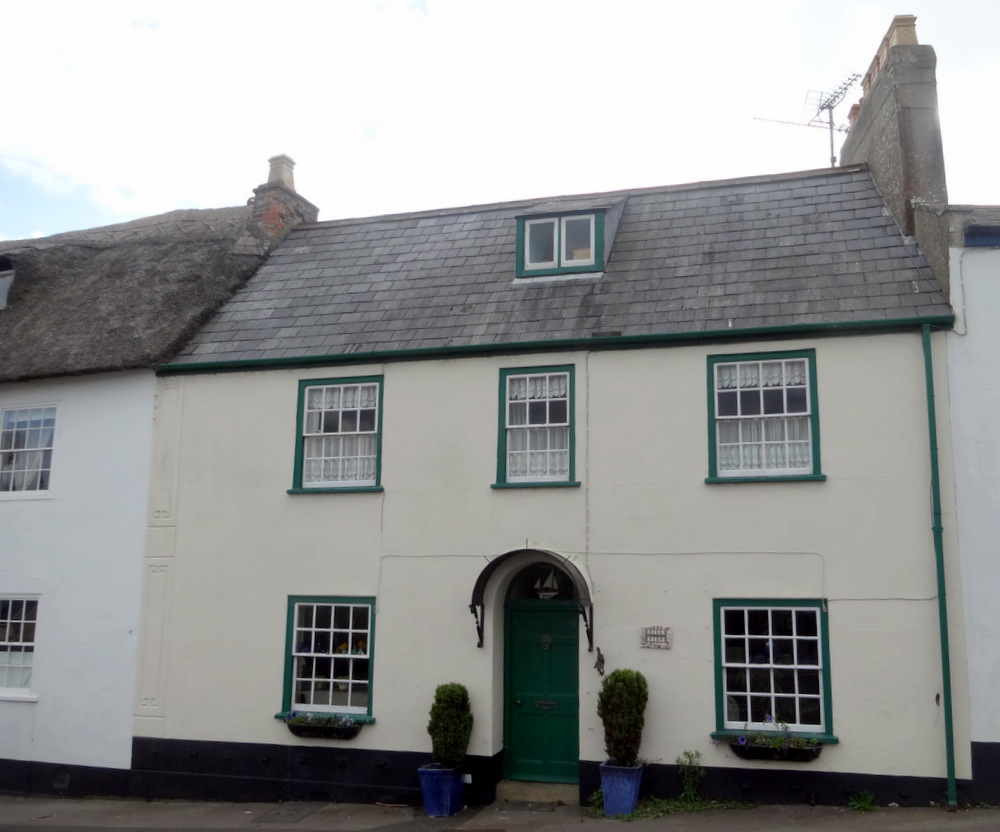 Hill View, Axminster Road, Charmouth today
The 1911 Census showing William and Ellen still living at Hill View on the Axminster Road with 6 of their 10 children.

The Family Tree for William Hunter

Willam Hunter`s Will for 1936 showing him still living at Hill View since 1881. It is intersting that his cousin Tom Hunter was born in 1857 and died in 1936, the same years as William.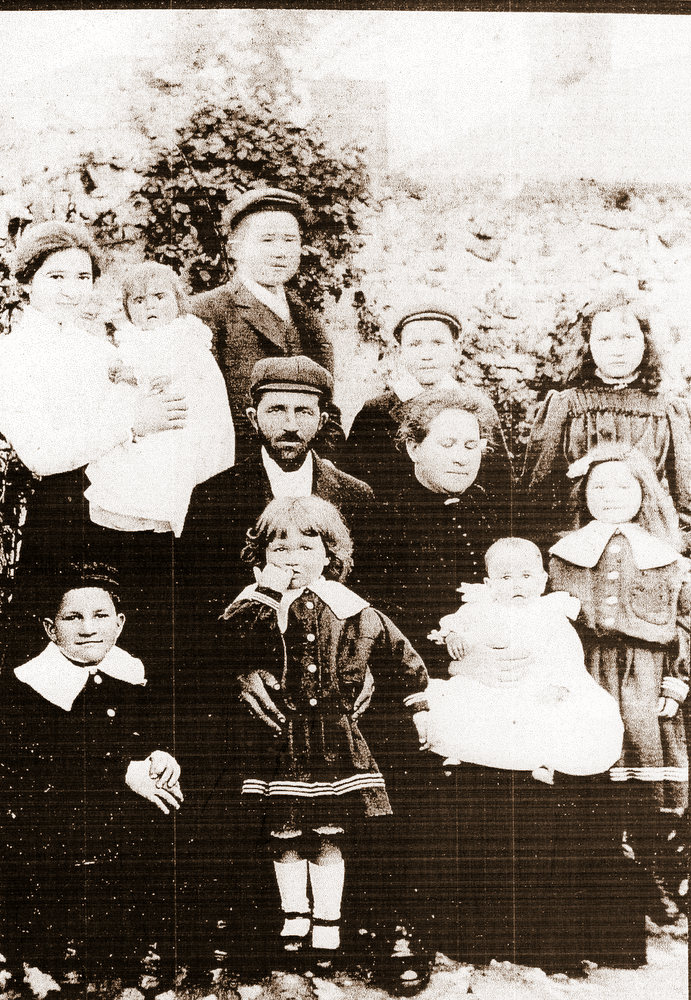 William & Ellen Hunter who had 10 children in all in the garden of their house - Hill View, Axminster Road, Charmouth. He was the son of Isaac Hunter.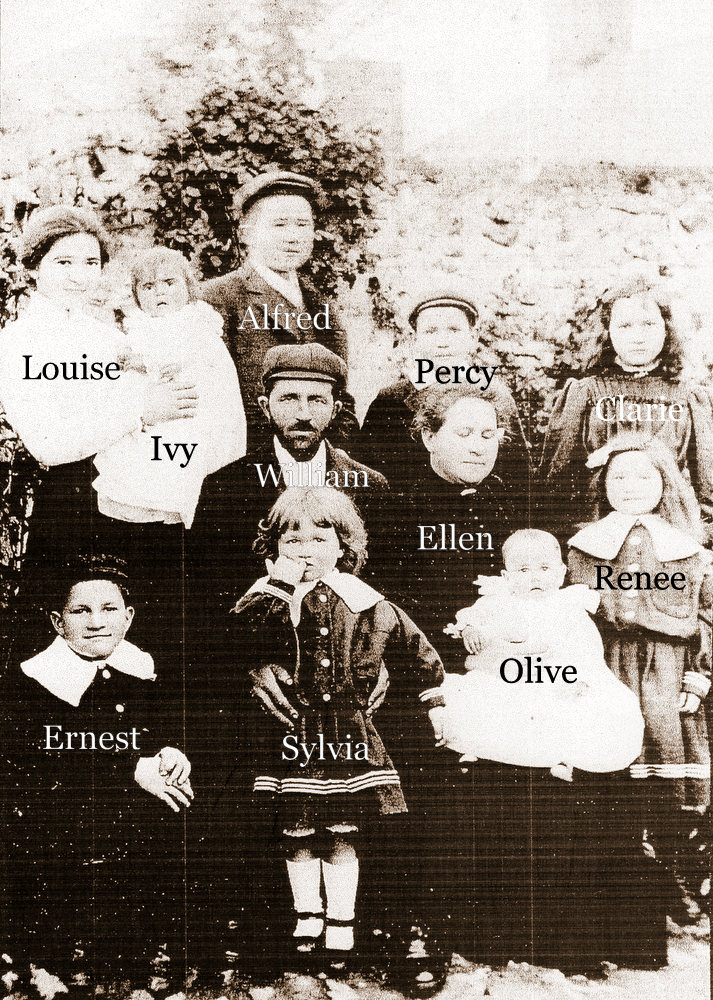 Key to above photograph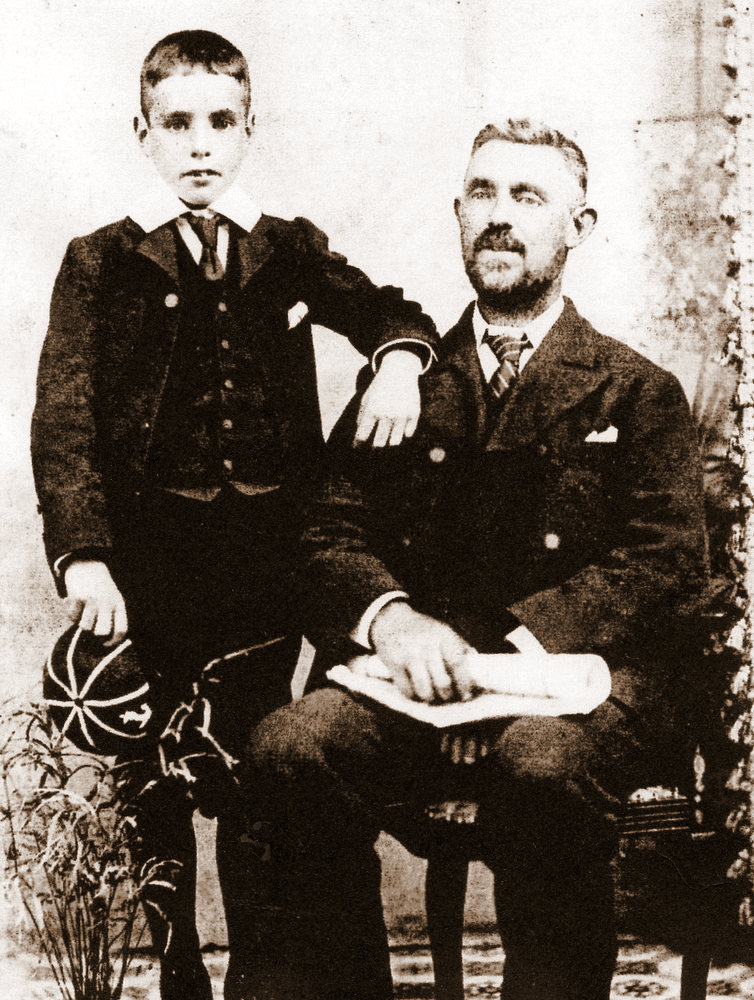 Reginald Hunter on the left and Thomas Gale Hunter on the right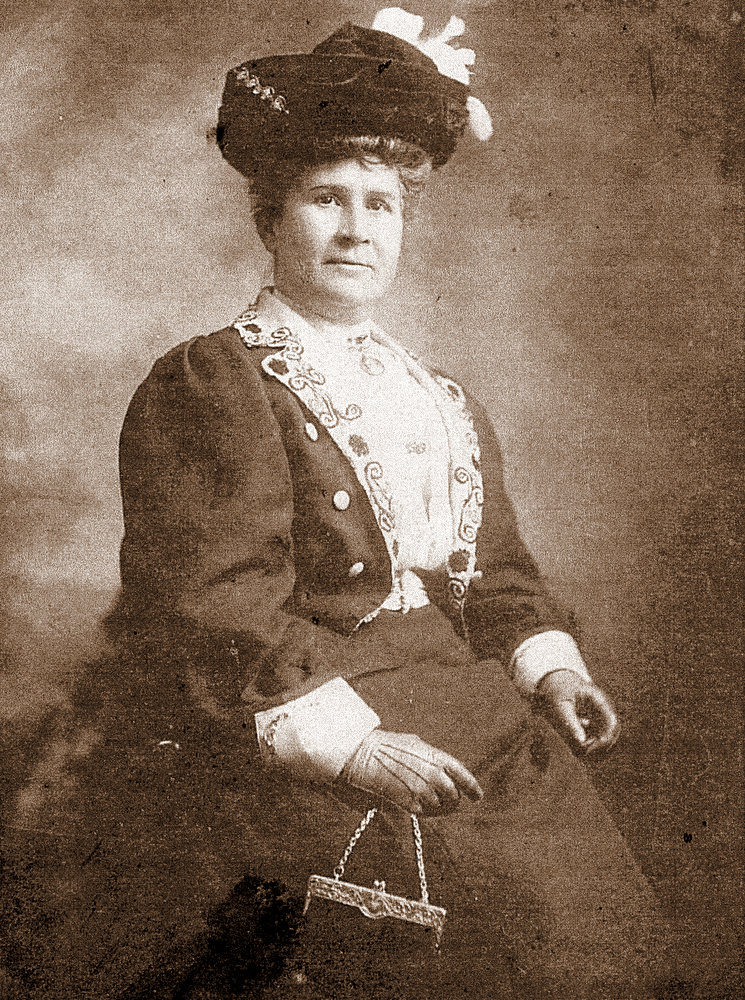 Ellen Hunter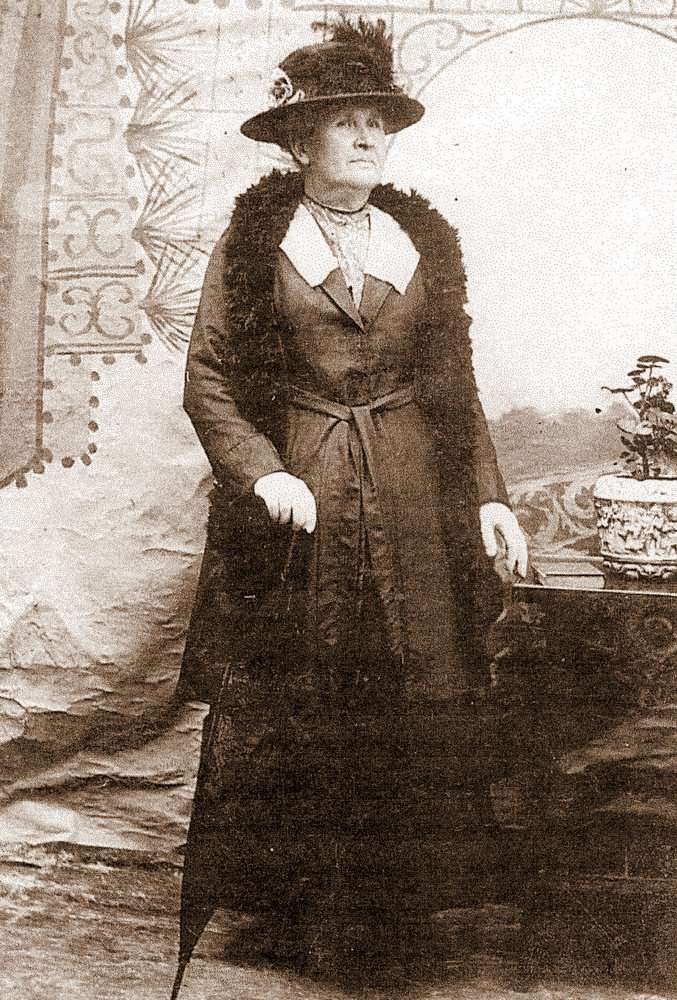 Ellen Hunter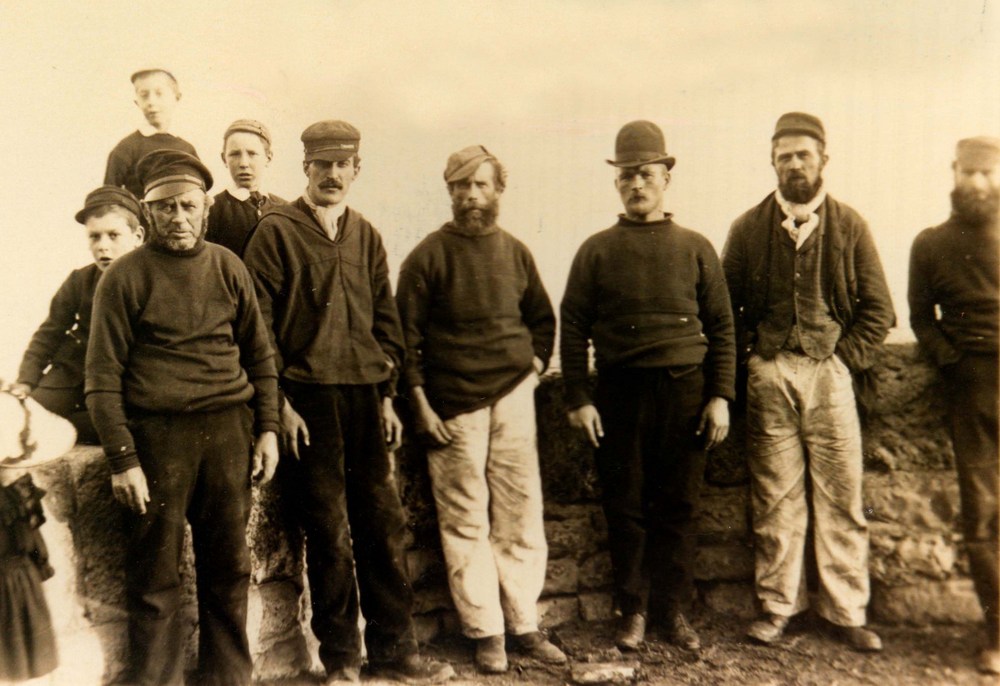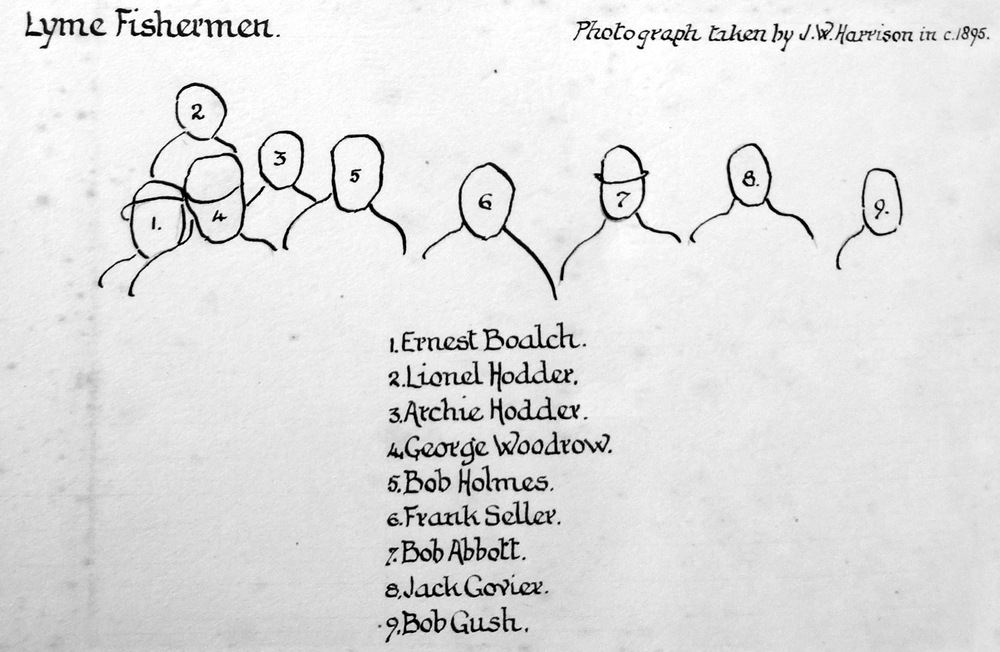 Lyme Regis Fishermen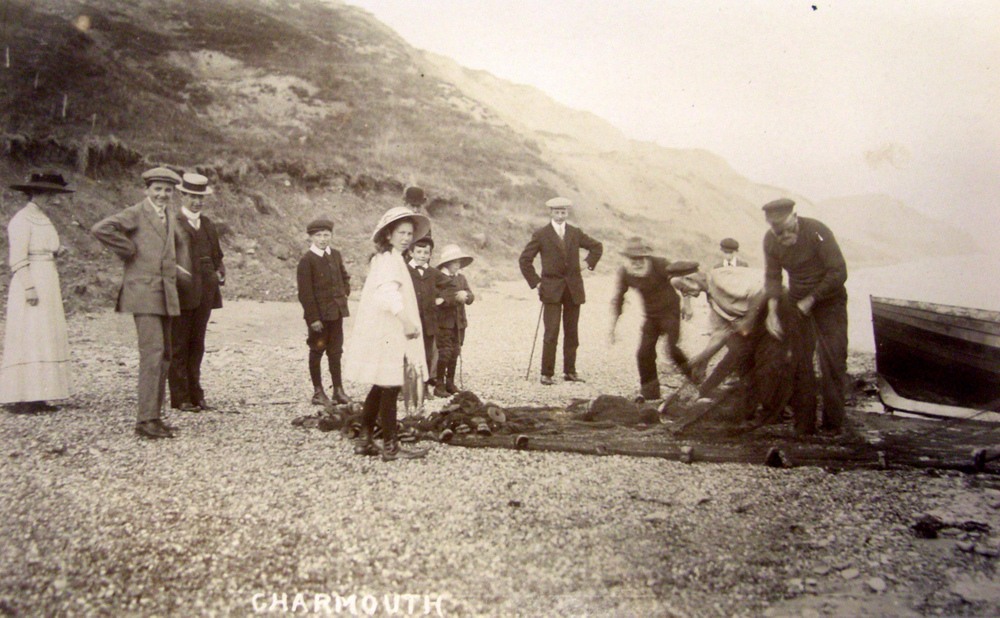 The Hunters on Charmouth Beach c.1910

1891 Census showing Tom Hunter, aged 34 married to Jane, aged 38, with Robert, Edward and Elizabeth.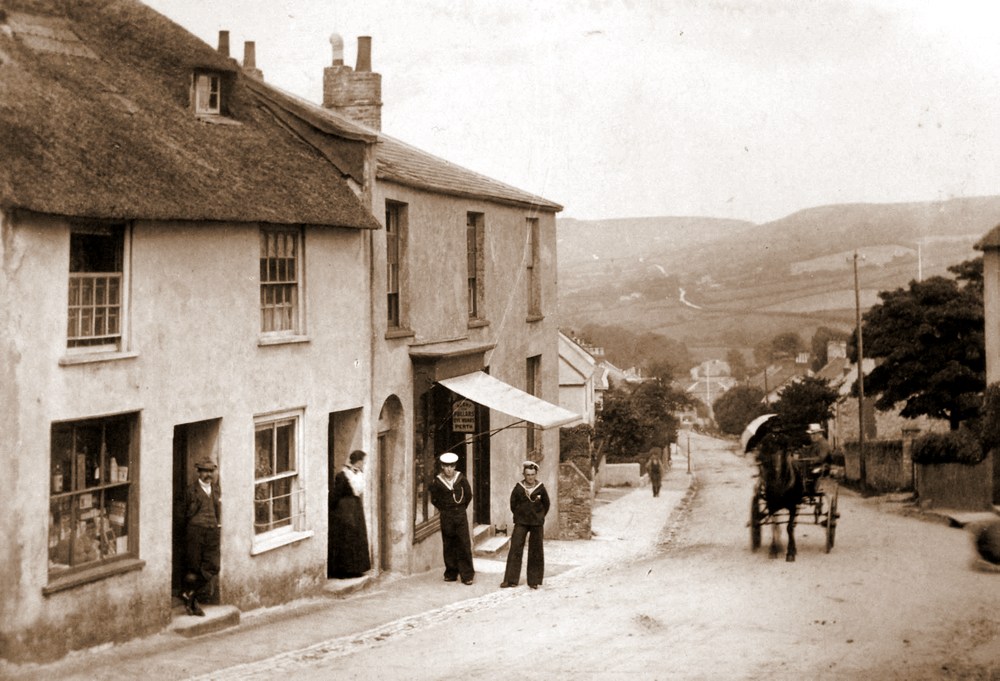 The two sailors are Ted Hunter and Charles Larcombe outside Portland House c.1900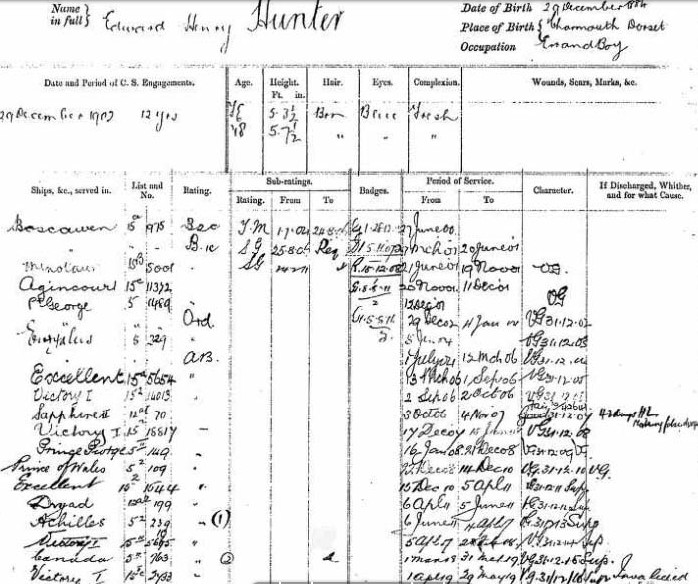 The record for Edward Hunter`s service in the Royal Navy from 1904 until 1919 which shows the large number of vessels he served on.

1924 Electoral Roll for Charmouth shows William living at Hill View, Harold at Victoria Bungalow, Edward at Beach View and Thomas at Coastguard Cottages.
Ted Hunter lived at Beach View and used to look after the bathing tents and deck chairs for Charmouth Council in the 1930`s.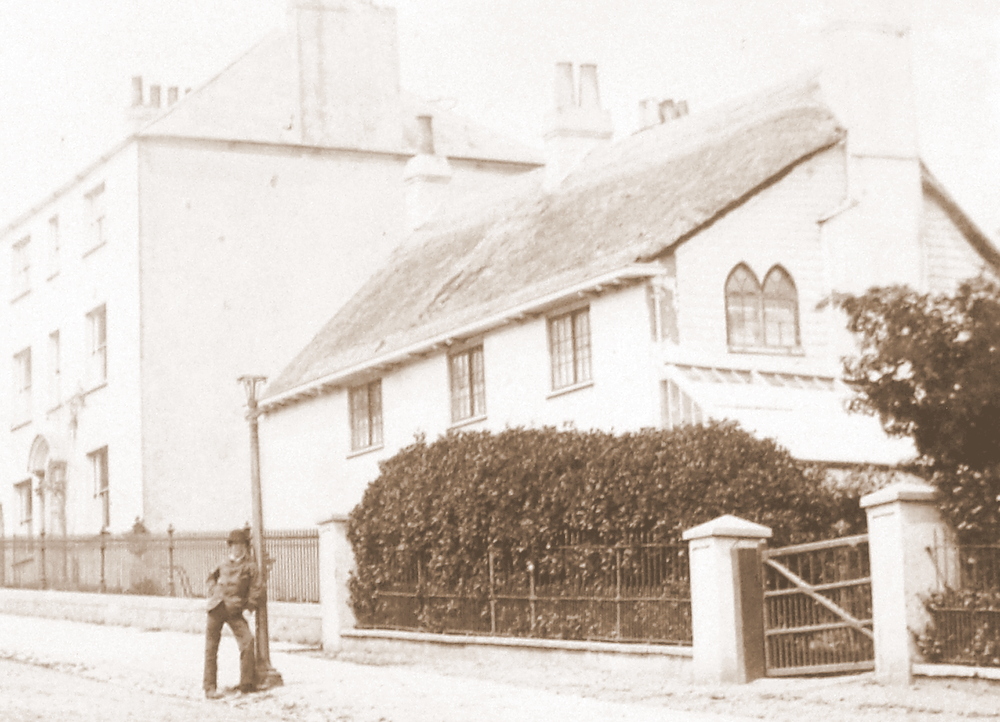 Albury House
The 1841 Census shows William Juson, aged 70 who owns Backlands Farm living in Albury House with his srrvant, Hannah Hunter, who he later leaves life interest in his house.

1851 Census showing Hannah Hunter as Servant to the late William Juson living at The Cottage (Albury House)
1853 Court Case: William Barfoot Juson late of Charmouth, Dorset esq. and Henry Larking of Tunbridge, Kent.
"The Cottage" was owned in 1799 by William Juson when he also owned "Backlands Parm", and left it to his servant Hannah Hunter for her life, who died in 1845- (was she a daughter of John Hunter?). Juson left the house to his servant Hannah Hunter for her lifetime as in 1856 there is an assignment of Larking( Jusons Executor) to Mrs. Drew, while Mrs. hunter was still alive.
This is an article about "Isaac Hunters Dream" that appeared in the Chatterbox"

1922 Electoral Roll showing Isaac Hunter living in Higher Sea lane, Thomas Hunter in Lower Sea lane and William Hunter on the Axminster Road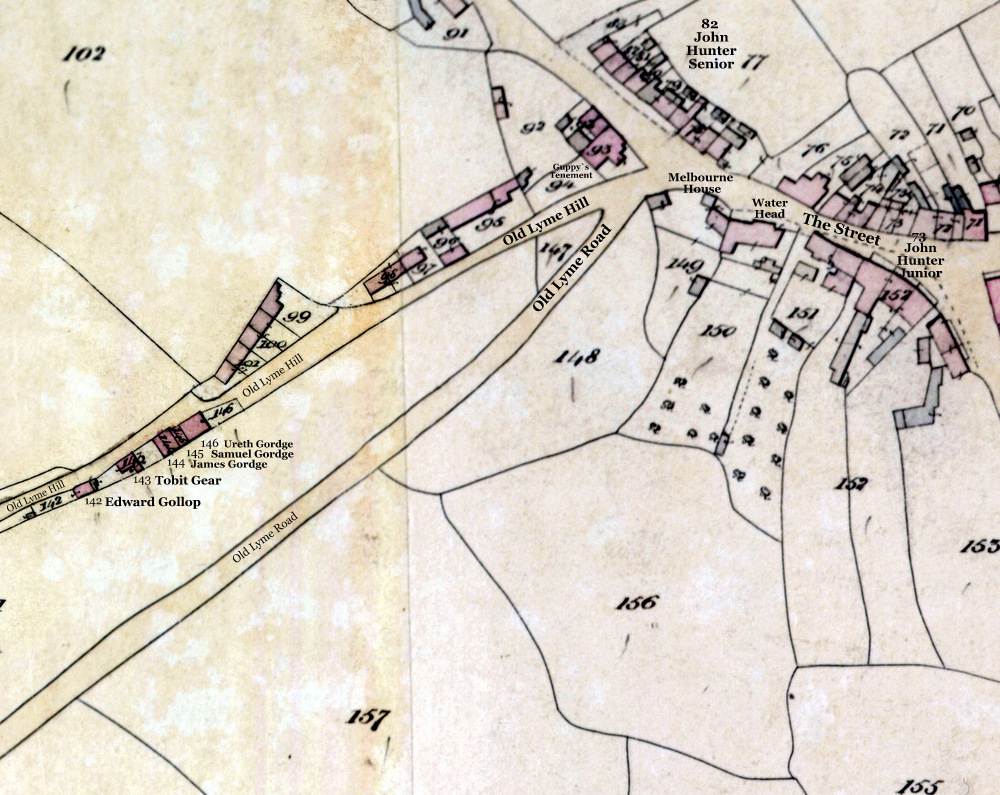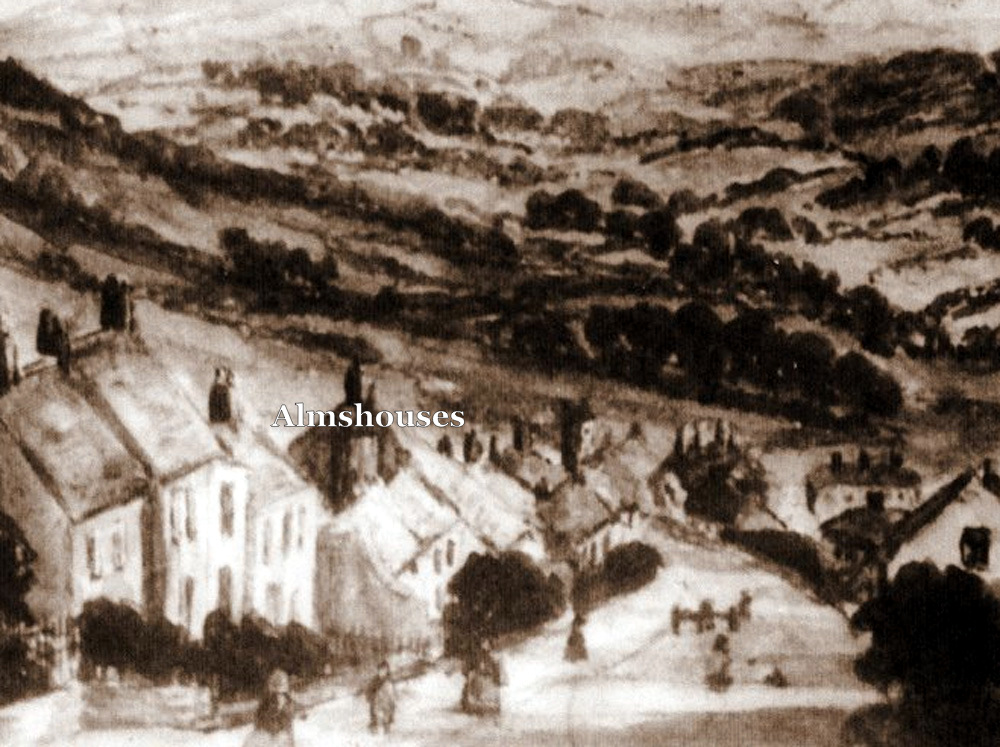 The Almshouses next to where the Court was later to be built in 1864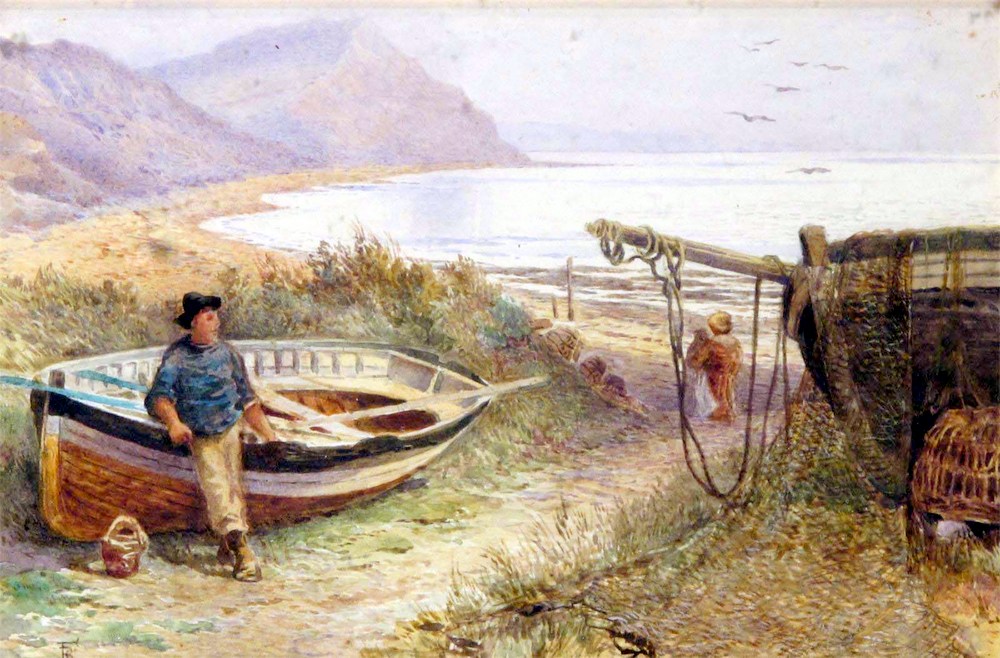 Charmouth by Birket Foster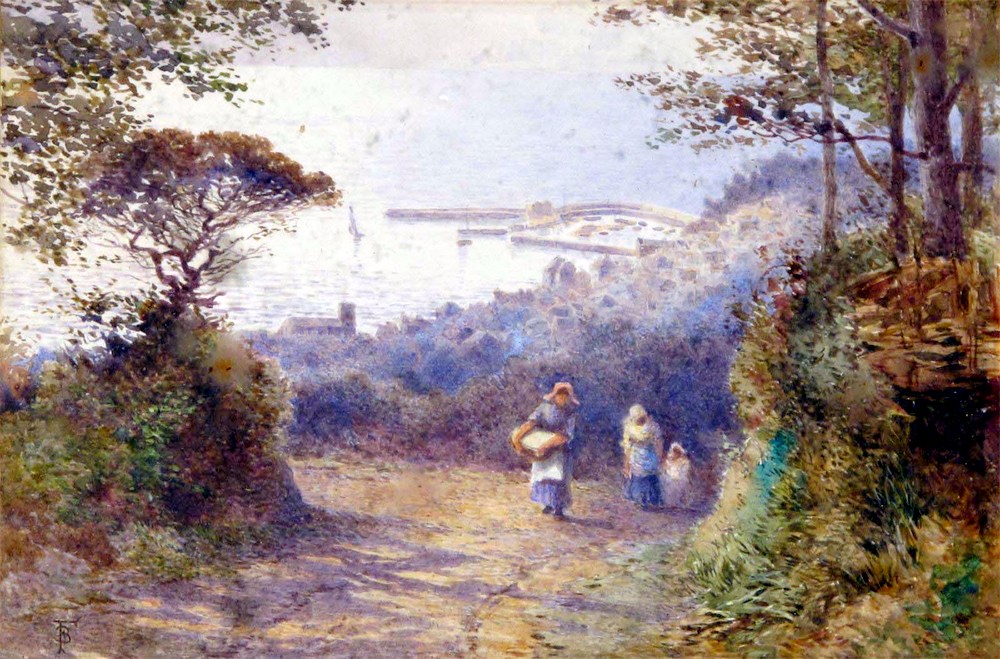 Charmouth by Birket Foster