Cranford House
Scroll down to find out more about the property.
Click on images or Charmouth Home to return back.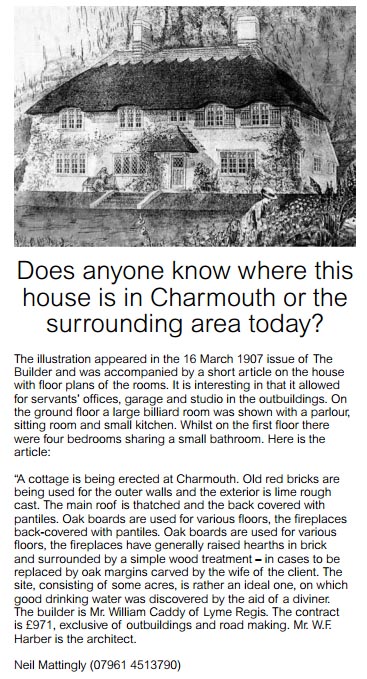 The Mystery of this missing house has been solved! It is Cranford House on Westover Hill, Axminster Road almost opposite Thistlegate Care Home. The owners contacted me and I was able to confirm that this was indeed the same property, though its pretty thatched roof has long since been replaced with tiles after a fire. I have done some research on its history since and found that the clients for the original house were John and Maria Dalton. He would have been 46 when he commissioned the architect and is described as a retired Solicitor in the later 1911 Census. The couple had previously lived at Little Hampston, near Totnes in Devon, and prior to that practised in York. The Electoral Roll for the house shows them still living there in 1920, but there are no records afterwards. I went to the Dorset Record Office and found that there were 2 sets of drawings for a new drainage system in 1926 and an extension in 1939 by the Pass Family. This was interesting as the head of the family; Douglas had inherited a vast estate from his father Arthur and was living at Wotton Fitzpaine Manor at that time. His mother, Elizabeth, was living almost opposite at Thistlegate House, which she had built shortly after her husband died. No doubt he had bought Cranford House from the Daltons.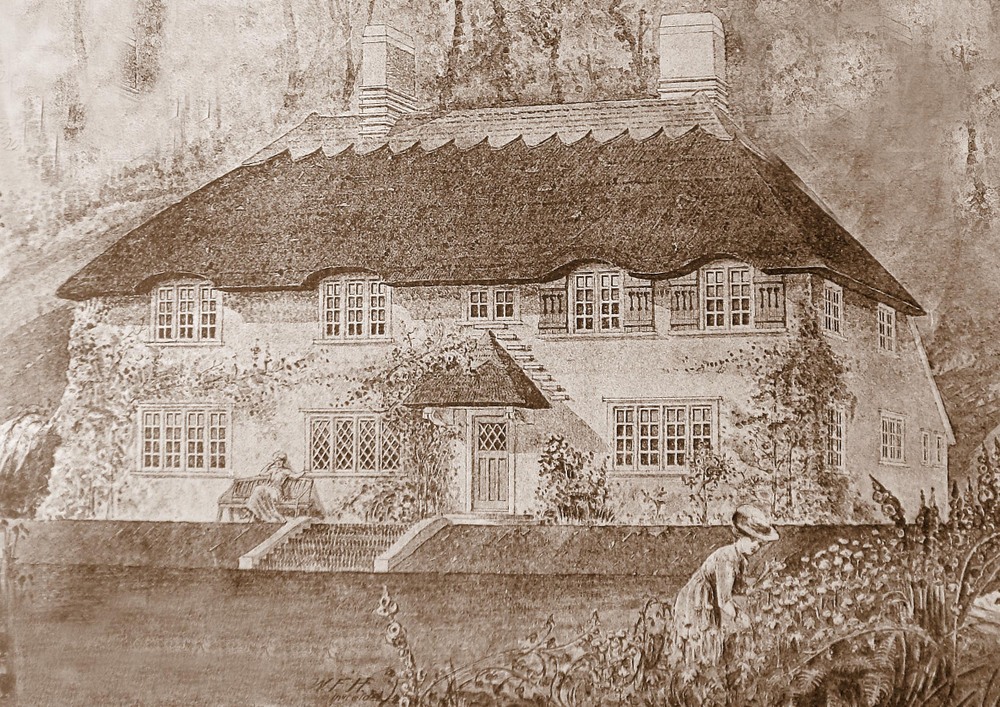 This cottage is being erected at Charmouth. Local red bricks are being used for the hollow and other walls, and the exterior is rendered with lime roughcast, coloured with a coppera. The main roof is thatched and the lean rear is covered with pantiles. Red paving bricks are used for various floors, hearths and steps. The fireplaces are generally formed (with raised hearths) in brickwork, left unplastered, and surrounded by a simple wood treatment – in cases to be replaced by oak margins carved by the wife of the client. The site, consisting of some acres, is rather an ideal one, on which good drinking water was discovered by the aid of a diviner. The builder is Mr. William Caddy, of Lyme Regis. The contact price is £967., exclusive of outbuildings and road making. Mr. W.F. Haber is the architect.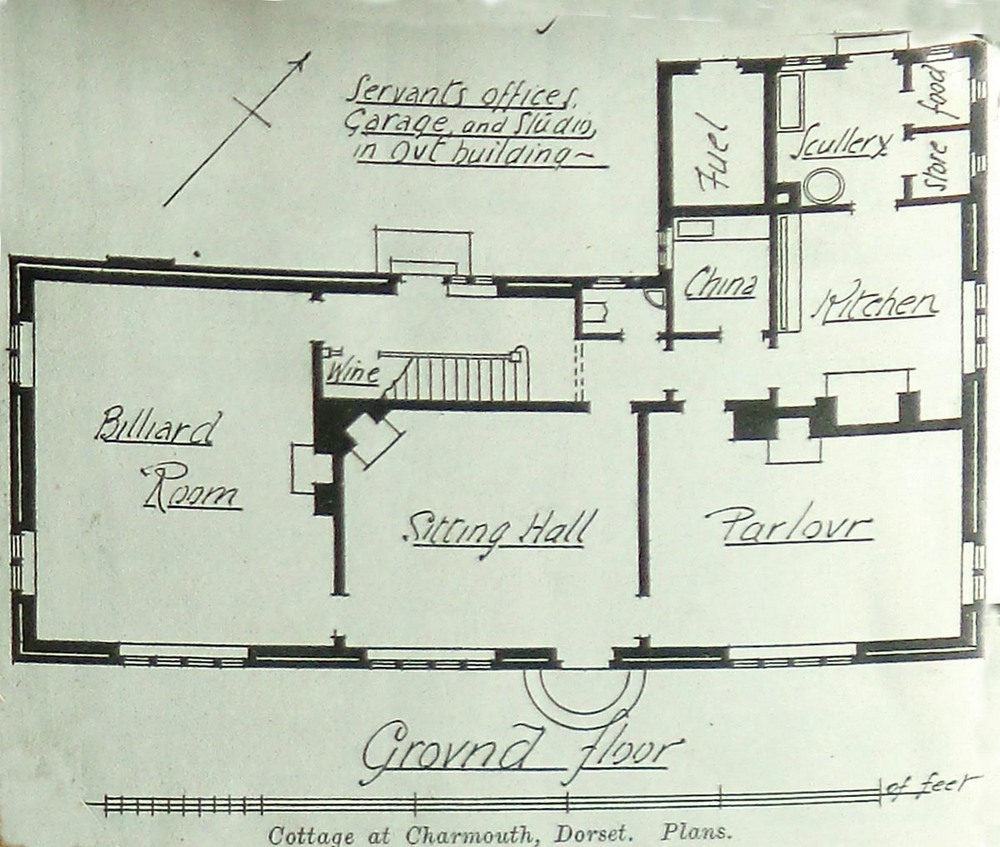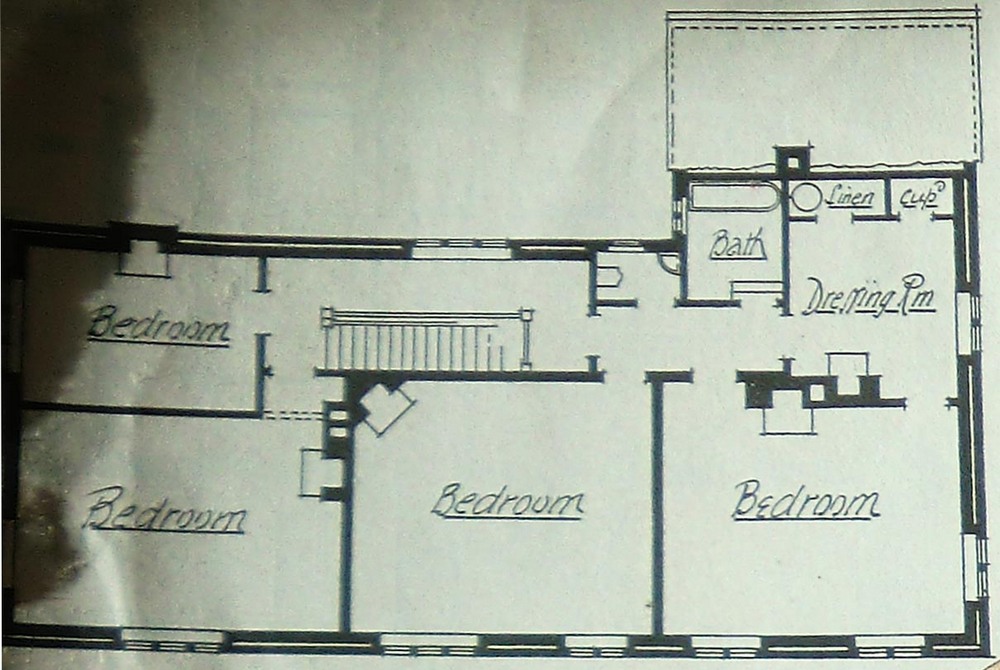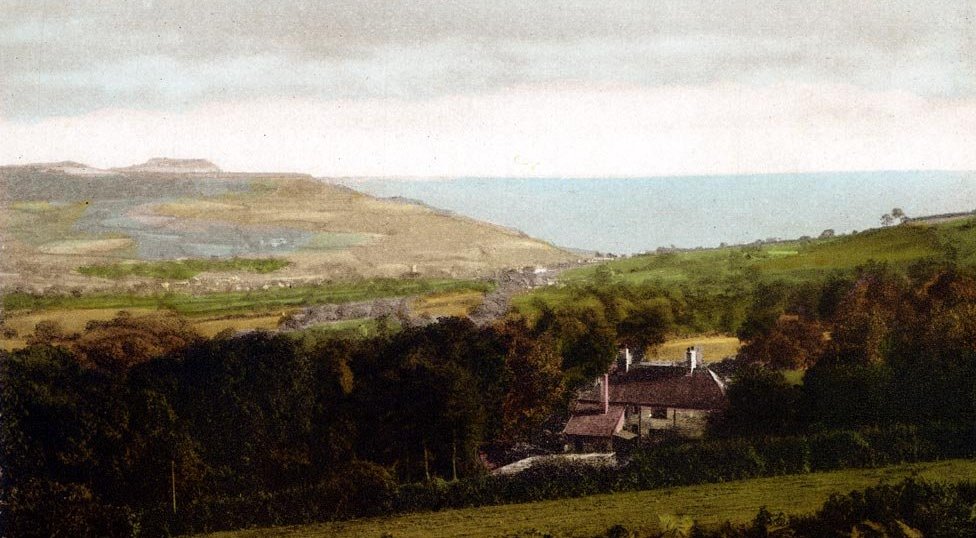 A view looking across to Charmouth Village, with Cranford House in the foreground.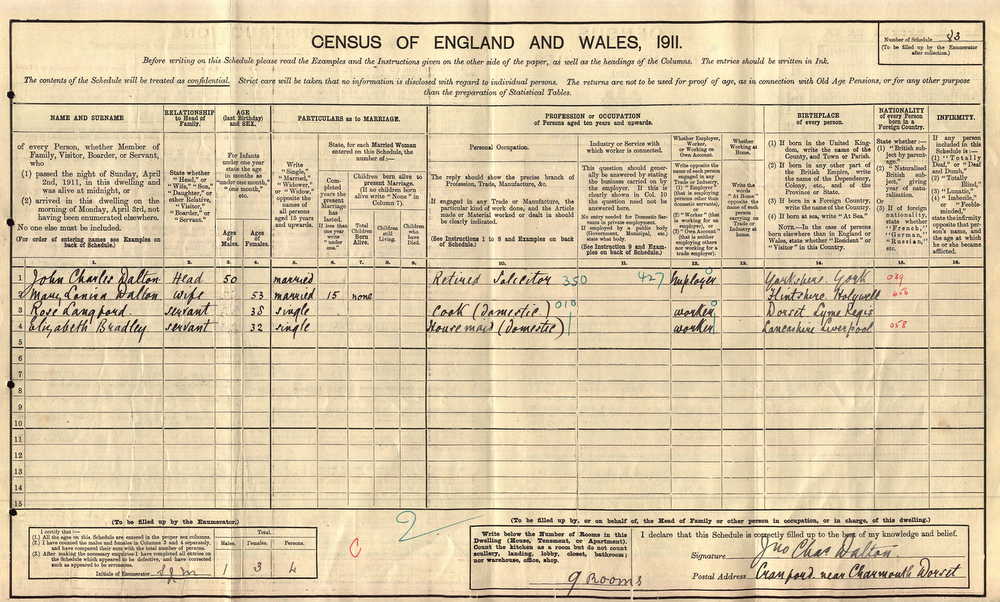 The 1911 Census return for Cranford House. It details John Charles Dalton, aged 50, retired Solicytor born in York as Head. His wife is Mary Louisa, aged 53 and married to her husband for 15years with no children. They also employ Rose langford as Cook and Elizabeth Bradley as Housemaid. At the bottom of the form it records that there are 9 rooms in the house.

The 1920 Electoral Roll for the village show Mr and Mrs Dalton occupying the house.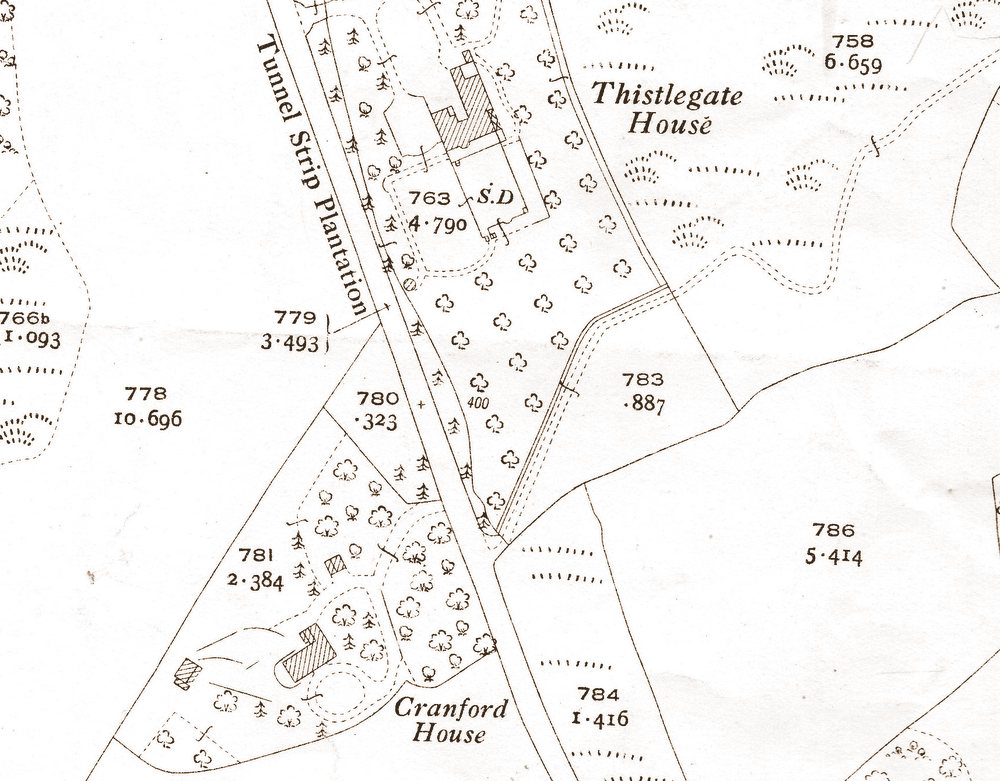 This map dated 1926 show Cranford House, by then owned by Douglas Pass set in a wooded landscape opposite his mothers House - Thistlegate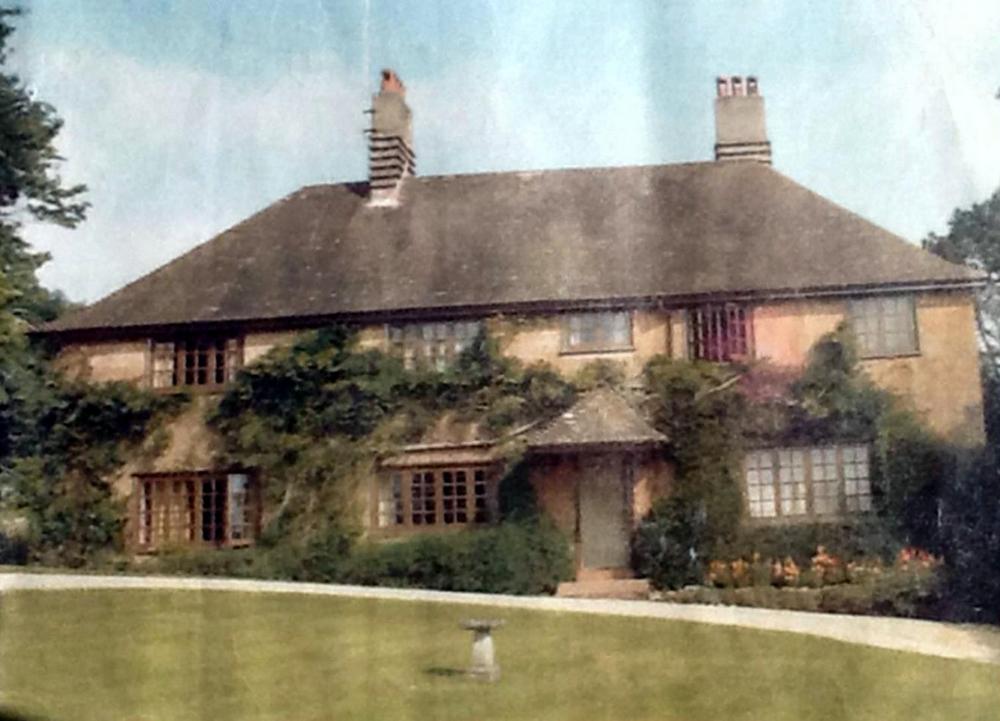 An Estate Agents photo from when the house was sold to the Pitts before the by pass went through in 1990. As you can see from the later photo below, sadly the Pitts decided to replace all the windows, probably for ease of maintenance.(photographs kindly lent by Donna and Paul Canham)
" I know when I spoke to Peter Cox who grew up here he told me that the Pass family kept this a sort of party house for guests of the family and that his father Donald had been desperate to buy the house as he had fallen in love with it . I believe he was a doctor and was also the Church warden at Monkton Wyld Church where he is buried . He smiled when he said that the family gardener was buried near by him. He said his mother was a Catholic and his parents had lived at Cranford happily until his father passed away and she moved to the house next door to the Catholic Church on the way into Axminster. The house was then sold to the Pitt family who lived here for a number of years at the time of the by pass going through. Joan Pitt visited me not long after we moved in to show me pictures of the house as it was before they changed the windows and of the bluebells , daffodils and Rhododendrons that are so beautiful here. She said when the children grew up they had down sized to a house at Raymonds Hill and also have a property in France .They sold to the Lammings from Slough who had a small lottery win . Mr Lamming was a retired policeman I believe and only lived here for a short time .They took in students and tried to run the house as a B&B. They changed the name of the house to Quintus as apparently there is an area near to Slough called Cranford so hadn't liked the name and chose Quintus as it was the 5 th house they had lived in ! I heard they moved to Colyton but now are living in Charmouth village. I don't think he approved of us changing the name back to Cranford House but I know Joan Pitt was pleased and gave us the old wooden house name that belonged here" . Donna and Paul Canham