Clarence House , The Street
Click on Charmouth Home to return back.
Issac Cooke bought Beech House, perhaps from the Church Commissioners and the strip of land bordering the Street. He then sold the house to Miss Kennaway and the land to William Hoare. He then sold the first plot to John Hodges in 1843 who subsequently had Clarence Villa built, the second plot to Samuel Dunn who built Littlecote and retained the third plot for the building of Sandford Cottage.

1830 Poor Rates List
Mr Issac Cook - House & Garden - 9d
Mr. Issac Cook - Reverend Snow - 4d
Mr. Gundry - William Foss - Three Crowns
Thomas Snow is shown renting Beech House from Isaac Cooke, from Clifton, Bristol.
Isaac Cooke was Patron of Charmouth Church from 1826 until 1839, during the occupancy of Glover and Hales as Rectors. He lived in Clifton and was a Solicitor and at one time Mayor of Bristol. This was also where the Reverends Thomas Snow and William Glover originated from, as well as several other inhabitants. He bought Beech House from William Edwards and may well have rebuilt it at the same time as the Rectory as they are very similar as shown by the doorway illustrated here. The 1831 Poor rates show Isaac Cooke living and owning Beech House, with Thomas Snow living in the new Rectory and renting a field from him, which was probably the piece of ground Sandford House, Littlecote and Carrum House were later to be built on by Samuel Dunn.
Isaac Cooke was only there briefly as the 1841 Tithe map shows it unoccupied and soon after John Hodges, the butcher moves in and opens his shop in the adjoining Winton House. In 1835 Isaac gave £100 towards the building of the new Church, the largest amount donated. He died in 1852 aged 81 at Windsor Terrace in Clifton. His son, of the same name continued in his business and was Mayor of Bristol in 1857.

The 1840 Electoral Roll shows Isaac Cooke as owning a house (Beech House) in Charmouth where the Rev. J. W. Hatherall is Tenant.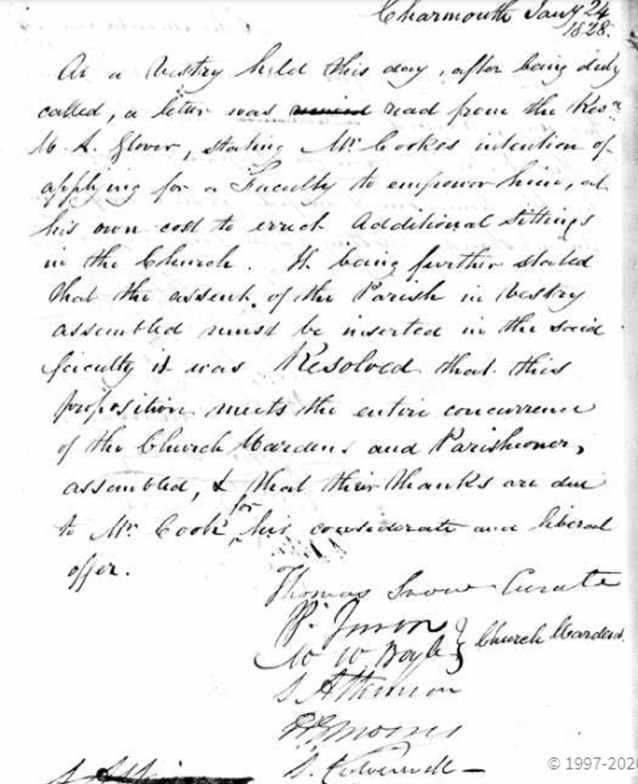 1841 Tithe Map showing Beech House and the adjascent field (Tithe no. 203) empty. In that year it was owned by William Hatherall, Rector and rented by John Hodges. It totalled 2acres 1perch and 23 roods.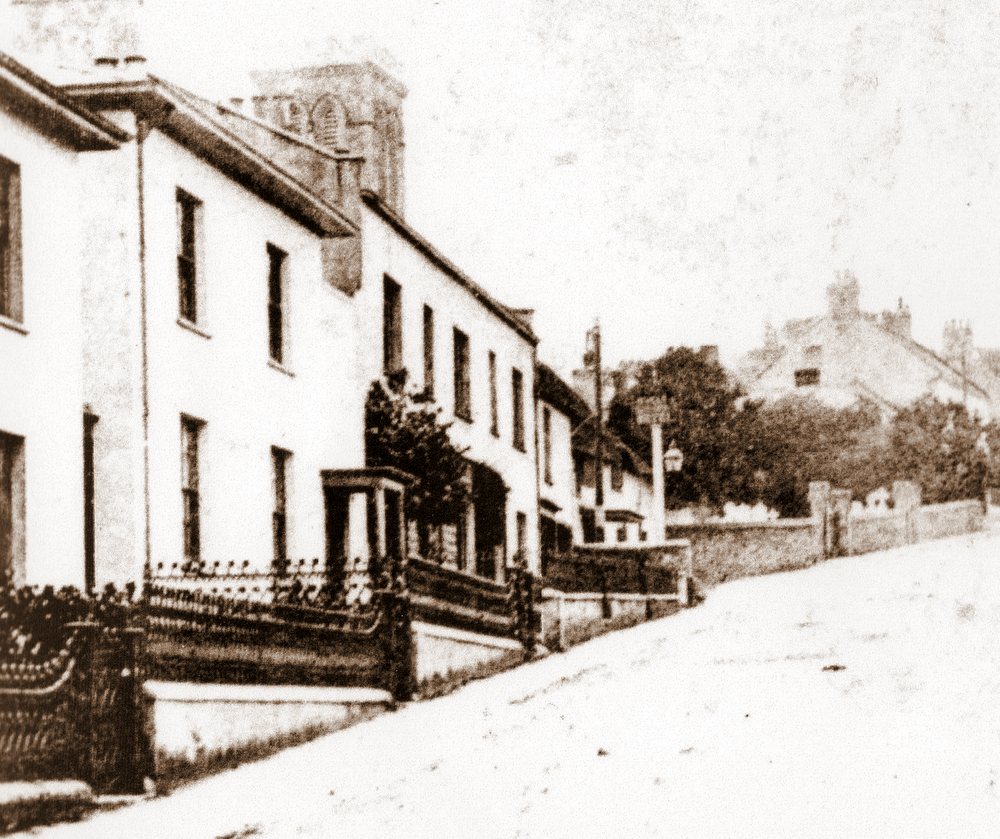 "Clarence Villa" now called "Carrum". In a memorandum by Samuel Dunn in 1844 he undertook to build a house for Miss Henning, which he let to her for twenty five pounds a year complete with garden and a pump of water. Miss Eliza Henning died in 1854 and Sophia Henning, who was blind, died in January 1886. During the 1920` s Charles Hodges lived here, who left £1,000 to purchase the Playing Field, he died in 1932 aged 92. It was then occupied by Peter Marshall who introduced electric light in the village. His engine and dynamo were in the corner of the playing field and proved a great success until power from the grid took over. The house today was then occupied by Mr. and Mrs. Bide and family.
Tho other two adjacent houses are similar and were probably built about the same time. As Dunn had to supply a water pump for Miss Henning it seems that there were no former houses on the site, which was possibly Glebe belonging to the Church. If so, it supports the theory that Beech House was the former parsonage,which would have been built on Church land.