Tithe Numbers. 486 Nowhere Lane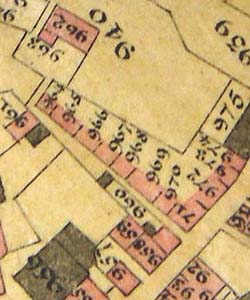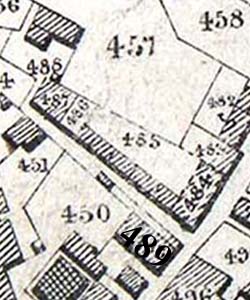 Nowhere Lane in 1837 & 1841
The coloured plan pre-dates the later Tithe Map and is more detailed in that it shows specific houses in pink within the later tithe number.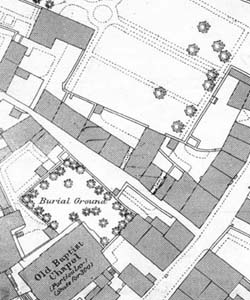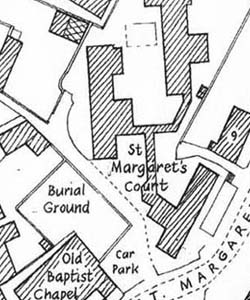 Nowhere Lane in 1885 and Today
The house on plot tithe no. 486 (965) we so far can only trace back to about 1761 - 1762 Robert Cooper assessed at 1/2d was that the other 1/2d part of Richard Gardiner's 2d in 1702? Or was it part of some one else's total assessment in 1702?
The house on plot tithe no. 487 (964) could be 1/2d of the 3s. of Poor Rate belonging to the Kendall's in 1702 as it seems likely they were all late 17th century houses, that 3d.taken over by Zachariah Shrapnell II (nephew of Zachariah Shrapnell. Died 1723) from Widow Kendall in the 1740`s.
We know very few people lived in the same house from 1841 to 1881, but the part time chapel caretaker Thomas Steven's a Cloth worker occupied 1003. no. 68 in 1891 in St. Margaret's or Morgan's Hill for that 40 year + period.

In 1841 486 is owned by Thomas Spackman who also owns 31, 640 & 641
487 is owned by Issac Green he purchaes it from Reverend Warren in 1824 . In 1851 Census shows green is 76. In 1860 Miss Leah Green sells to Mr George Smith.By 1877 is just a Stable and Coach House.
Before George Smith purchases the house (486) in 1860 and shortly afterwards the adjoining building (487) they are under different ownerships. Though both originally built c.1690 by Zachariah Shrapnell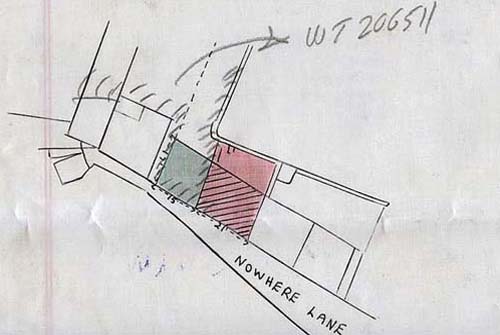 Plan of property originally forming the tithe nos. 485 & 486 which was sold in 1959 by Leonard Hill, Solicitor for £25 to Miss Elizabeth Hignell.

Land Tax 1773

I John Marshman of Bradford in the County of Wilts, Taylor bequeath unto my kinsman James Taylor of Bradford aforesaid Yeoman (who now live with me) All that my dwelling house in a place called No Where Lane on Morgan Hill in Bradford aforesaid now in the Tenure of Simms, Shearman and I give unto Arabella Selfe, Wife of William Selfe of Bradford in the County of Wilts aforesaid Hair Dresser and Peruke Maker the Sum of £100 of good and lawful money of Great Britain.
bequeath unto the said James Marshman and Isaac Crouch the sum of £100 of lawful money towards the Maintenance Education and breeding up of John Pittman, Jane Pittman, Mary Pitman & Esther Pittman (son & daughter of William Pittman and the late Esther Pitman of Bradford in the County of Wilts,Schoolmaster.and I give Devise and bequeath all that my freehold Estate consisting of 3 Houses, messuages or tenements with all the Garden, Grounds and Appurtenances thereto belonging (and which I lately purchased of Noah Alloway, Maltster) situate and being near his Malthouse and Dwelling House in Bradford in the County of Wilts, aforesaid, unto my Son in Law John Baversrtock of Bradford aforesaid, Joiner & Cabinet Maker my last Will and Testament set my Hand and seal in ton the 3rd December 1784.
Witnesses N. Phene, Ely Edmunds, Thomas Stratten .
At Winkfield in the County of Wilts, This day 9th December 1784, The Executor John Baverstock was duly sworn before me. Edward Spencer, Surrogate.
£850
Will of Mary Thomas(1748-1819)
wife Of Timothy Thomas, Cabinetmaker.
This is the last Will and Testament of me Mary Thomas of Bradford in the County of Wilts, Widow for 1819. I give devise and bequeath unto my Son in Law Thomas Spackman of Bradford aforesaid Grocer and his Assigns for and during the Term of his natural Life my 3 Freehold Messuages and premises at Tory in the several occupations of James Brown, Samuel Wilkins and George Humphries and my leasehold messuage garden and premises in Nowhere Lane in the Occupation of Anne Taylor I bequeathe unto my daughter Joanna the Wife of the said Thomas Spackman .my Friends William Taylor the Younger of Bradford aforesaid Clothier and Charles Spackman of the same place Dyer their heirs, Executors, Adminstarors and Assigns. In Trust nevertheless for my Grandchildren John Spackman, William Spackman, Mary Ann Spackman and Betty Caroline Spackman the Children of my said Daughter Joanna Spackman in equal Shares
Thomas Spackman, Soap Boiler, married Sarah Timbrell in 1786. John Beverstock, Inn holder was their Bondsman.
1841 Census shows Thomas Spackman, Jnr owning t/no.486
Bray James 45 Slubber 486(i)
Bray Ann 45 Burler
Bray Thomas 25 Smith
Bray George 15 Laborer
Bray Worthy 15 Smith
Bray Ruth 10
Bray Martha 5
Kelson James 25 Quarry Man 486(ii)
Kelson Leah 25 Burler
Kelson Hephzibah 5
Kelson Richard 1
1841 Census shows Isaac Green owning t/no.487
Green Ann 65 Picker 487(i)
Morris Mary 70 Pauper 487(ii)
Lansdown Mary 60 Spooler 487(iii)
1851 Census shows the following tenants:
BRAY James HD W 69 Slubber 486(i)
KELSON James SL M 40 Masons Lab
KELSON Leah DA M 38 Wife
KELSON Hepsizibah GD U 14 D.
KELSON Richard GS U 11
KELSON Harriet GD U 9
KELSON Ruth GD U 6
KELSON John SO U 4
BURCOMB John HD M 40 Farm Lab 486(ii)
BURCOMB Sarah WI M 44
BURCOMB Mary Ann DA U 10
BURCOMB William SO U 7

GREEN Ann LG W 76 House Proprietor
PREES? Elijah HD M 30 Carpenter
PREES? Charlote WI M 34
PREES? George SO U 6
PREES? Sarah Ann DA U 3
PREES? Mary Jane DA U 9M
in 1864 - 486/487 are occupied by Hedges(Candle Factory) owned by John Smith,who also owns tithe numbers 483 & 484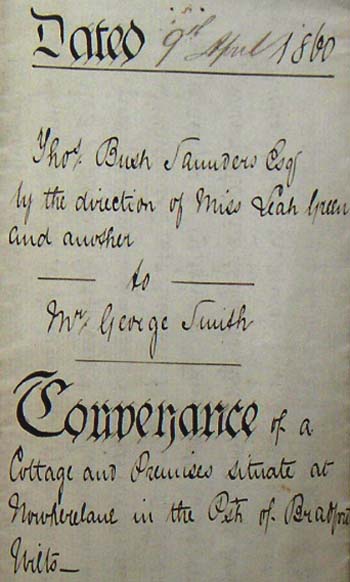 In 1860 ,Thomas Bush Saunders of Lincolns Inn and Leah Green, Widow and Eliza Green of 36 Thomas Street, Walcott, Bath sell the property to George Smith Brazier of Bradford.

Insurance Policy in 1877 for t/no. 486/7 then owned by George Smith of Bridge End, Bradford, Gas Fitter. Buildings are described as aHouse used as a Stable and Brake House(?) at present void.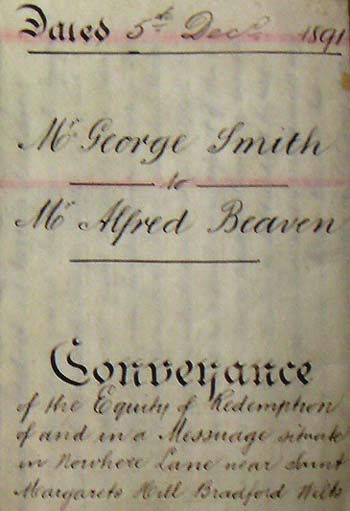 In 1891 George Smith sells the property to the Solicitor Alfred Beaven, who lives in the building where Saxty`s is today.It is describes as all that messuage converted to a Store House.
Charlotte Spencer Beaven, Widow, dies in 1935 and leaves her considerable Estate to her 3 Daughters Elizabeth Sarah Beaven, Agnes Beaven and Charlotte Beaven. She Leaves her dwelling House 14 (formerly Number 17) St. Margarets Street with a Coal Shed and store situate at the rear of in Nowhere Lane and also the following:
1. ALL THAT building then used as a Garage (formerly two messuages or drelling houses) situate at Morgans Hill Bradford-on-Avon afsd at the junction of the lane called Nowhere Lane with the road called Saint Margaret's Hill (formerly Morgans Hill) Bradford-on-Avon afsd late in the occupation c the Testatrix and then of the sd Elizabeth Sarah Beaven and Agnes Beaven Which sd building was part of the premises numbered 484 on the Tithe Commutation Map for the said Parish of Bradford and in the Book of Reference thereto described as three tenements containing 6 perches. Zachriah Shrapnell granted a 1,000 year lease on 6th May 1697 for £1.0.0. a year rent
2. ALL THAT piece of garden land (formerly the site of 6 cottages known as 8 9, 10, 11, 12 and 15 Saint Margarets Hill) situate in Nowhere Lane Bradford-on-Avon afsd adjoining the premises therin above described on the North side late in the occupation of the Testatrix and then of the sd E.S. Beaven end A. Beaven which said premises were nos. 485 on the sd Tithe Commutation Map. This group of properties still had the remainder of a 1,000 year lease
5. ALL THAT piece of garden land (formerly the site of a small tenement - 486?) situate in Nowhere Lane.This group of properties still had the remainder of a 1,000 year lease.
In 1955 Leonard Hill pays £1,825 for no. 14 St. Margarets Street (t.no.451) and the passage way, garden and building in the corner of the grounds. It also includes Nowhere Lane, the building (t.no. 484) then used as a Garage and the strip of ground where there were formerly 7 houses(t.no. 485, 486 & 487) but by then vacant.The Map below shows the area of ground involved, Four years later Miss Elizabeth Hignell buys the piece at the bottom (t.no. 486/7) for access to her garden at the rear of 7 St. Margarets Street. Finally in 1966 The Council purchases part of this plot (t.no.486) from her.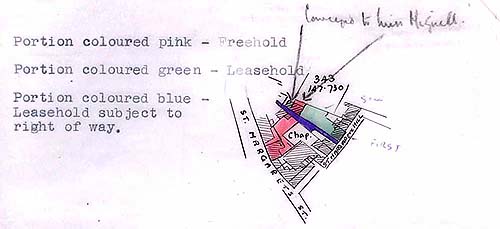 486/7 are part of the deeds for 16 St. Margarets Street and may have formerly belonged to Priory of Monkton Farleigh.Charlotte Beaven prchases these
on the 28th January 1959 Miss Hignell purchases two pieces of land at Nowhere lane from L.P.T. Hill of 14 St. Margarets Street for £25
On the 13th December 1966 Miss Elizabeth Hignell conveyed to the Council the piece of land coloured pink