Scroll down to find out more about Hansfords
Click on Home to return back.
Samuel Hansford`s Photographs of his family
Samuel Hansford has provided us today with an astonishing record of a long lost Edwardian era of both Charmouth and the surrounding area. This was the time before the First World War when the countryside was more rural and he was able to photograph his family and friends at both work and play. It has taken a number of years to track down the images he took as many are unique and we especially thank Keith Wiscombe, Elizabeth Fortescue and the Hansford family for their assistance. We are sure there are many more to find as it is rare to find duplicates. The postcards he produced are especially scarce and command a high price when they come on the market.
What makes the story of Samuel Hansford the more poignant is that his job was that of Estate Foreman for the Pass family and photography was only a hobby. He produced and sold the postcards to supplement his income to pay for his daughter, Mabel's treatment in a London Hospital for heart disease. Samuel and his wife would put their daughter in her bath chair, tuck the camera under the blanket, and Samuel would use the tripod as a walking stick.
Tragically she was to die in 1915, aged 16 and he was heartbroken, and never fully recovered.The photographs he produced fall into four groups. They are those of his family, Charmouth Village, the wealthy Pass Family for whom he worked and Wootton Fitzpaine and the surrounding area.
Many older people remember Barney Hansford, who was the son of Samuel and ran a wonderful Fossil and Country life Exhibition which opened in 1968, in the centre of Charmouth. Sadly, due to illness this closed in 1986 and all the items were auctioned. The area where it was established is now called Barney's Close after him. His family have been very helpful in compiling the collection of over 200 images and talk.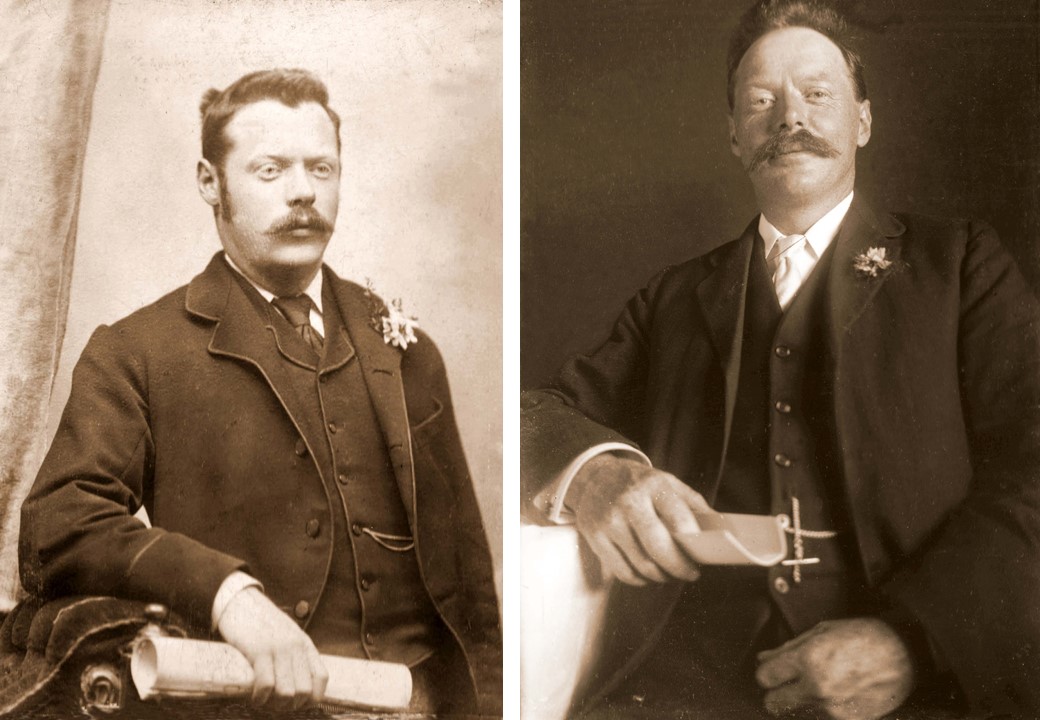 Samuel Hansford is shown here in his position as Estate Foreman for the Pass family that consisted of a large number of farms and buildings around Charmouth with a total area of nearly 5000 acres.
Samuel Hansford came from a family of local Blacksmiths who were always held in a position of esteem in the community for their ability to make all the necessary tools of that time including the shoes for horses and oxen. The blacksmith also made nails, hinges and handles for doors, wheel bonds and many other items and were among the more literate members of the parish.
His Great grandfather, Frederick, lived and worked in Netherbury and with his wife Ann had 12 sons, 8 of whom were Smiths, and no daughters. He was over 90 years of age when he died in 1863.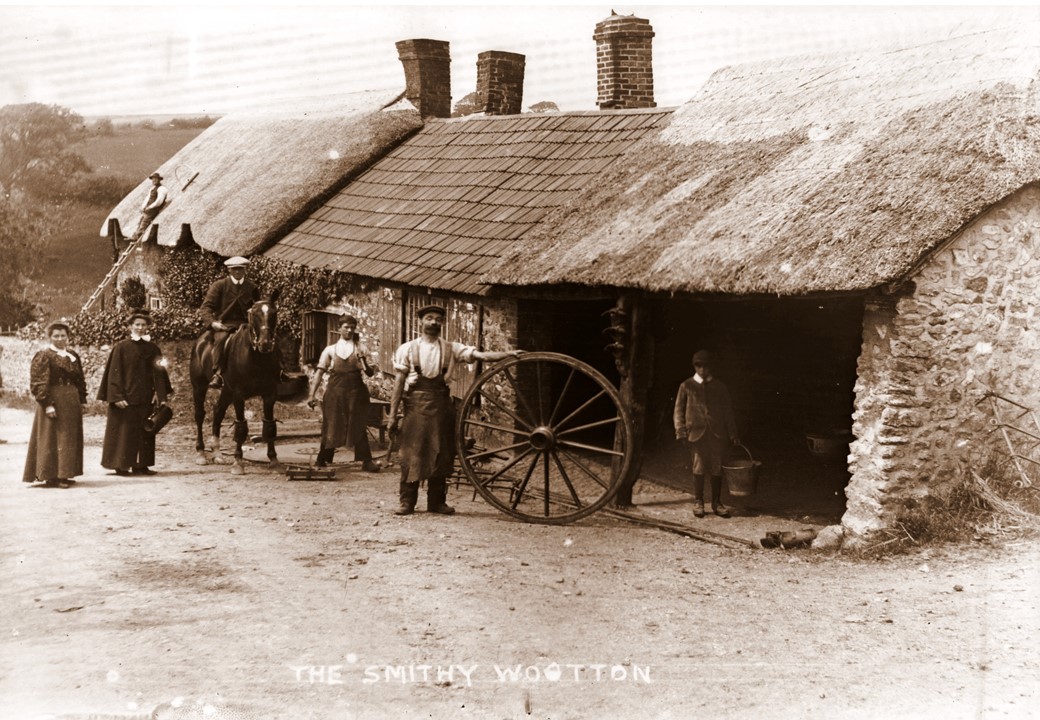 His eldest son, Samuel was initially a Blacksmith in Chideock where his four children were born, but by the time of the 1841 Census had moved to Wootton Fitzpaine, near Charmouth. He was to die young, aged just 58 and his wife and eldest son, Charles are shown in 1861 Census as continuing as Blacksmiths. It was this son who was to marry Martha Conway in 1868 and have a son, Samuel Barnard Hansford three years later. But he was destined to die young at just 37 years of age, when his son, Samuel, was only 14 months old. Charles Hansford was severely kicked in the stomach by one of the horses he loved and was dead on arrival at Lyme Regis hospital. They buried him at Morcombelake, and his wife, Martha, sold the business.
The photograph is of the Blacksmiths at Wootton Cross,where the Hansfords lived and worked form for many years. It has since been demolished.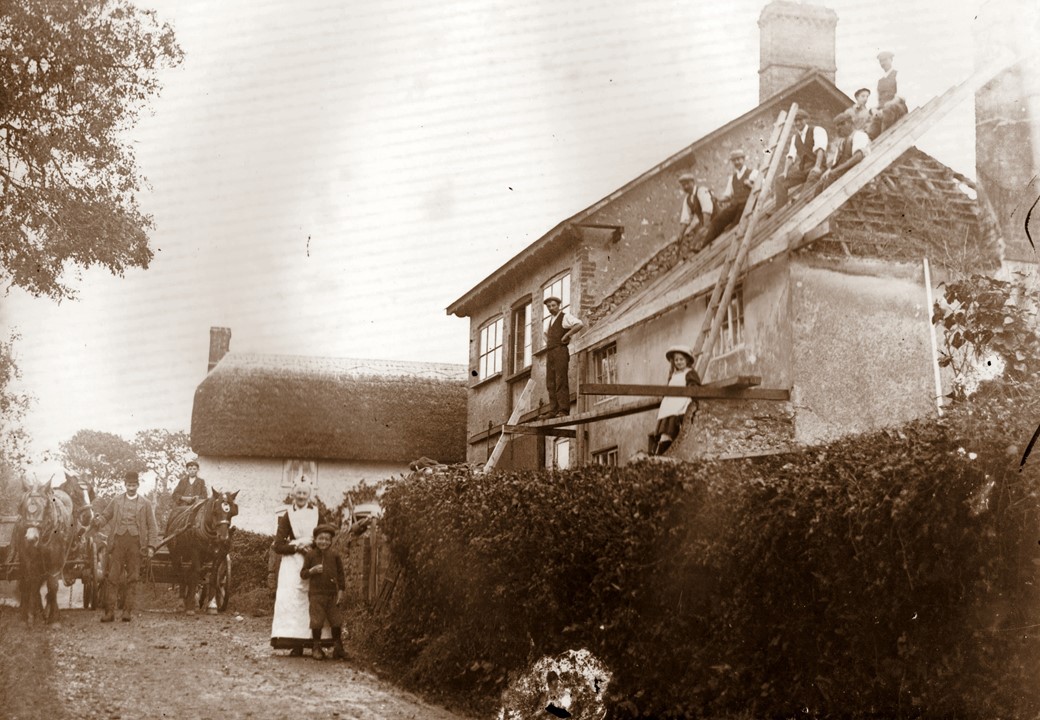 Martha and baby Samuel returned to her parents in Ryall to live. Barnard Conway known as Barney was a great character, with a butcher's shop in Ryall and one in Bridport, he also ran a butcher's round in Charmouth. Although horses were the 'mode of the day', Barney kept a pair of donkeys for his own personal use and for smuggling, and would boast that "they could race the horse bus from Morcombelake to Charmouth any day". So young Samuel was brought up by his mother and grandparents. In his old age, Barney delighted in teaching his grandson to box and wrestle and made the young boy promise that if he ever had a son, he would name him Barnard.
The photograph shown here is of Martha with her grandson Barnard (Barney) by the entrance to the house at Ryall where his father lived before returning to Wootton.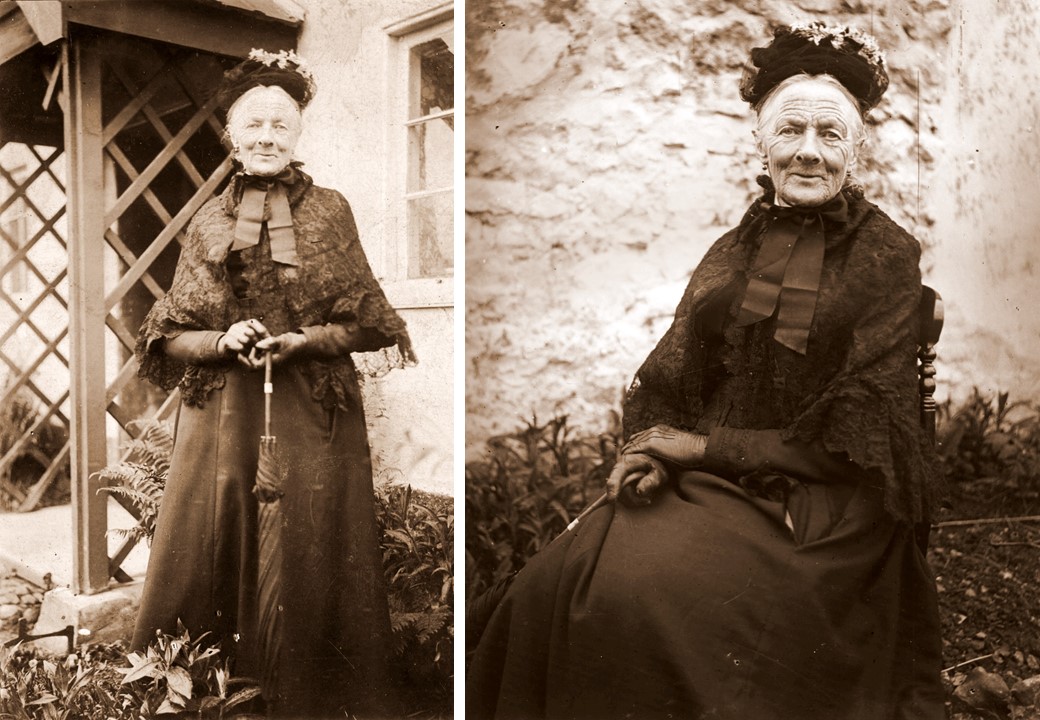 Matha Hansford. mother of Samuel Hansford, who continued to live at Ryall until her death in 1924, aged 85. She appears in many of the photographs Samuel took of his family.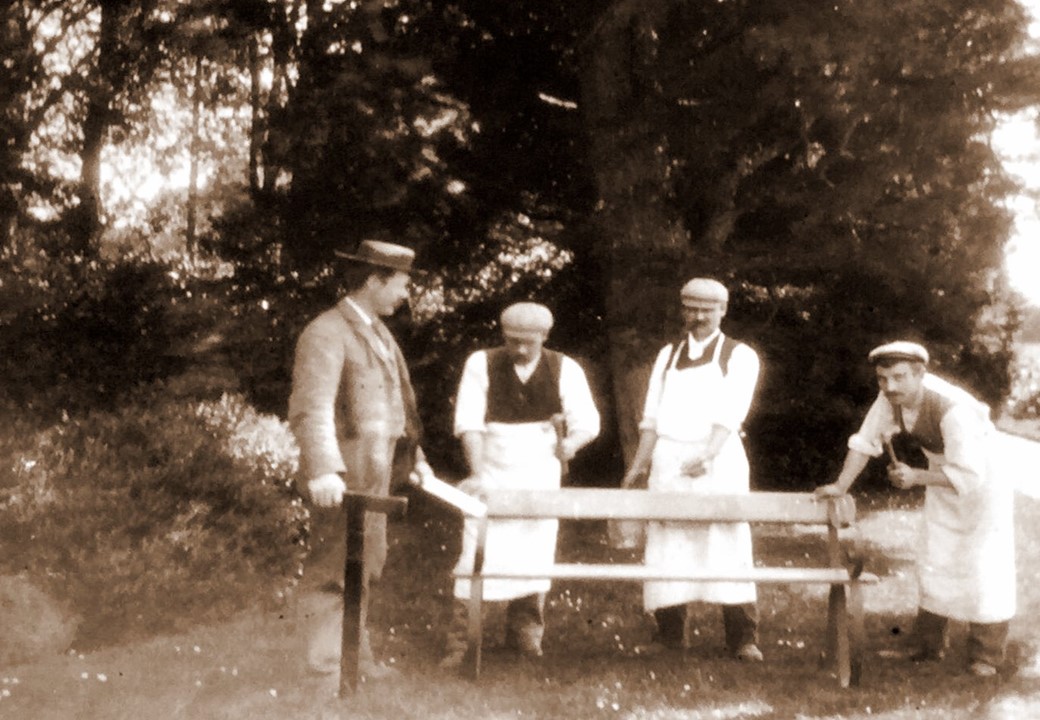 Samuel  started his working life as a bound apprentice to W. Hobbs of Wootton Fitzpaine. Like his father he had skill in his fingers, and could carve and make anything. He was employed as an improver carpenter to Jesse Rapsey, his employer in 1896, the year that the estate was bought by Caper Pass of Bristol. He was offered a job as foreman to manage the estate, which was in a very neglected condition. The ensuing rebuilding and repair work suddenly made employment for a huge crowd of men.
He is seen in this picture on the left with some of his workers making a Garden Bench.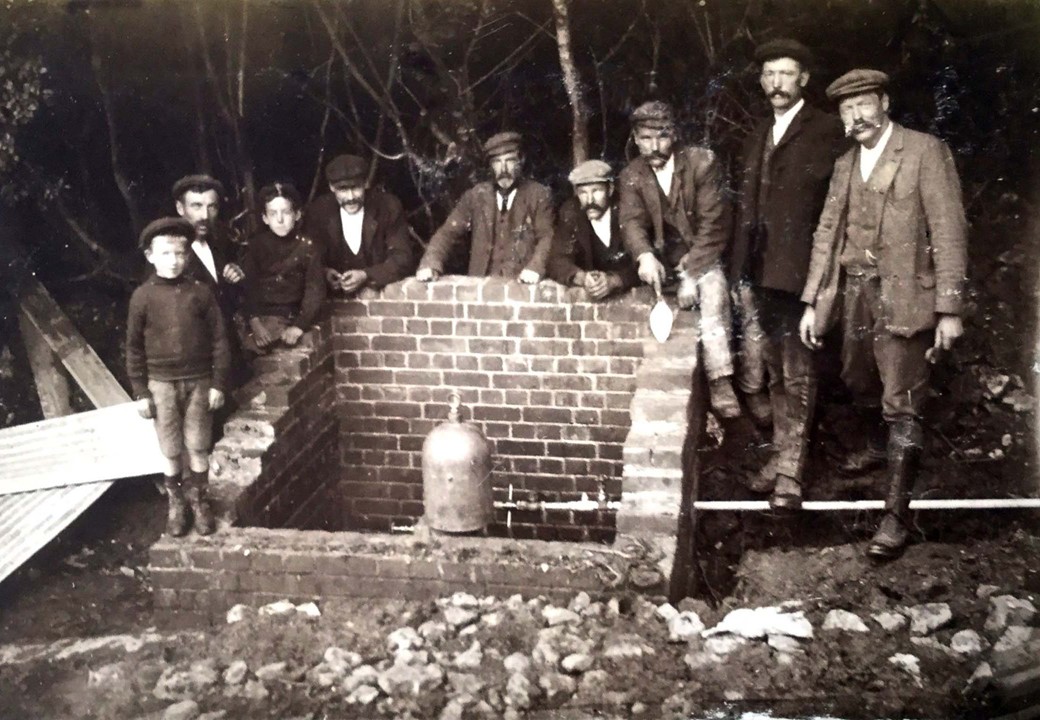 Here he is agin on the right inspecting the work of his labourers who are building a Hydraulic Ramp to pump water at Trevitts Cross at Fishponds.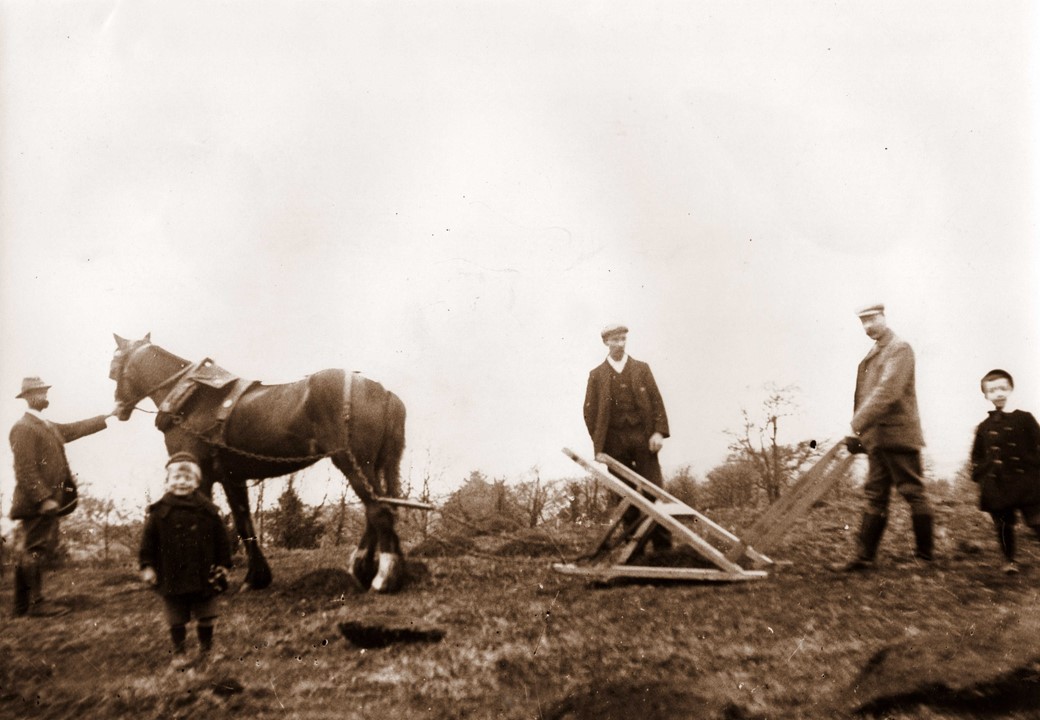 Samuel was very skilled and designed and built this Mole Hill flattener. He is shown here guiding it across a field covered with them.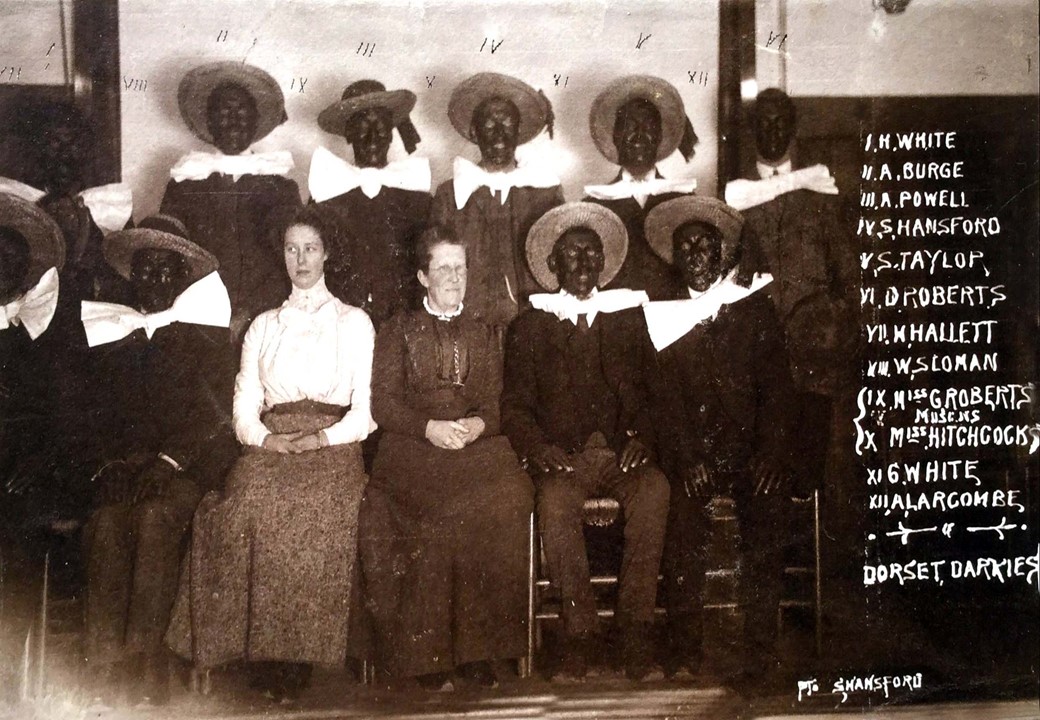 Among his many interests was that of acting and is seen here in the middle of the back row as a Minstrel in a local production for which he produced this publicity postcard.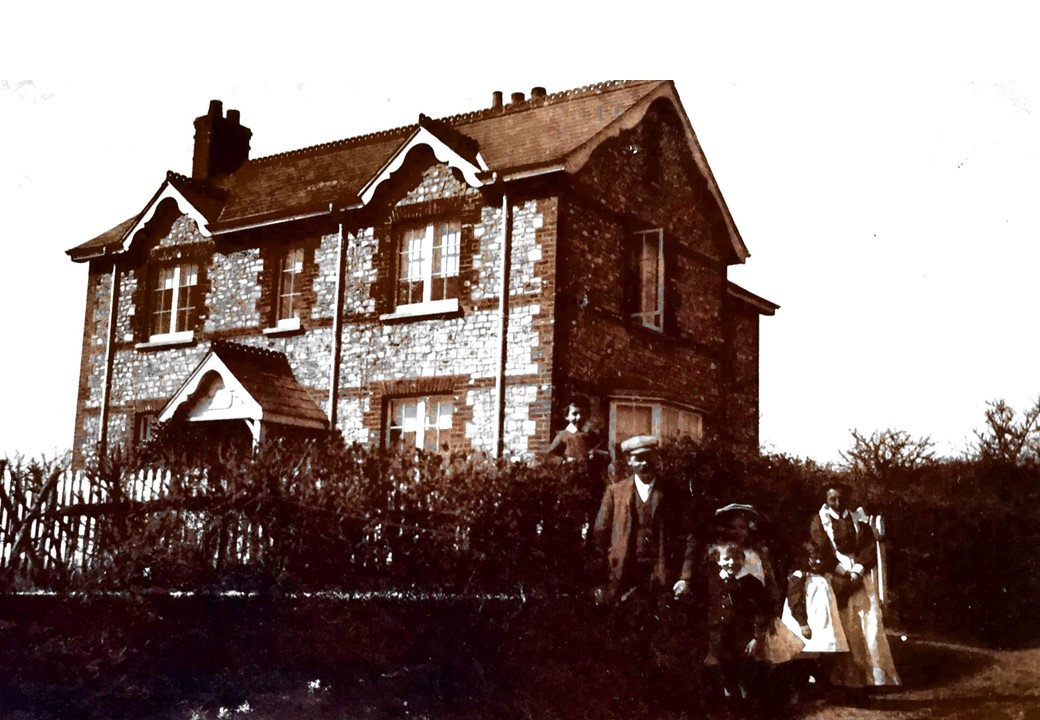 A staff of indoor workers arrived with the Pass family in 1898, among them a nurse, Isabel Barnet for young Douglas Pass. She and Samuel fell in love and were married within the year. They had two girls and two boys, and Samuel honoured the promise made to his grandfather so many years before. His first son he named Barnard. He is shown here at Nutcombe Cottage that was built for him in 1903, with his wife, Isabel and four children by the entrance to the house.

The Hansford and friends in the lane that lead up to their House - Nutcombe Cottage.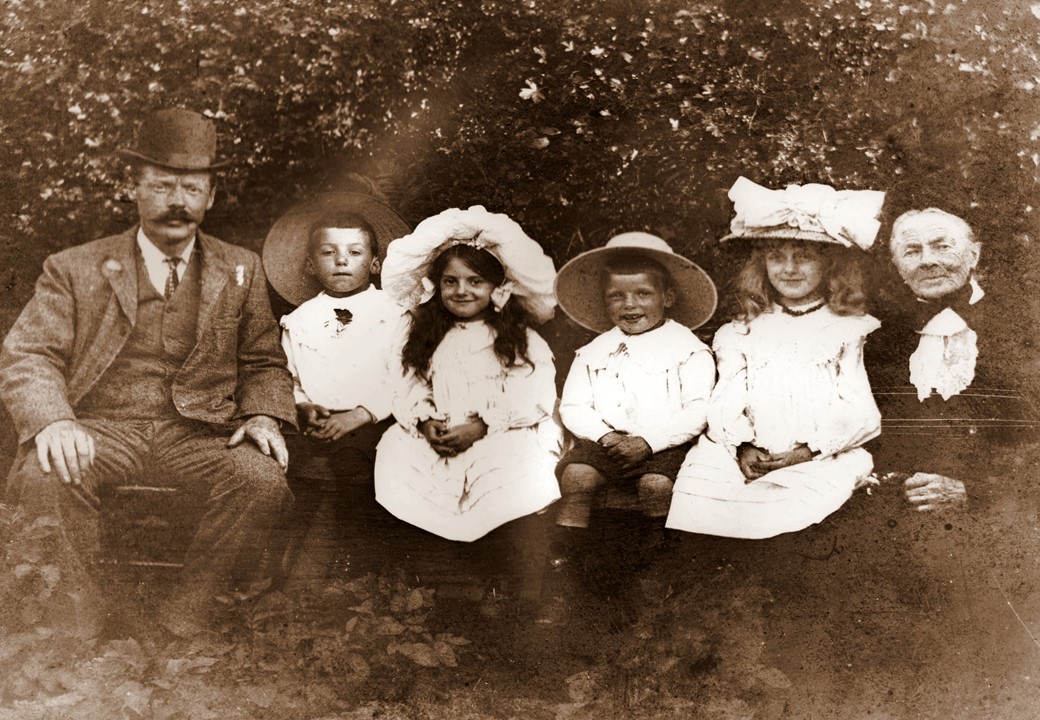 A family photo of Samuel, Barney, Isabel, David, Mabel and Martha ( Grandmother).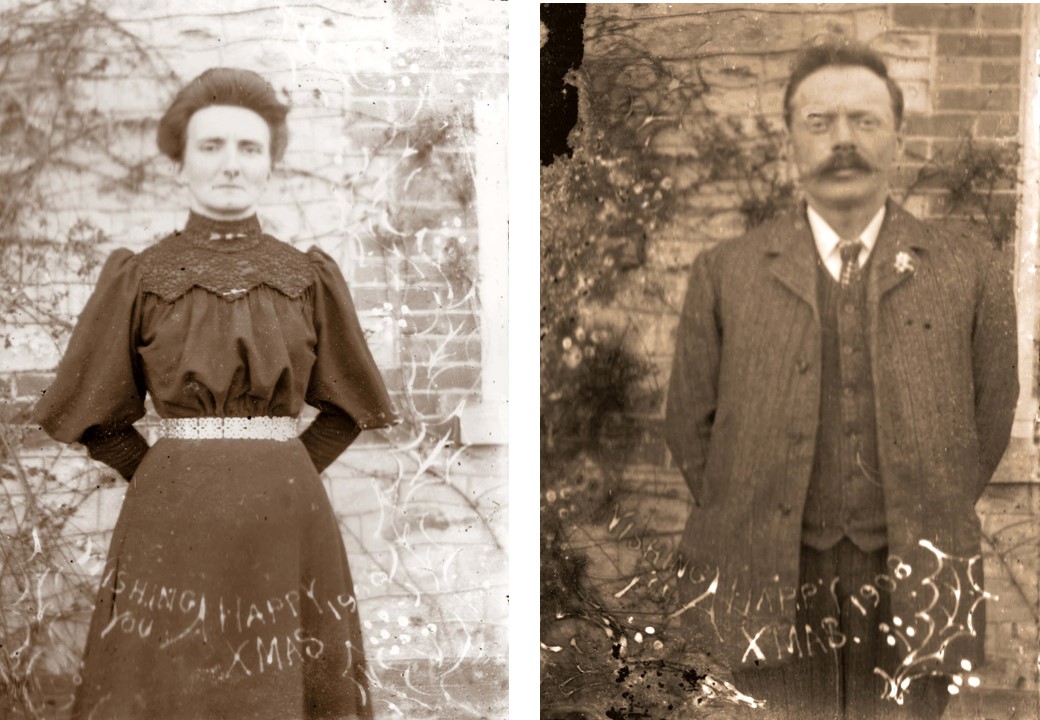 In 1908 Samuel designed and produced some photographic Christmas Cards of his family. On the left is his wife, Isabel and himself on the right.
Here are his four children in another 1908 Christmas Card. The other photograph is of Mabel, David and Isabel some years later.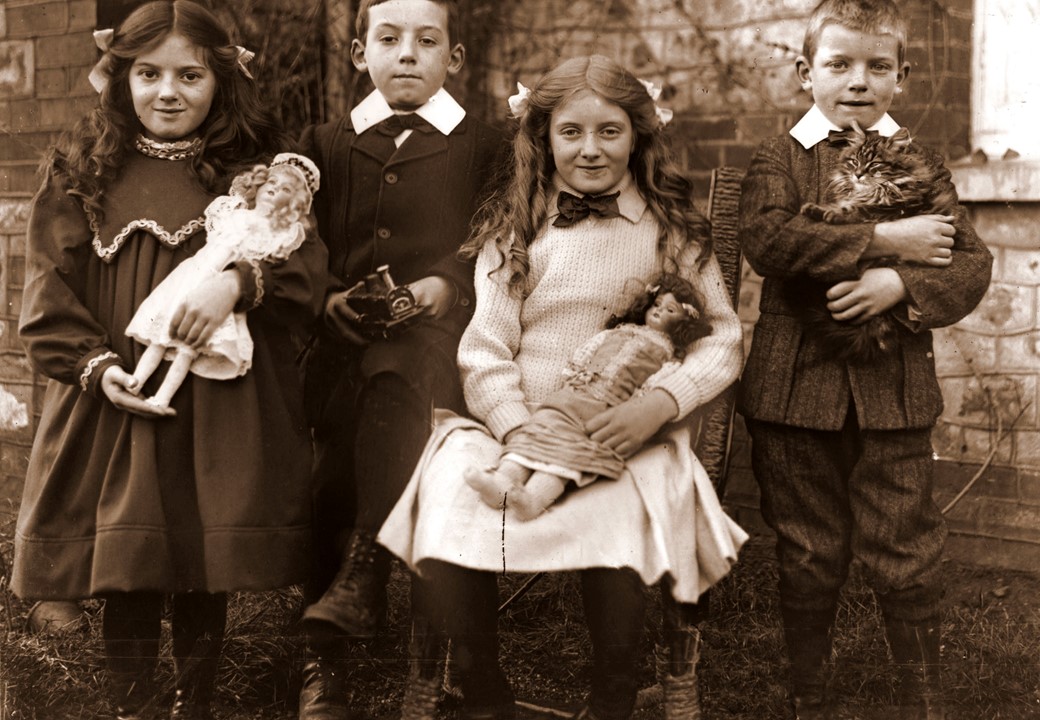 This beautiful photgraph shows Samuel`s young children. Barney on the left with his toy train, his sister`s their dolls and his brother David the family cat.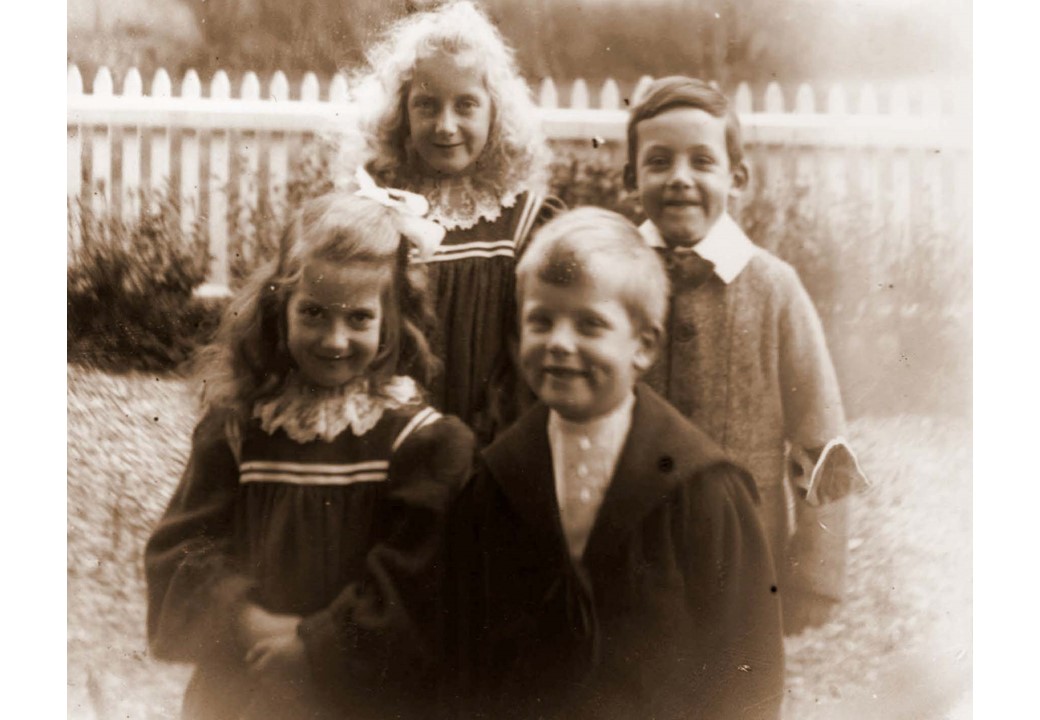 Another lovely photo of the Hansford children in their garden at Nutcombe Cottage.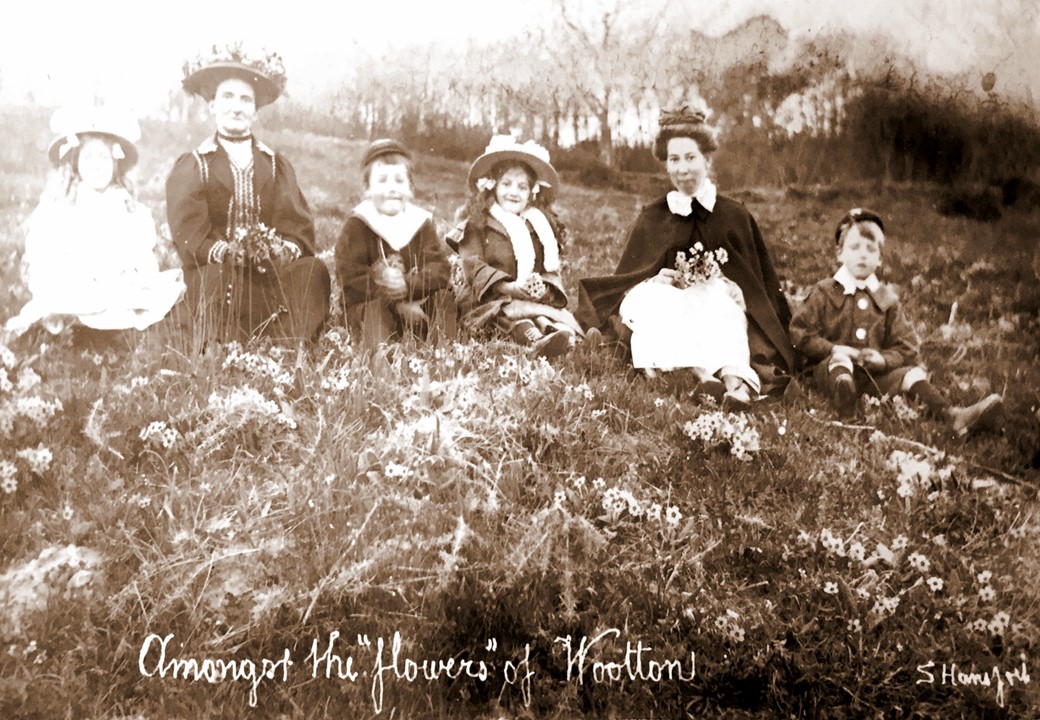 Samuel has his children and nurse Rose with their mother in her Straw Bonnet. in a field of Primroses.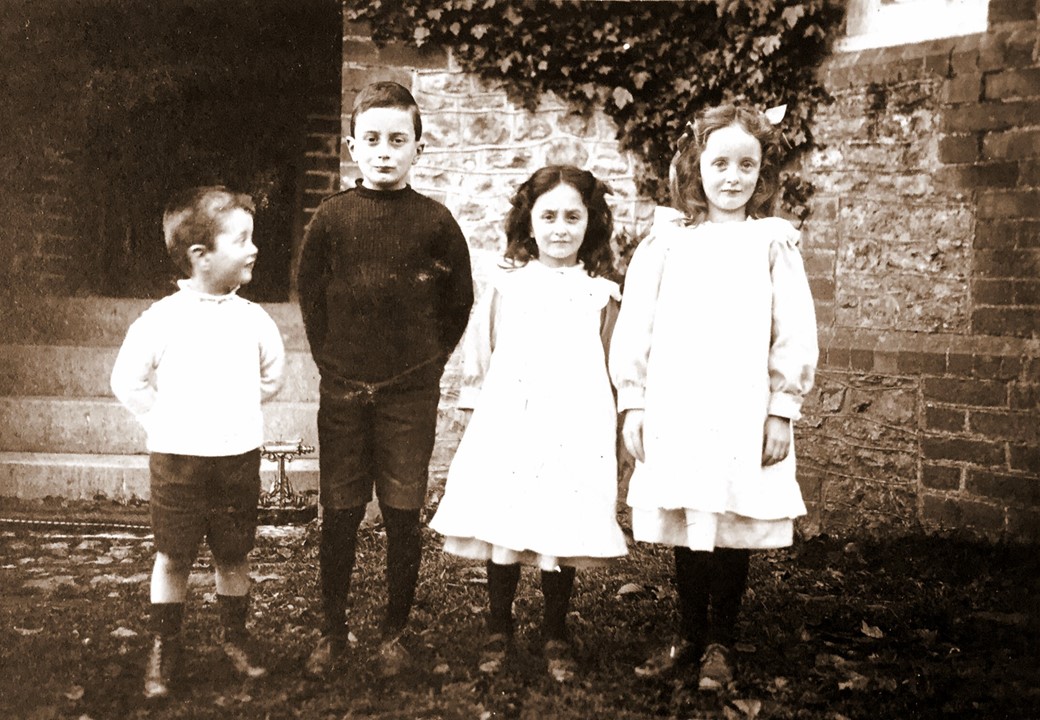 The children pose for Samuel`s camera in the garden at Nutcombe Cottage.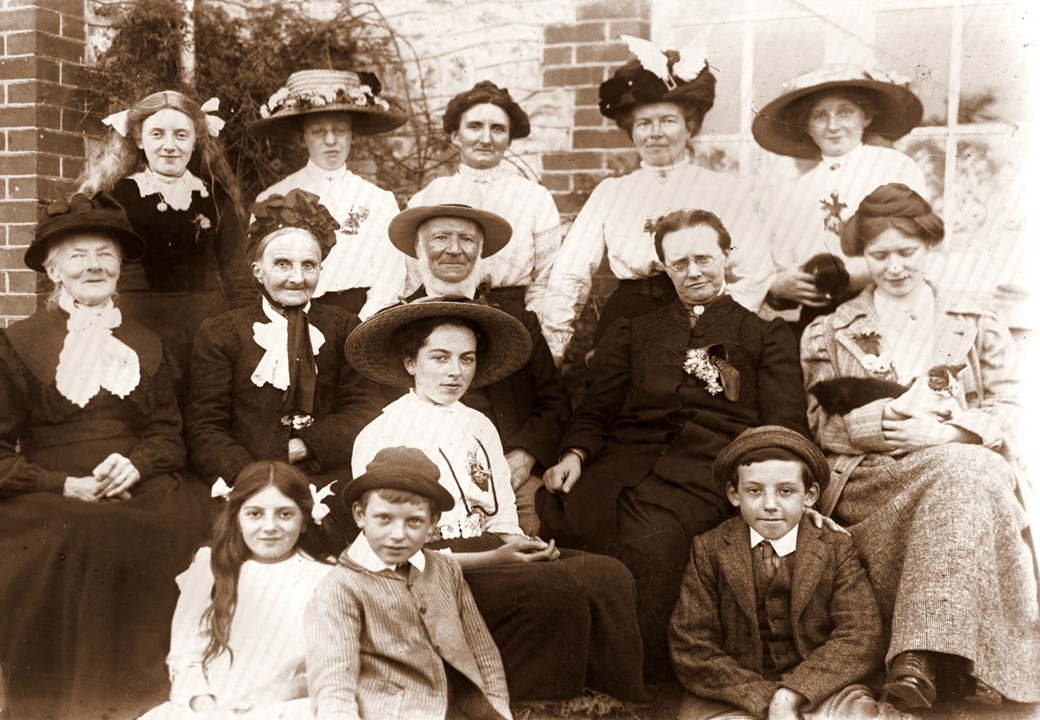 Members of the Hansford Family are seen here. Along the front are Isabel, David and Barnie. On the left of the next row is Samuel`s mother. Mr and Mrs Govier are sitting next to her. Mabel Hansford can be identified on the left in the next row and her mother in the centre.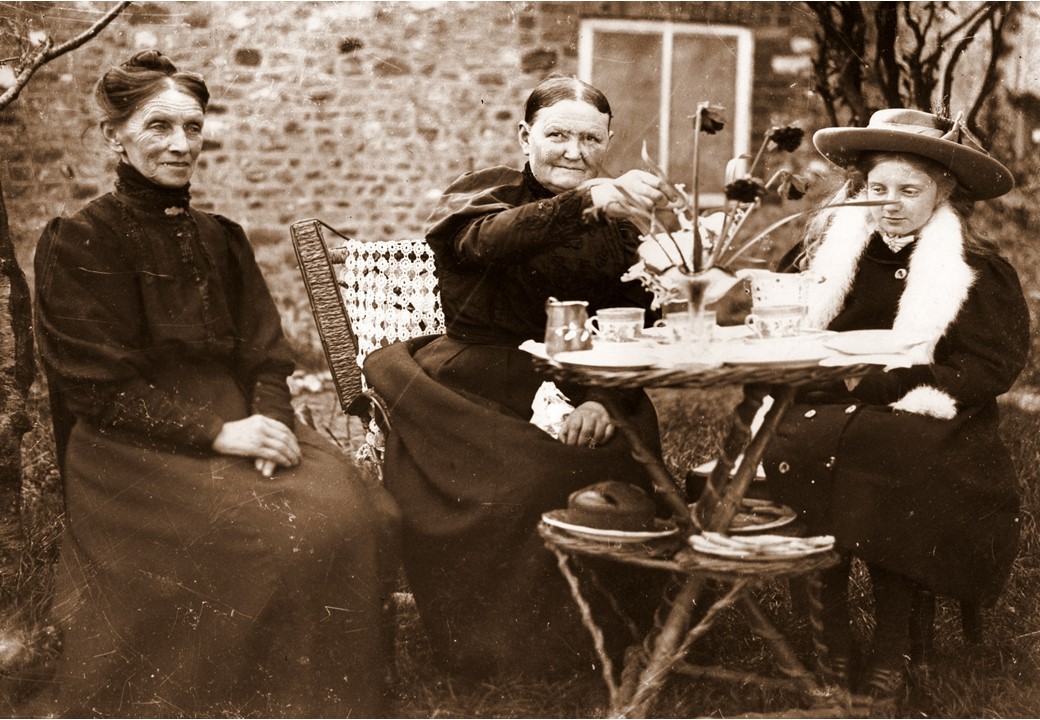 Miss Fowler, Mrs Mary Bussell of Higher Abbots Wootton Farm and Samuel`s daughter Mabel Hansford enjoying afternoon tea.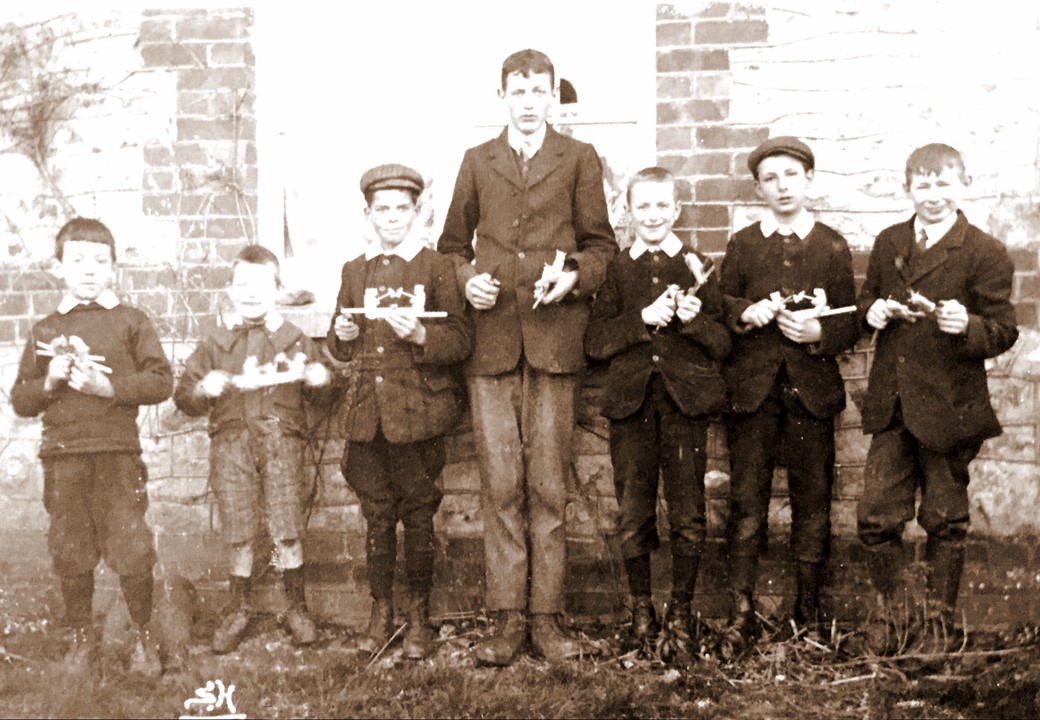 This and the next photograph have Barney and David Hansford with friends showing off the toys they have just made.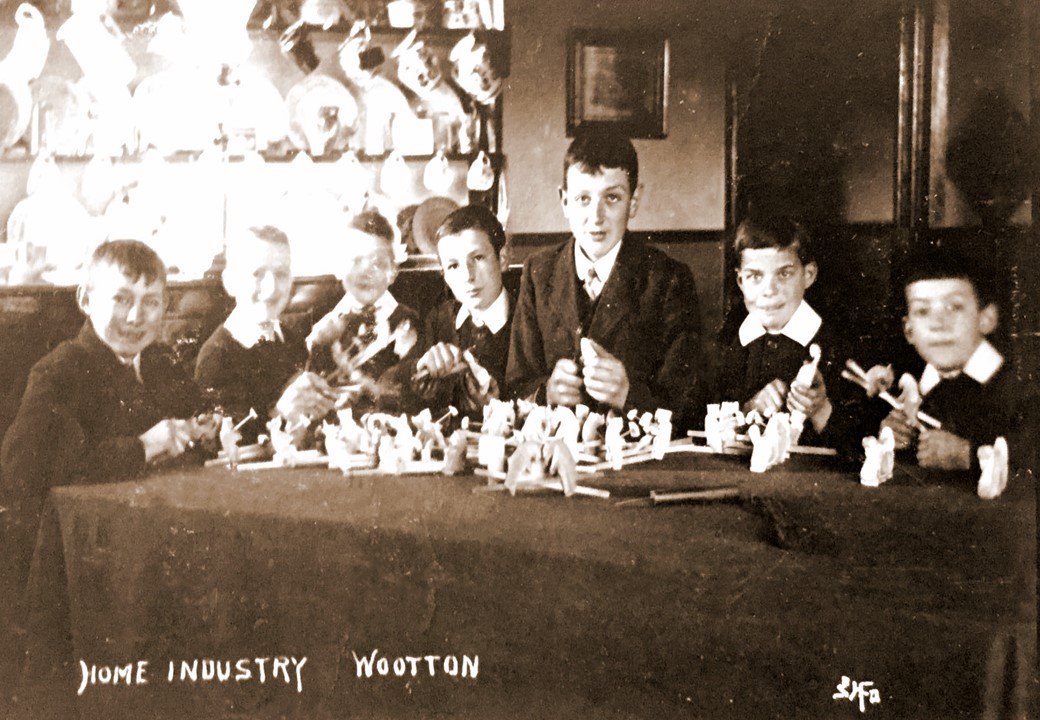 Here they are again around the Dining Table at Nutcombe Cottage with a pile of toys thay have just made. No doubt with the help of Samuel who was a skilled Carpenter.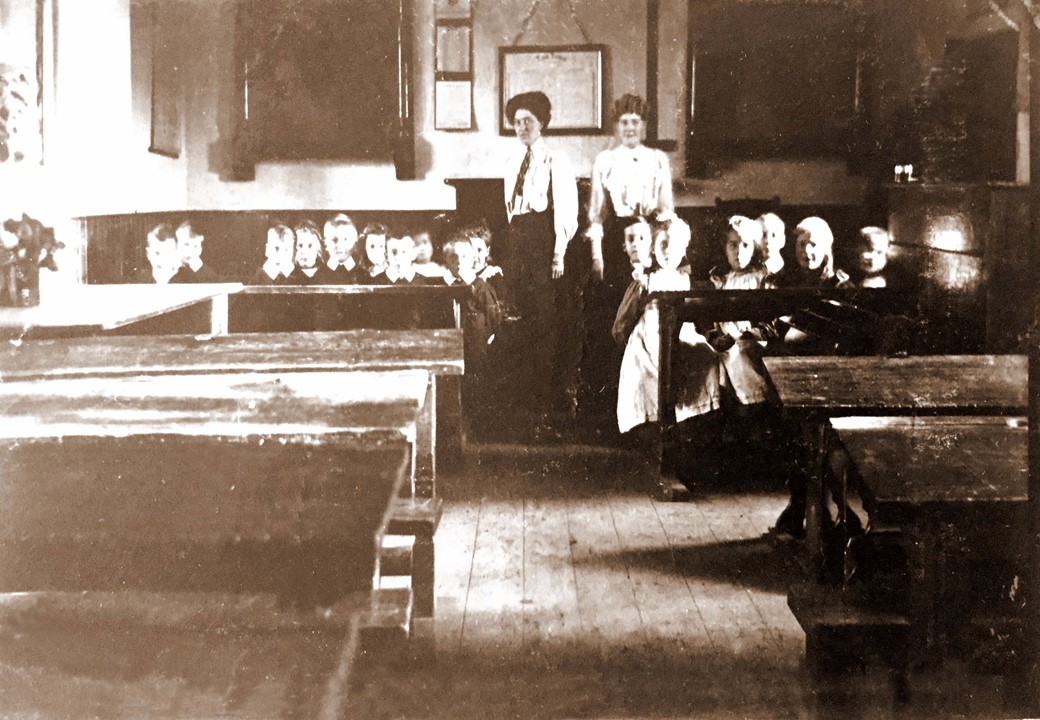 It is very rare to see early photographs of interiors, especially of schools. This is one Samuel took of the classroom at Woottons Fitzpaine. His own children can be seen on the right.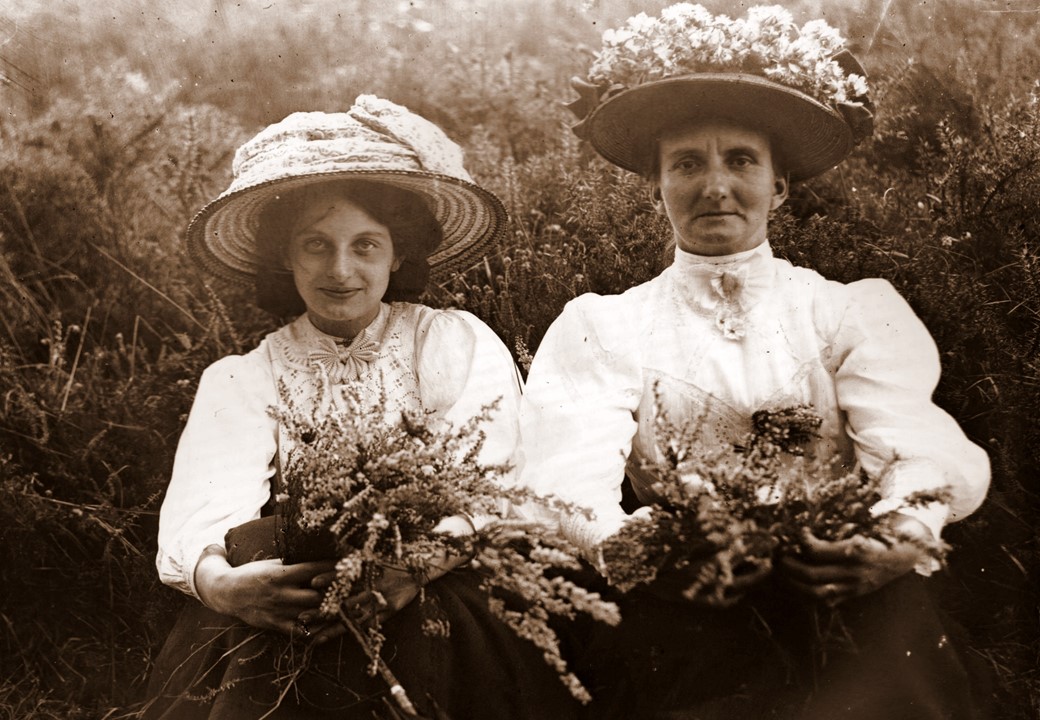 On the right is Samuels wife, Mabel, who always looks very anxious in photographs taken by her husband. On the left is Nurse Rose.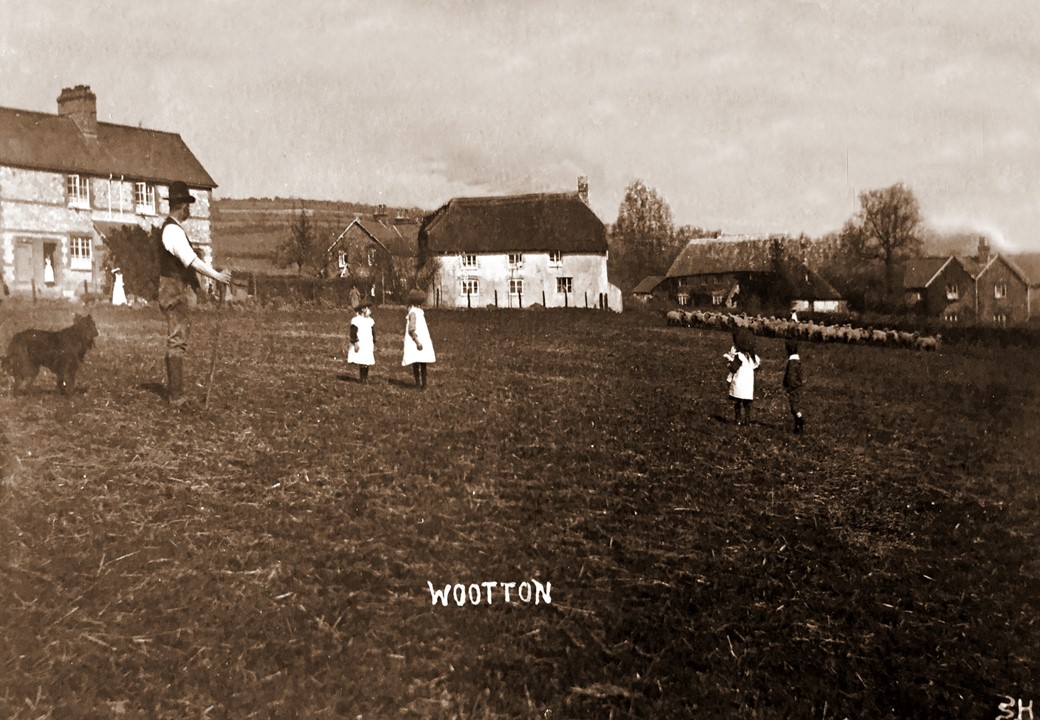 Samuel Hansford`s children are playing on the field opposite the Post Office and Knap Farm in the centre of Wootton Fitzpaine.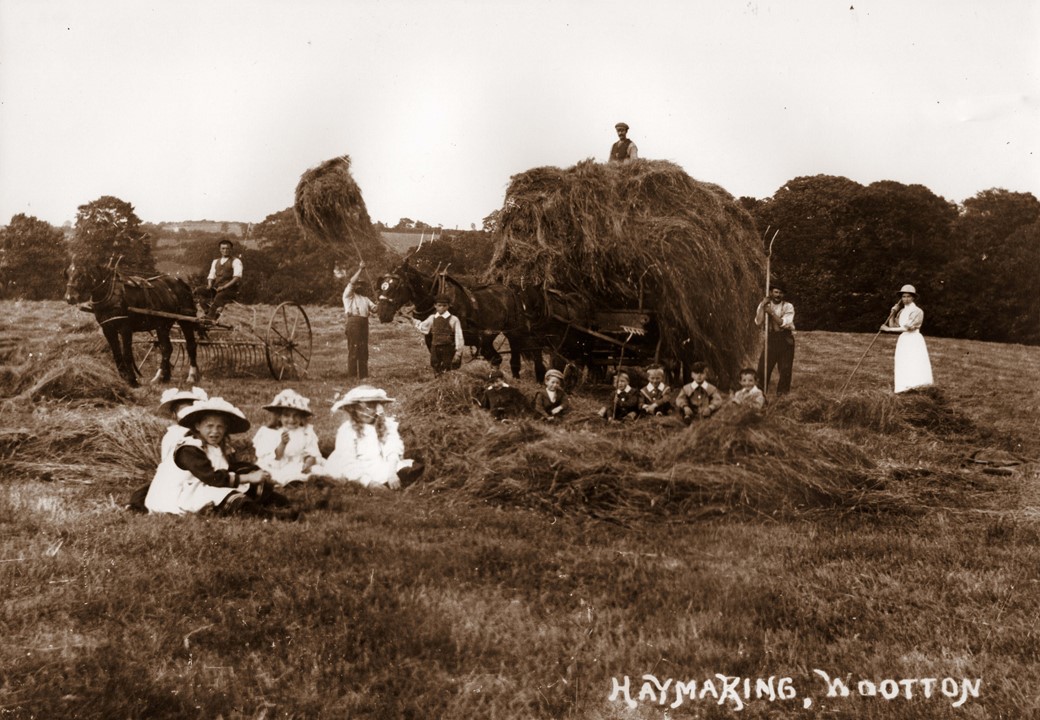 Haymaking was enjoyed by all the village children going from farm to farm after school hours and holidays sharing the tea and cider of the hay makers. Samuel has include his own four children in this idyllic photograph.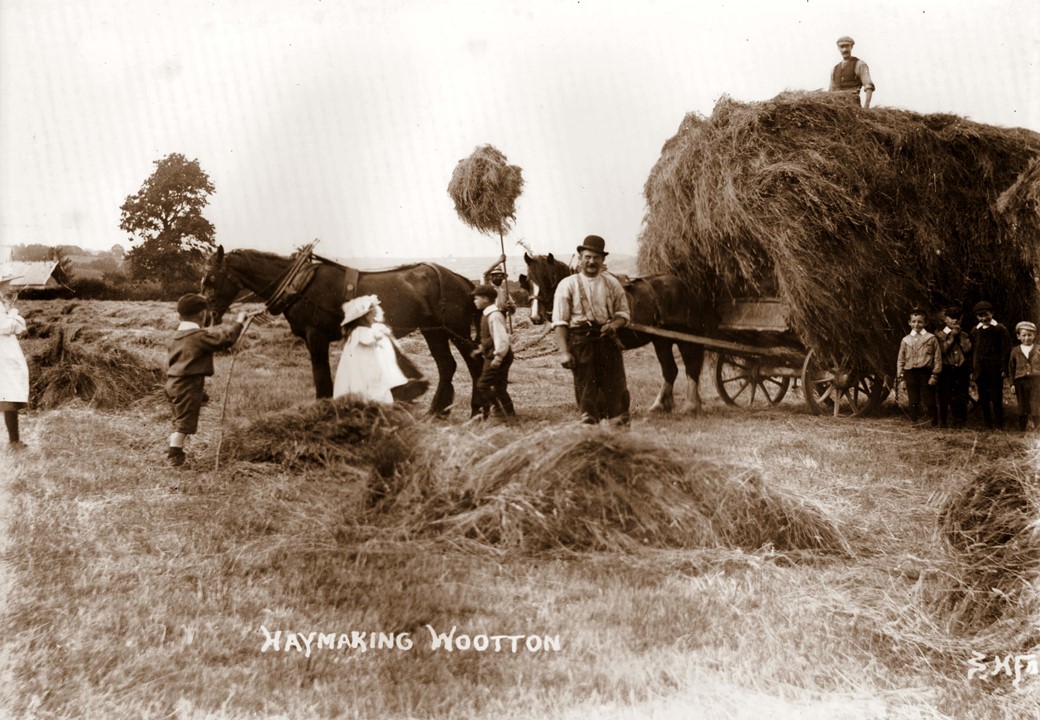 Haymaking at Wootton. Albert Butler is the chap with the bowler hat.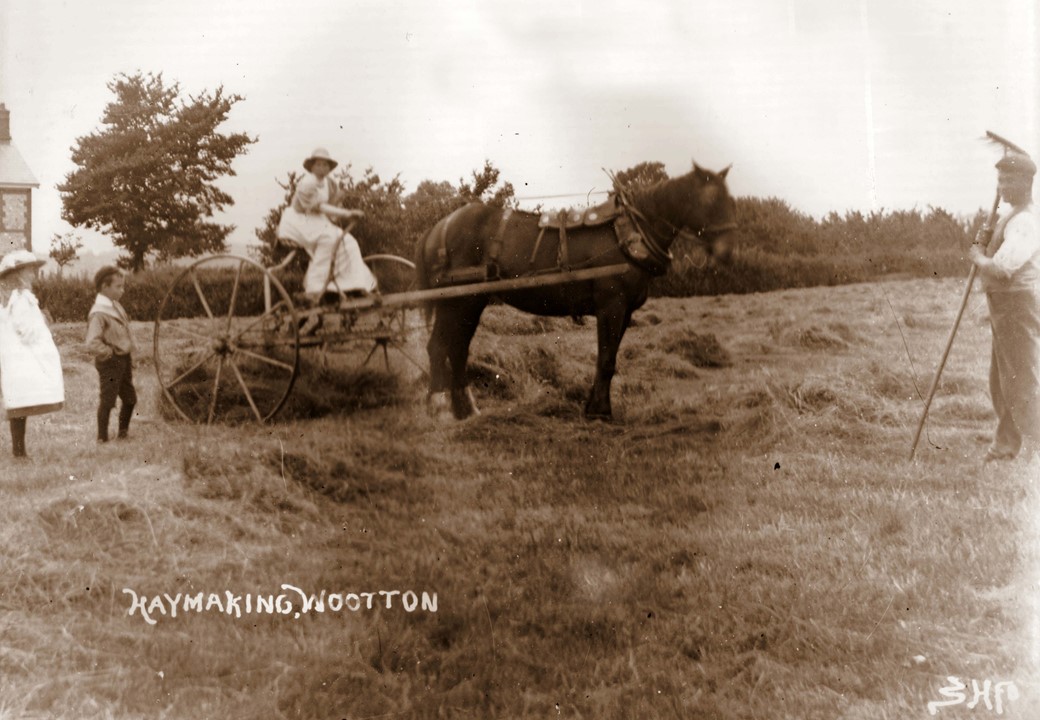 Horse raking taken in front of Nutcombe House where Samuel lived with his family.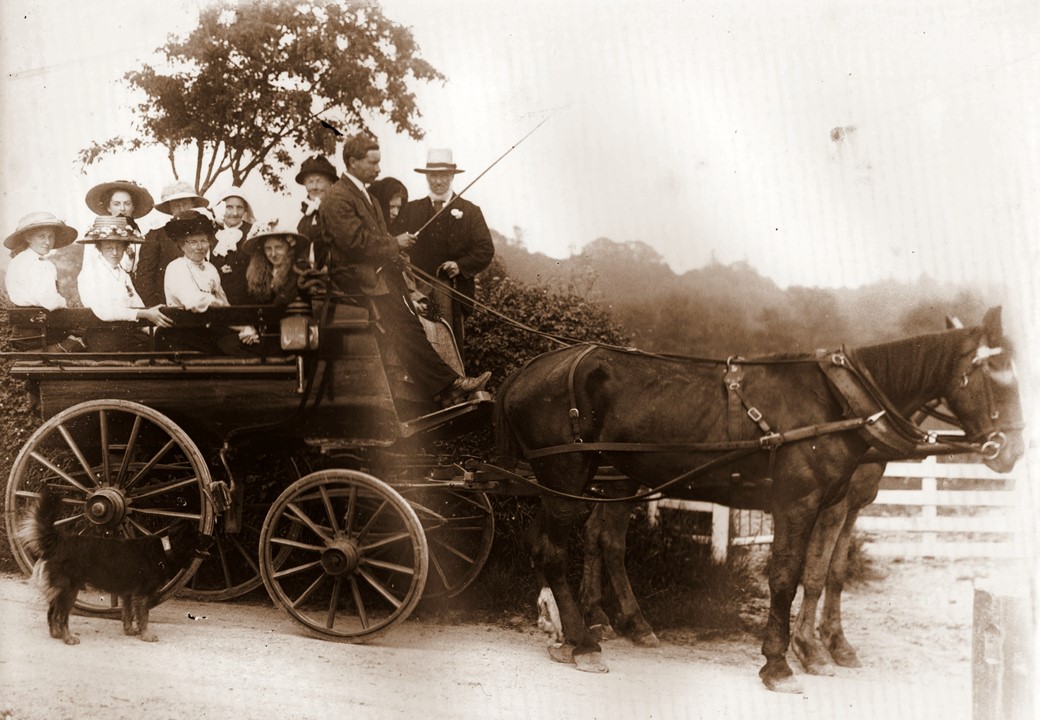 Mr. Warren from Lyme Regis is seen here driving the Bus that ran from Lyme Regis through Charmouth to Bridport.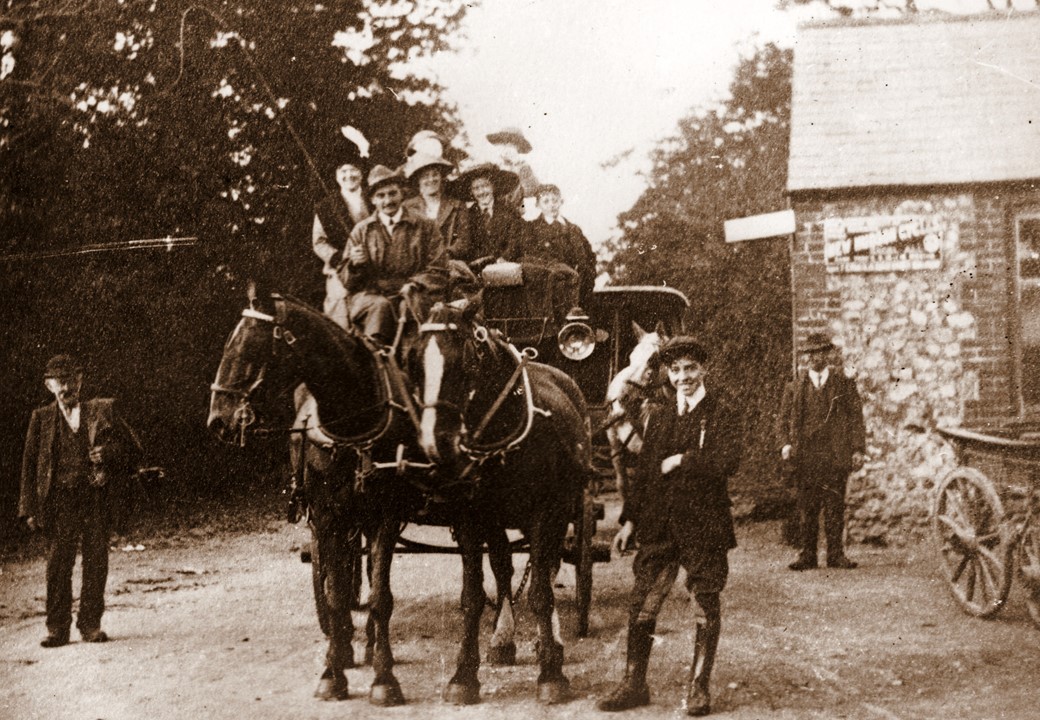 Mr Welsh can be seen to the right of the bus which has stopped outside The Ship Inn in Morcombelake, which was run by Samuel`s cousin,Henry Pitfield. Barney was to later marry his daughter, Agnes Pitfied in 1935.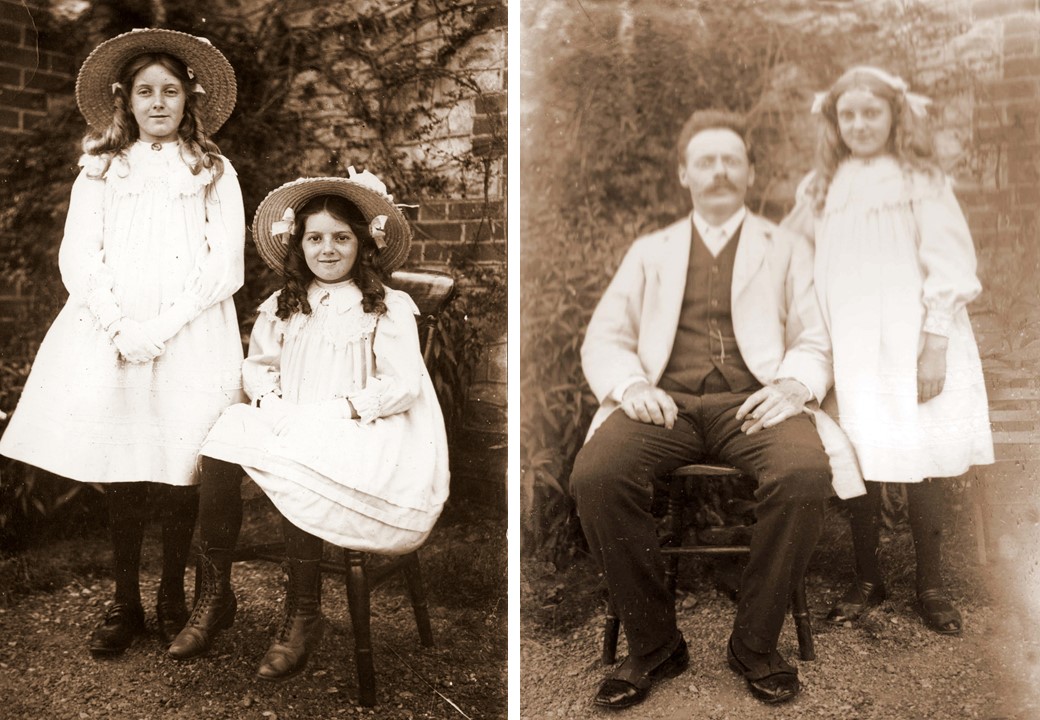 A lovely phot of the two daughters and one of Samuel with Mabel, his eldest daughter.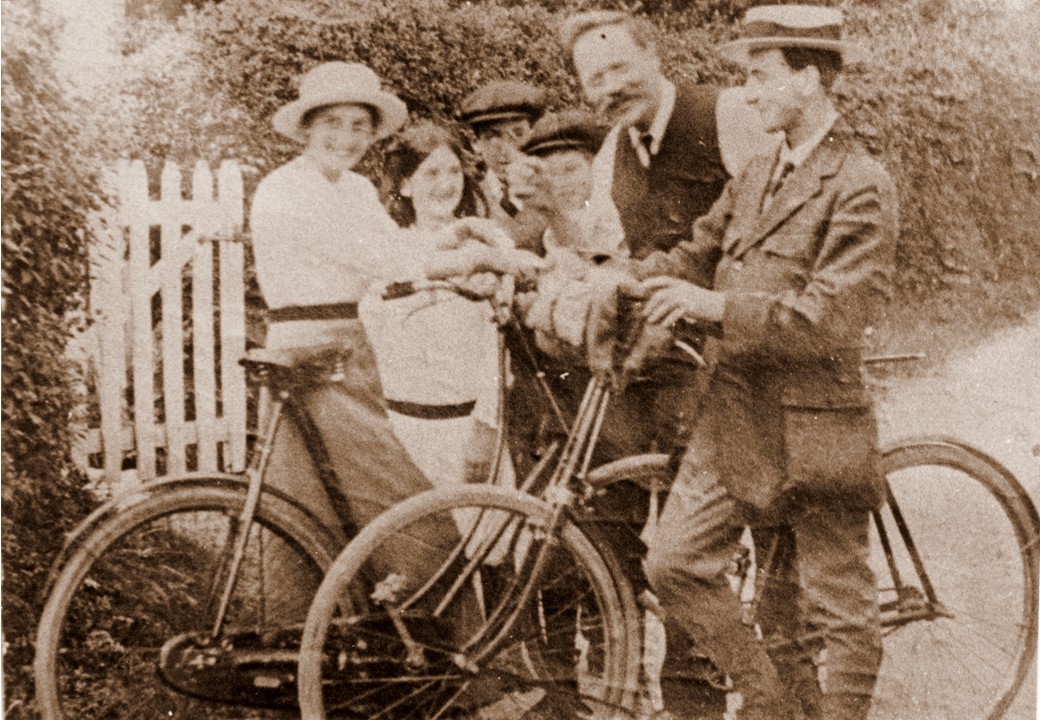 A candid shot of Samuel with three of his children behind him with two cyclists outside their front gate at Nutcombe.
Tragically, Samuel1s eldest daughter, Mabel,never made sixteen and was to die of a hole in the heart in 1915. Her father, carved this beautiful memorial to her which still stands in the Cemetery at Wootton Fitzpaine. He also undertook the gateway which he carved with the words "The rich and the poor are gathered here together."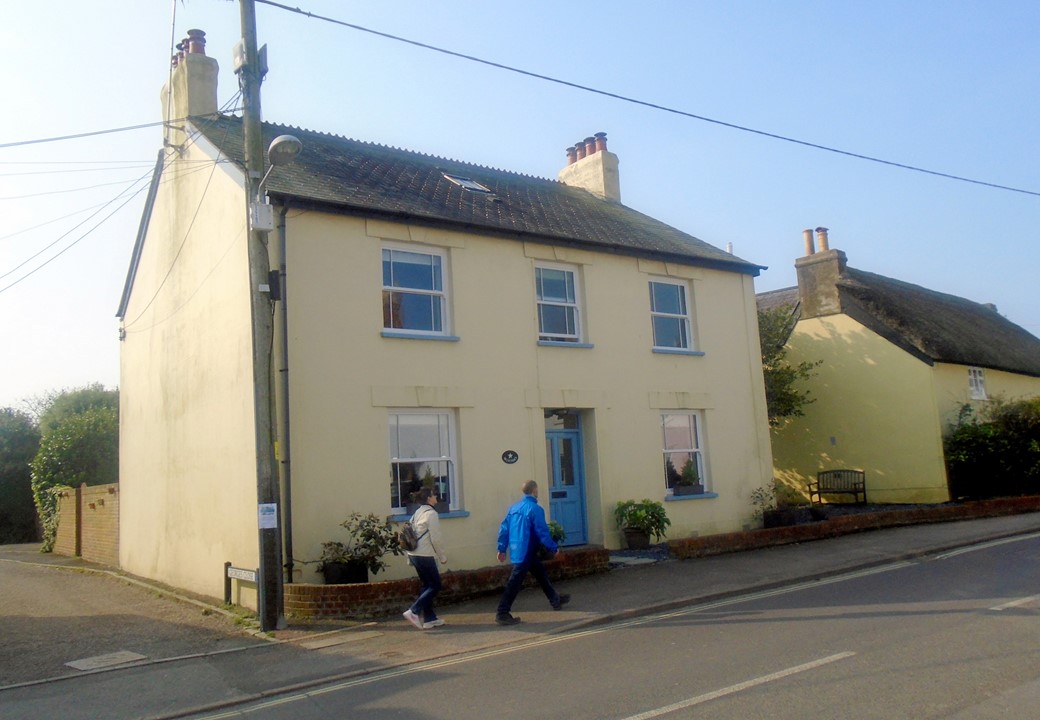 The family moved to Charmouth in 1916 when they bought Mintaka and he started a building business at the rear of Firlands House opposite. But sadly in 1920, beset with financial worries and the loss of his daughter he took his own life, aged just 50.
Isabel, his wife, moved back to her parents house at Ryall with her children, where she lived until 1944. Her youngest son, David married Mabel Brown in 1928, and had a child also called Mabel. He died aged just 26 of Appendicitis in 1930. His sister, Isabel was to marry the builder, Joseph Caddy of Morcombelake in 1924 and died in 1998, aged 96. Her eldest son, Barney was to live an active life in Charmouth as a builder and creator of a large Exhibition. He married Agnes Pitfield in 1935 and they were to have two sons, David and Patrick.
The photograph is of "Mintaka", at the bottom of The Street in Charmouth, where Samuel Hansford was to briefly live with his family.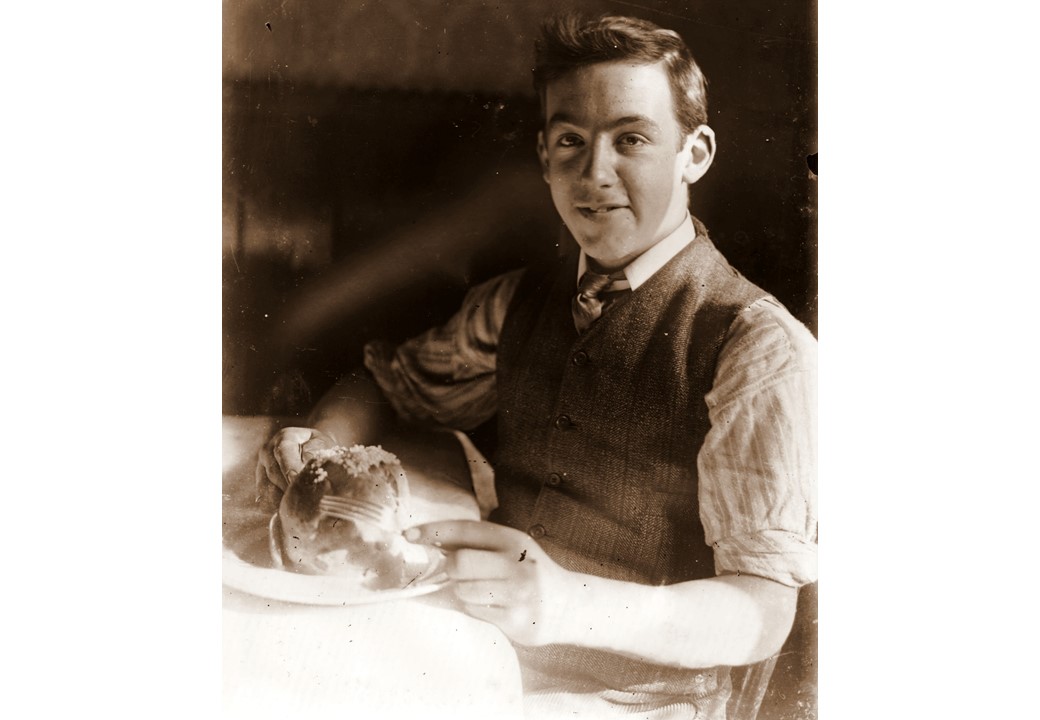 Barney at 15 years old, eating an apple turnover which his mother cooked for him as a treat, because he had fallen off the scaffolding of a house in Wootton. Samuel, his father took him straight back so as he would not lose his nerve.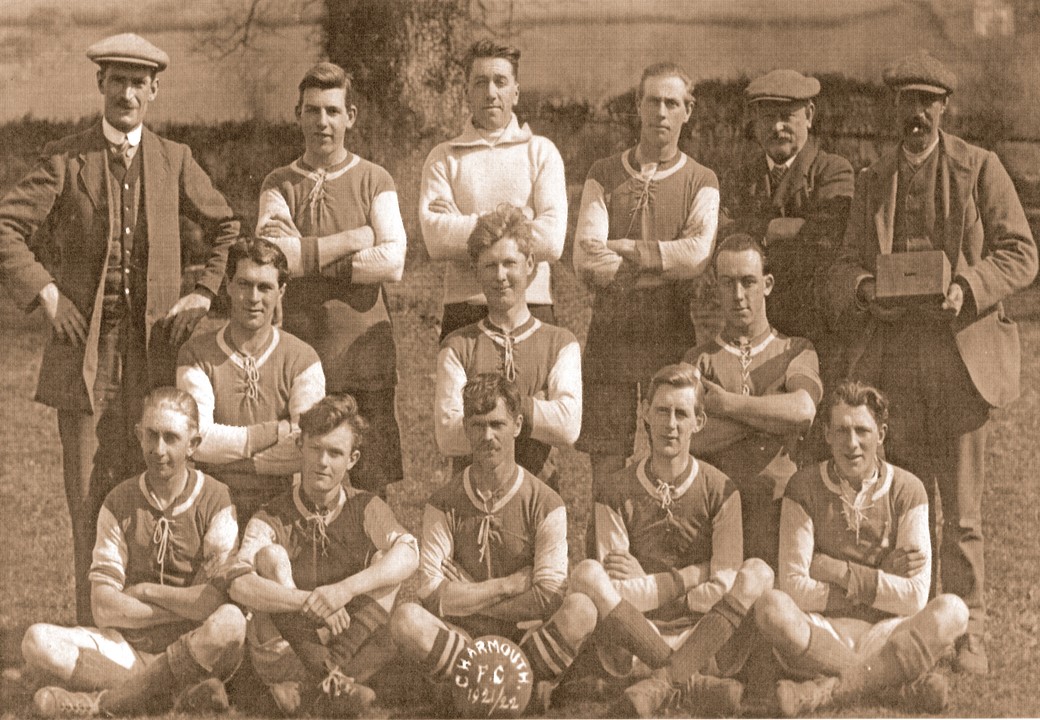 The Charmouth Football team in 1921/2 with Barney Hansford on the right of the middle row and Cecial Bugler in the white shirt.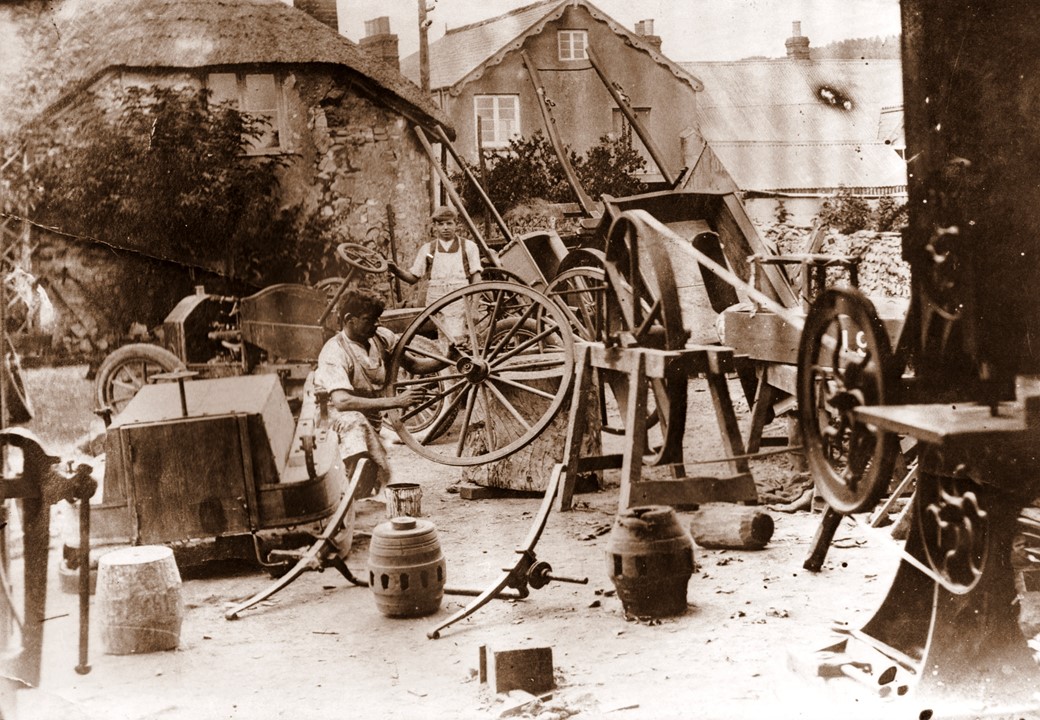 Barney and David repairing vehicles in the yard at the rear of The Lilacs, near the old Fire Station. Firlands terrace can be seen in the background.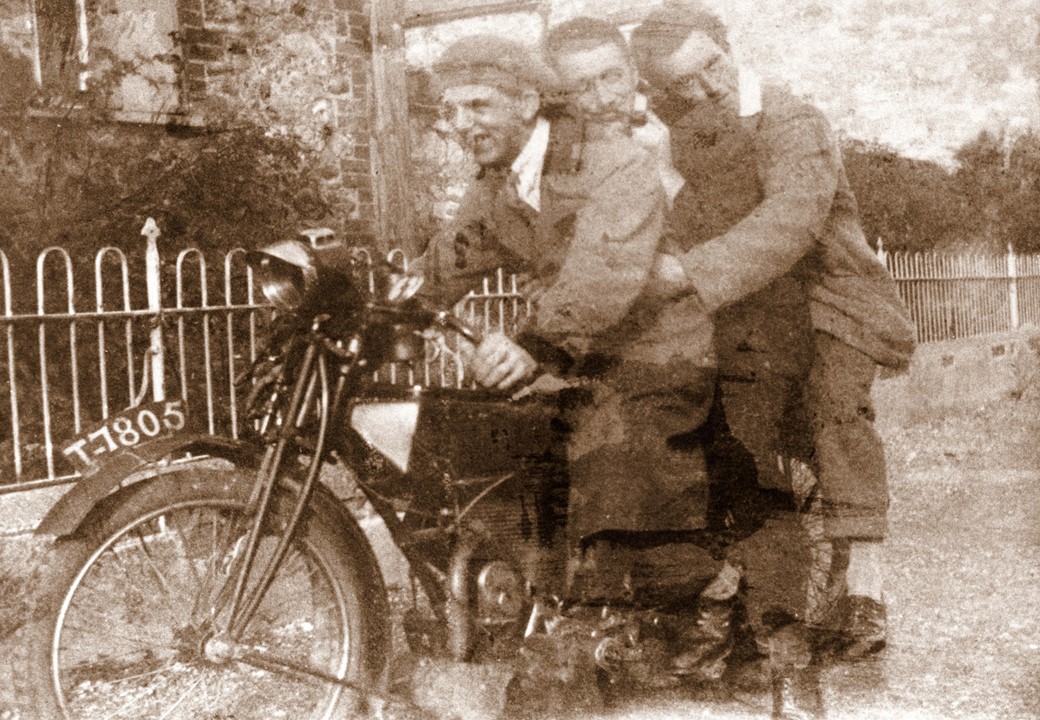 Out for a spin on the three seater,Rudge "Multi" bike. David Hansford driving, Cecil Bugler in the middle and Barney Hansford on the back. They are passing the railings of The Mill at the bottom of The Street.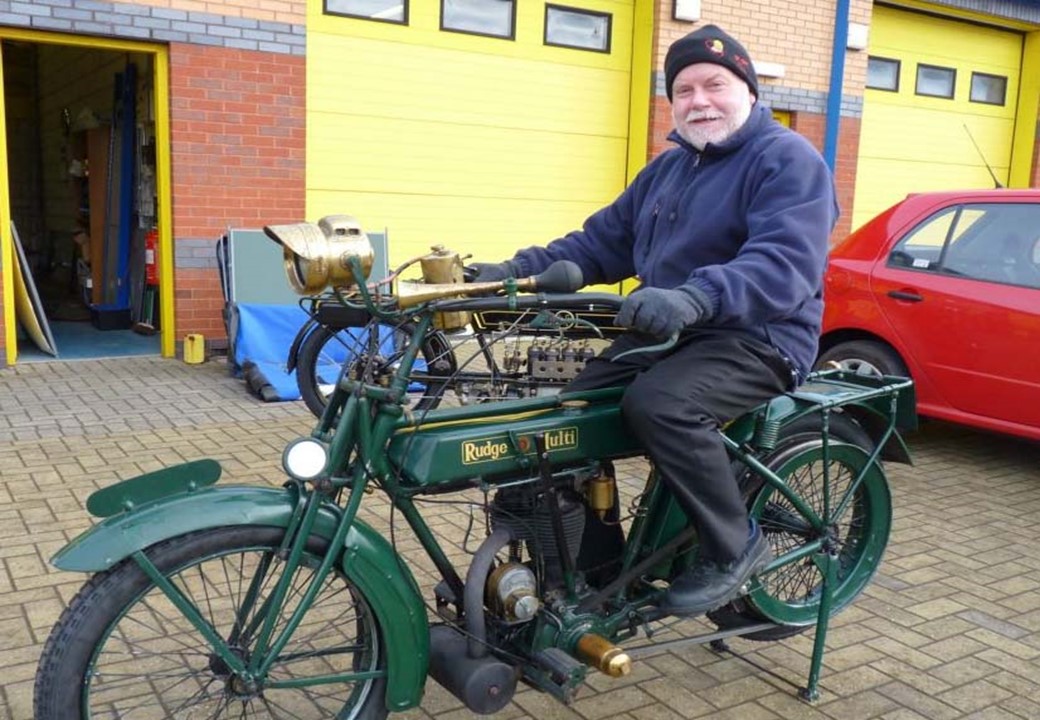 A restored Rudge Multi Bike in action today.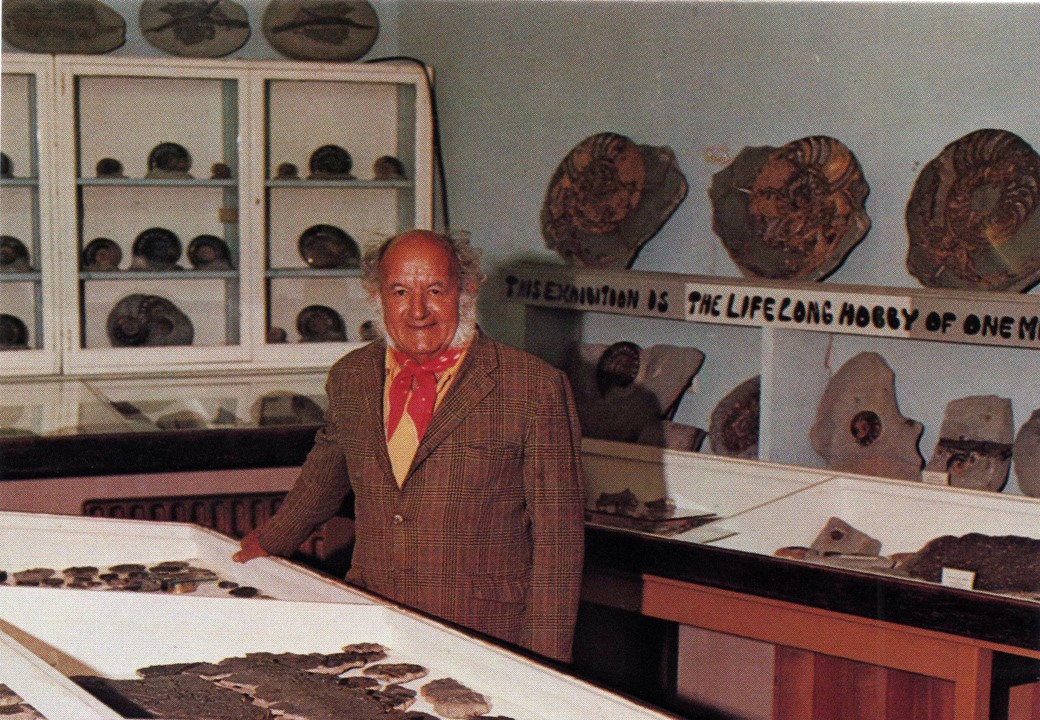 Barnie in later years surrouned by the colection of fossils he displayed at his Exhibition behind Firlands on The Street in Charmouth.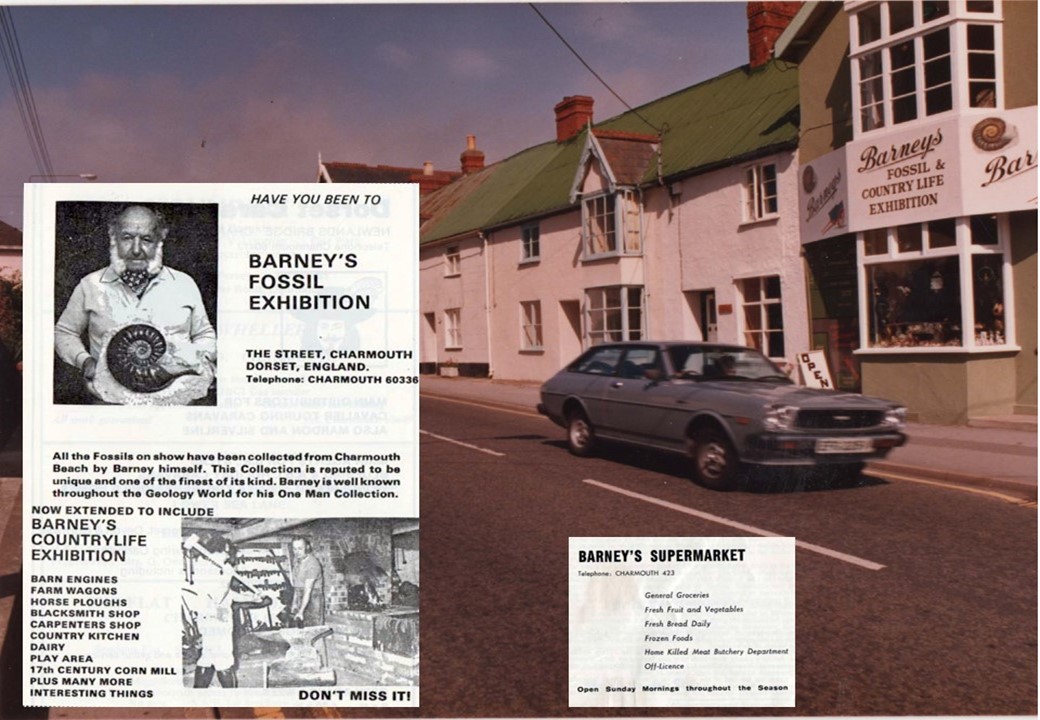 A view of Firlands on the right in the 1970s when it was the entrance to Barneys Fossil and Countrylife Exhibition.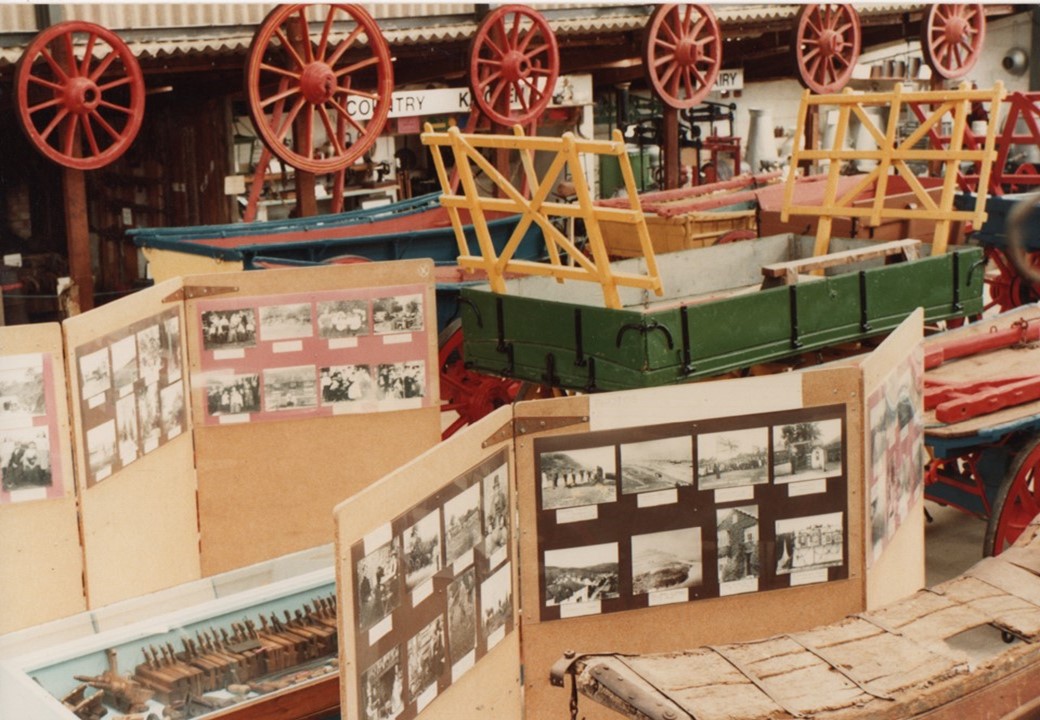 A closeup of the Exhibtion. Some of the many photographs taken by Barney`s father can be seen displayed there. They are a magnificent record of the times he lived in as a memorial to both him and his family. It was said that he would take photographs within walking distance of Charmouth and put on shows of them in the Local Village Hall, where he would say to his audience-" If you have enjoyed my photos a little- you have enjoyed me a lot".