Scroll down to find out more about Hansfords
Click on Home to return back.
The Pass Family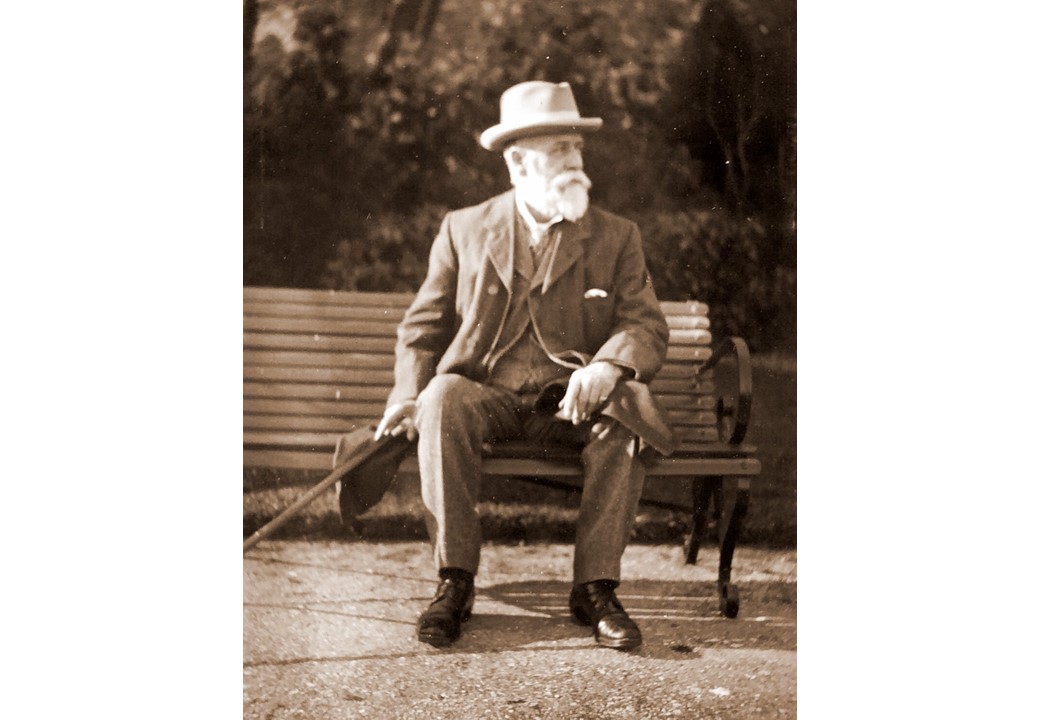 Albert Capper Pass was born in Bristol in 1837, where his father worked as a metal refiner and dealer. They later moved to Bedminster into much larger premises and prospered by processing gold and silver as well as lead and copper. In 1870 his father died and he took the business over and it went from strength to strength under his guidance.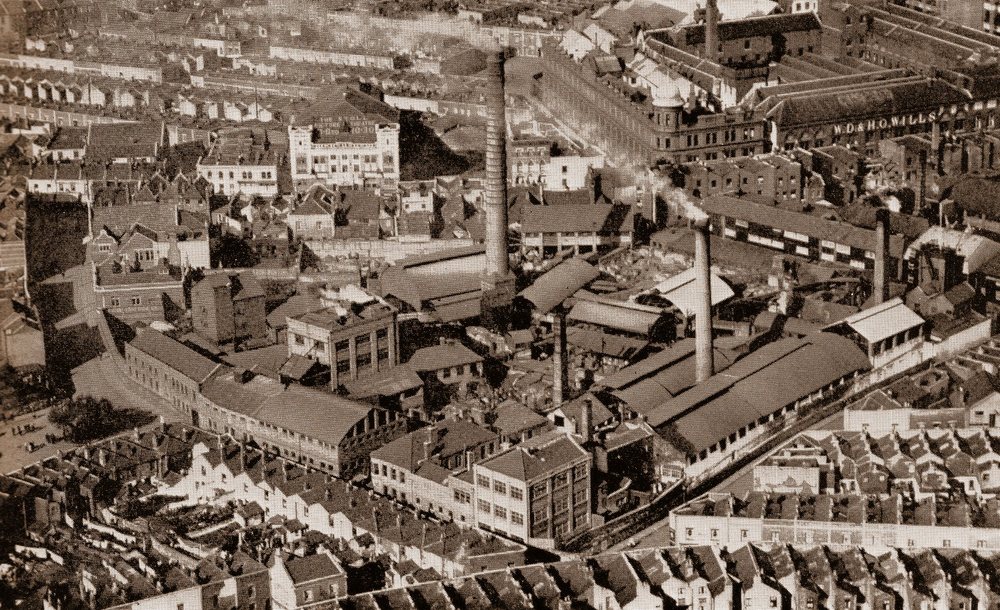 The factory went over to making solder and doubled in size from 1875 to 1882. As well as an industrialist, he was very well educated and had many interests, especially archaeology. Up until 1894 when it became a limited company he was the sole owner. In the following year profits are shown as almost £12000, most of which goes to Alfred.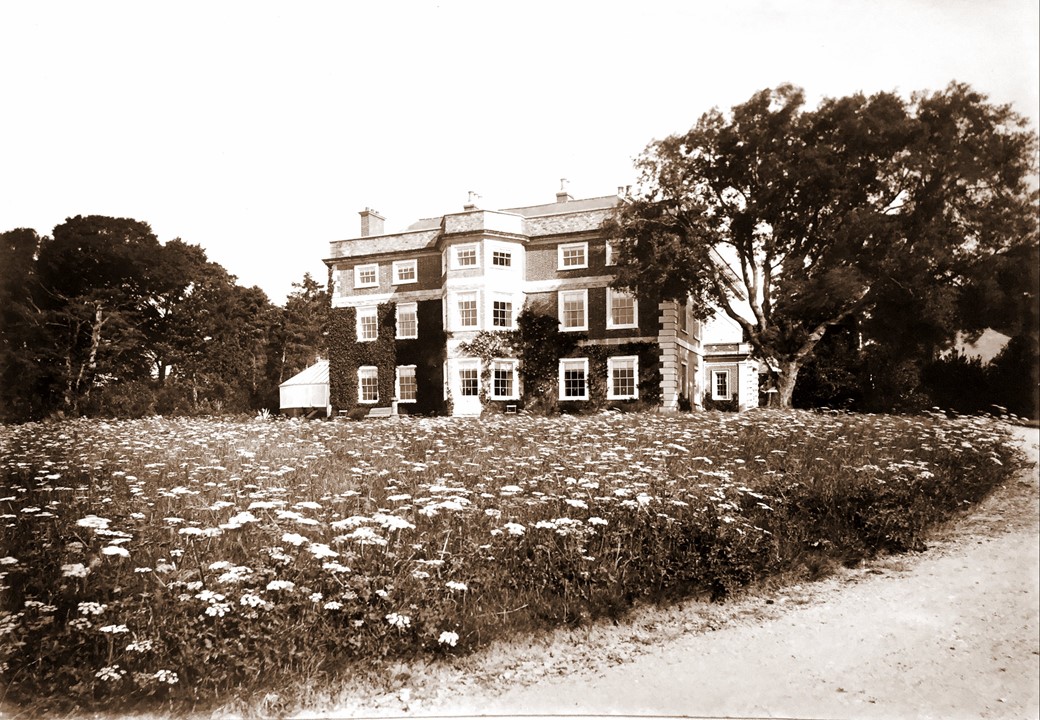 Towards the end of his life he seeks to become a country gentleman and endeavours to create an estate based on Wootton Fitzpaine Manor (shown here). In 1895 he purchases this house with 1776 acres at auction. He later buys land in Fishponds, Hawkchurch, Monkton Wylde and Abbots Wootton He adds parts of Charmouth and a number of other properties until on his death the Estate totals nearly 5000 acres.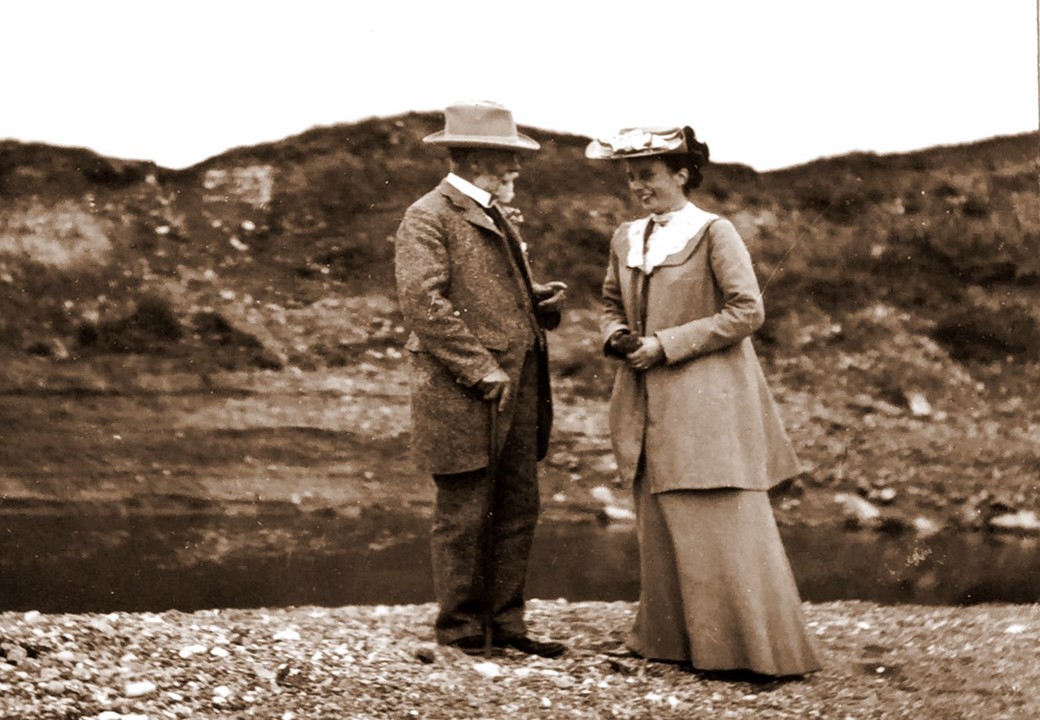 He was in the process of buying the Cement Mill and 63 acres of Charmouth for £1400, but it was not completed until after his death. The photograph is of him with his secretary, Grace Alford on Charmouth Beach.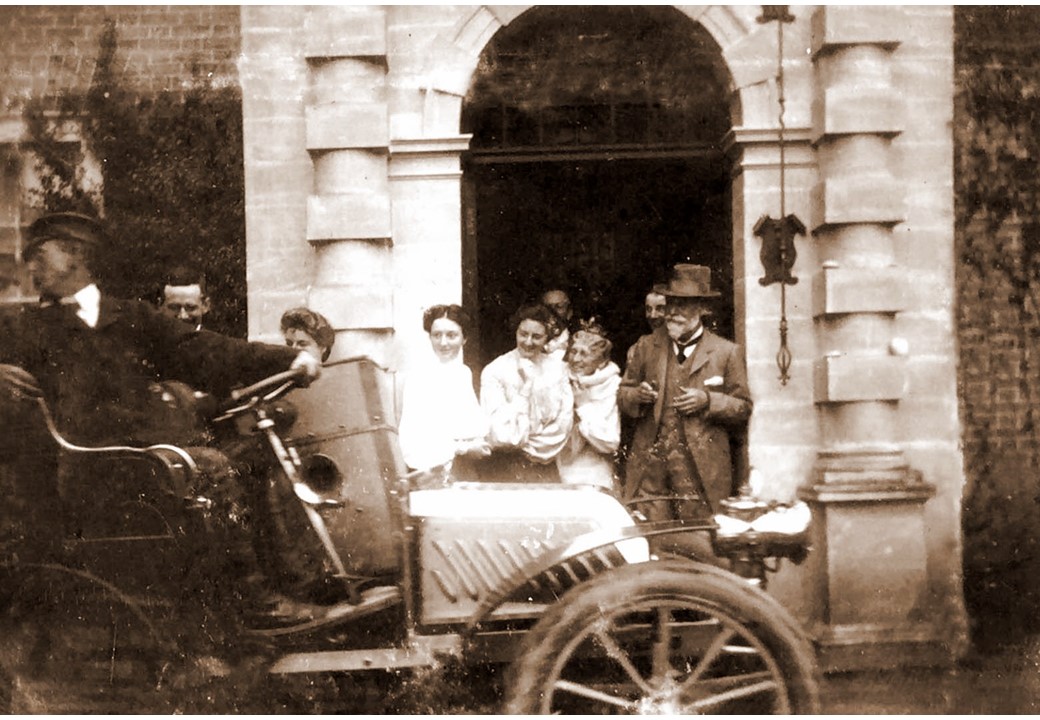 The farming had previously been in a sorry state and he endeavoured to turn into his new bought farms into a sporting and hunting estate employing many people from the villages. But sadly he does not live long enough to enjoy it and dies on October 4th 1905, aged 68.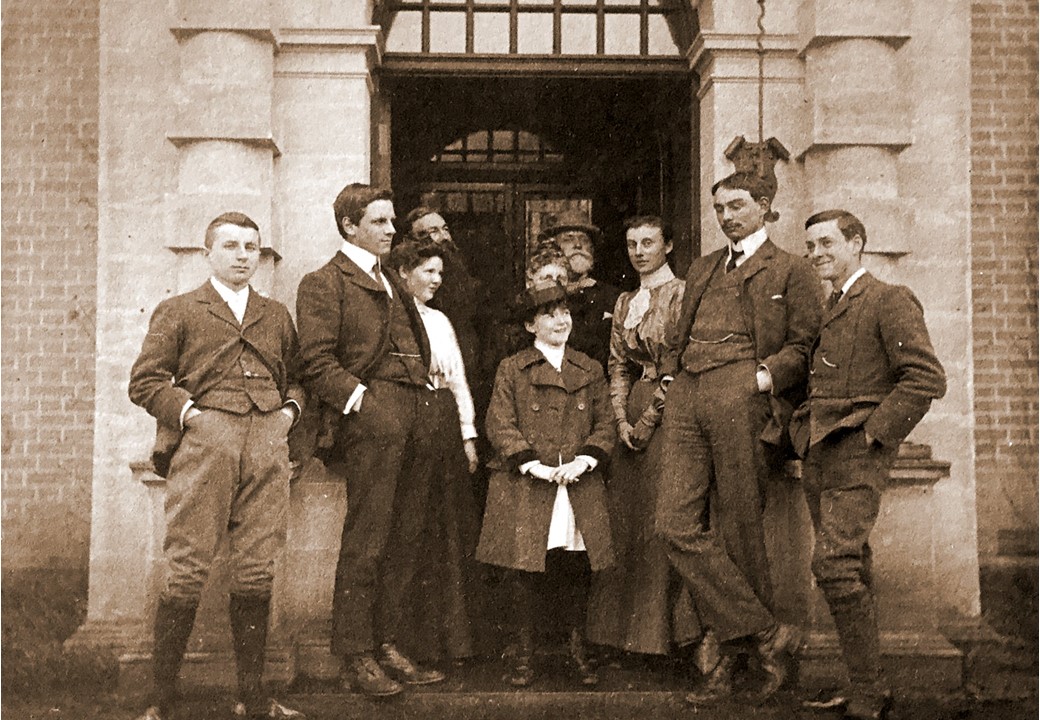 His son Alfred Douglas Pass inherited a thriving metal refining and solder works. He followed in his father's footsteps by enlarging the buildings and finding new markets for its products. He was to appoint a University friend, Paul Gueterbock as the Managing Director who proved to be outstanding. He also received his fathers extensive Estate and over £60,000 in stocks when he reached 21 the following year. In 1912 he married Katherine Heycock and they were to have five daughters. 
During the First World War, Alfred was listed missing believed dead, for some months after the Gallipoli campaign. He turned out to be a prisoner in distant Anatolia. 
He is seen here on the extreme right with his father in the doorway of Wootton Fitzpaine Manor.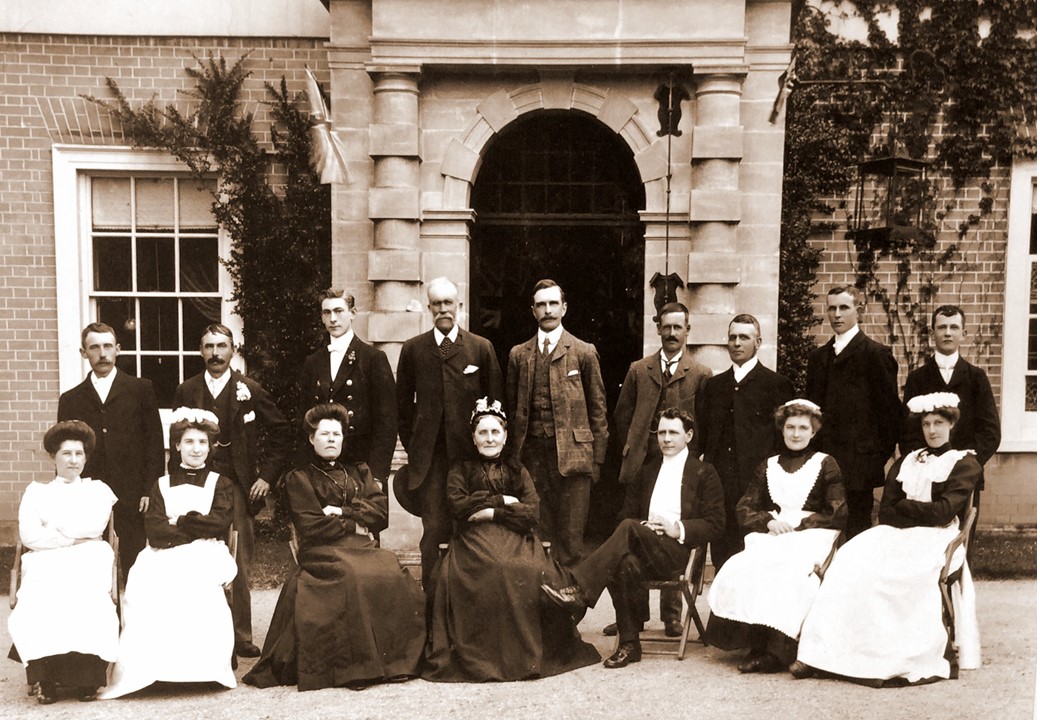 The staff for the Pass family pose for Samuel Hansford`s camera outside the Manor in 1908.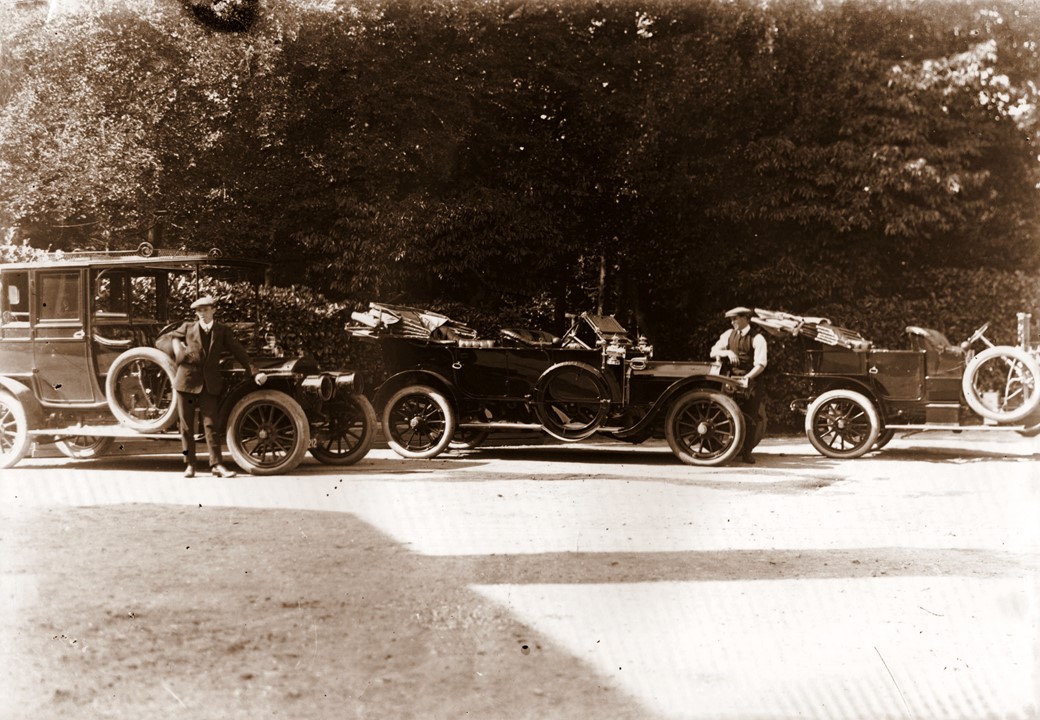 Three of the fine cars the Pass family could use and their chaffeurs in the entrance to The Manor.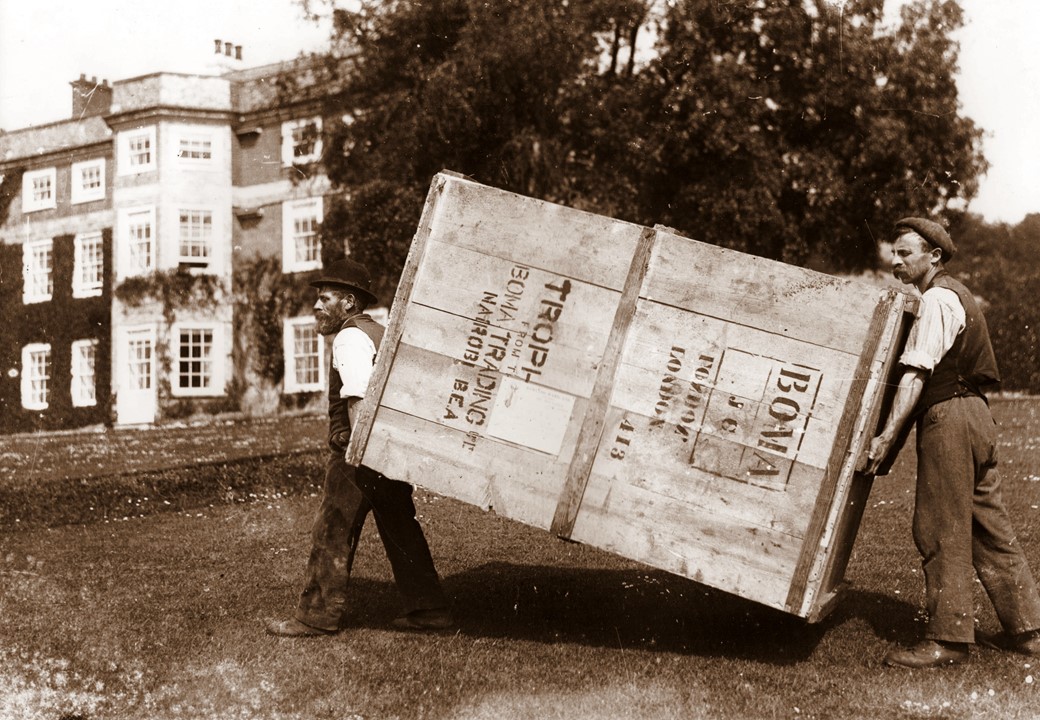 A shipment for the Manor from Narobi in Kenya.
The Pass family and freinds enjoy a Picnic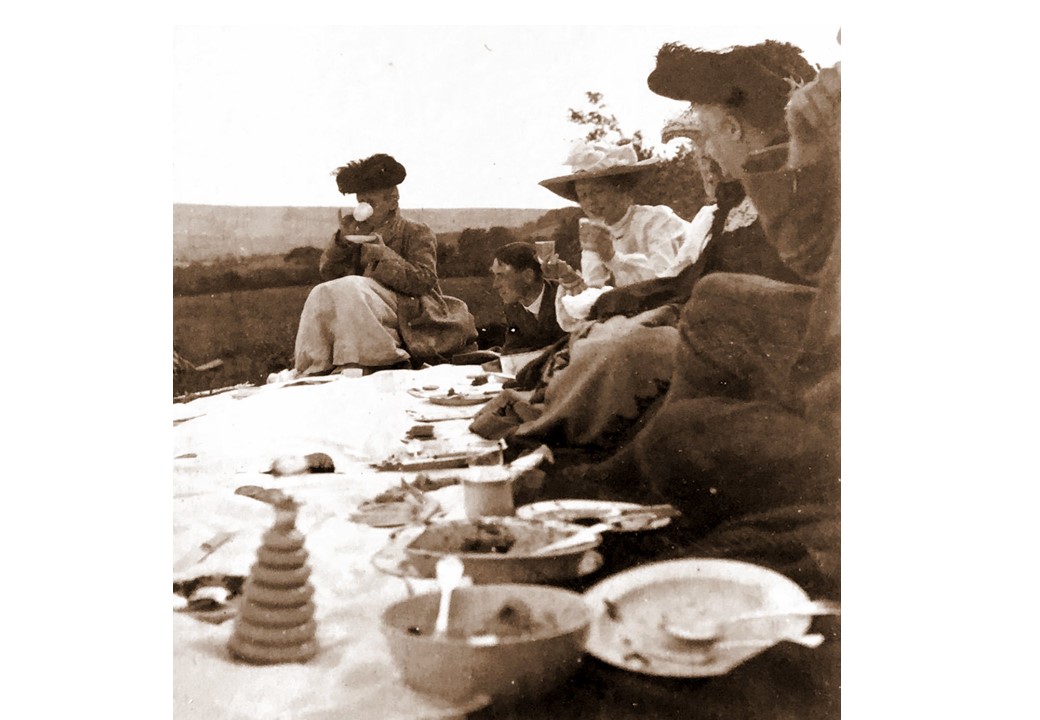 another photo of the Picnic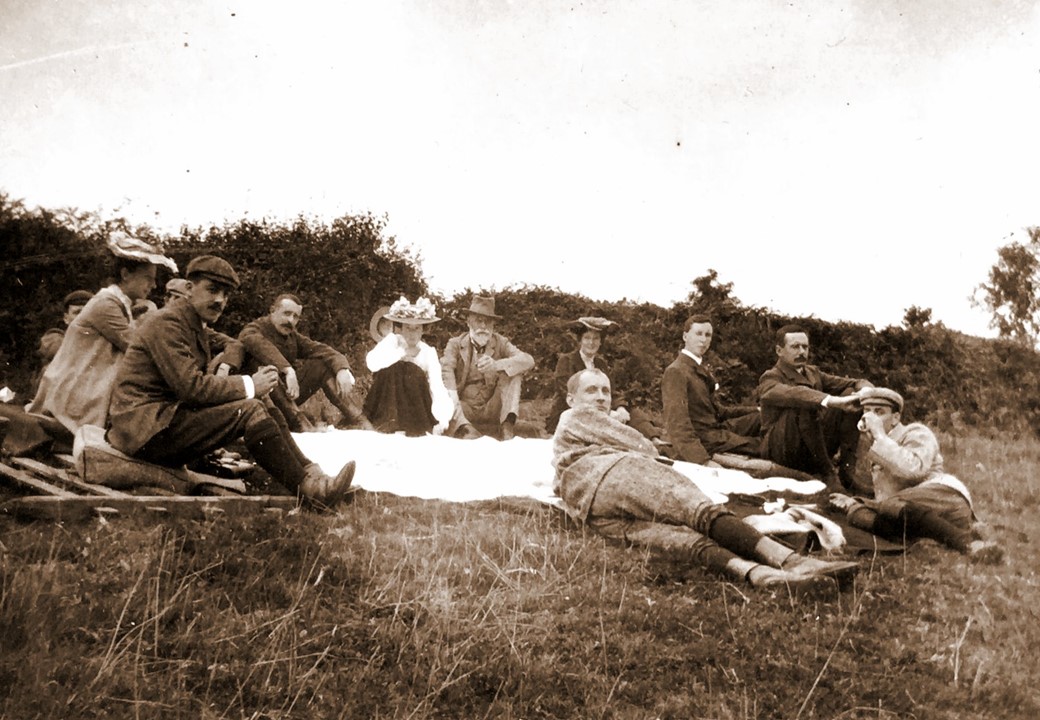 The same Picnic.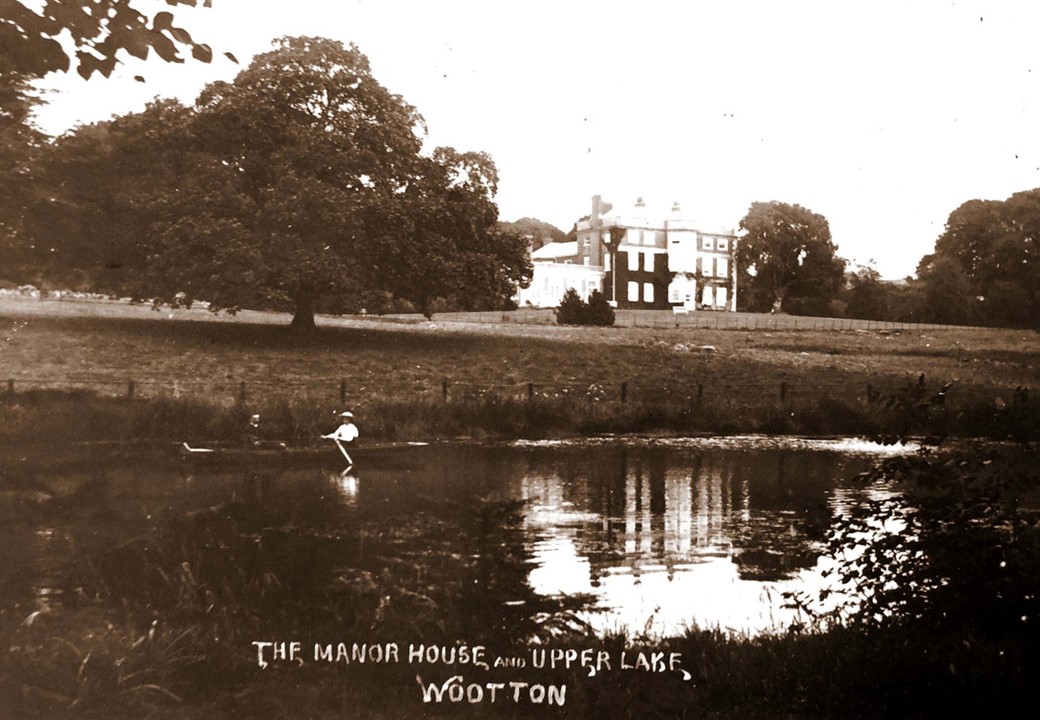 A photograph by Samuel Hansford that he produced as a Postcard of the Lake in front of the Manor.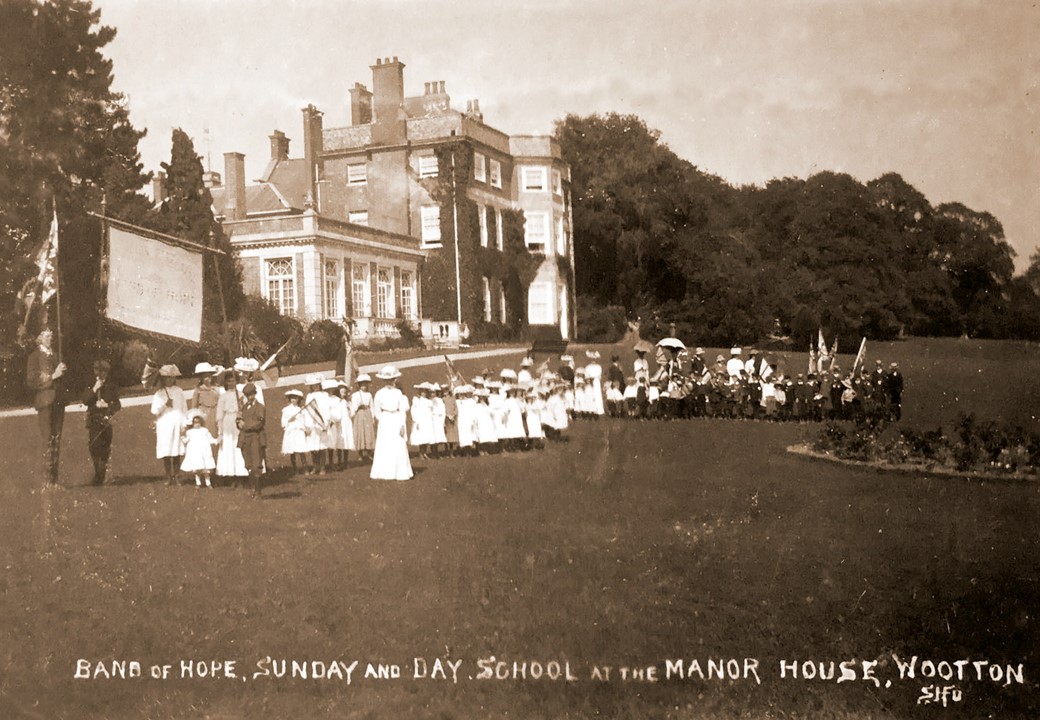 A group of Villagers on the Lawns of the Manor.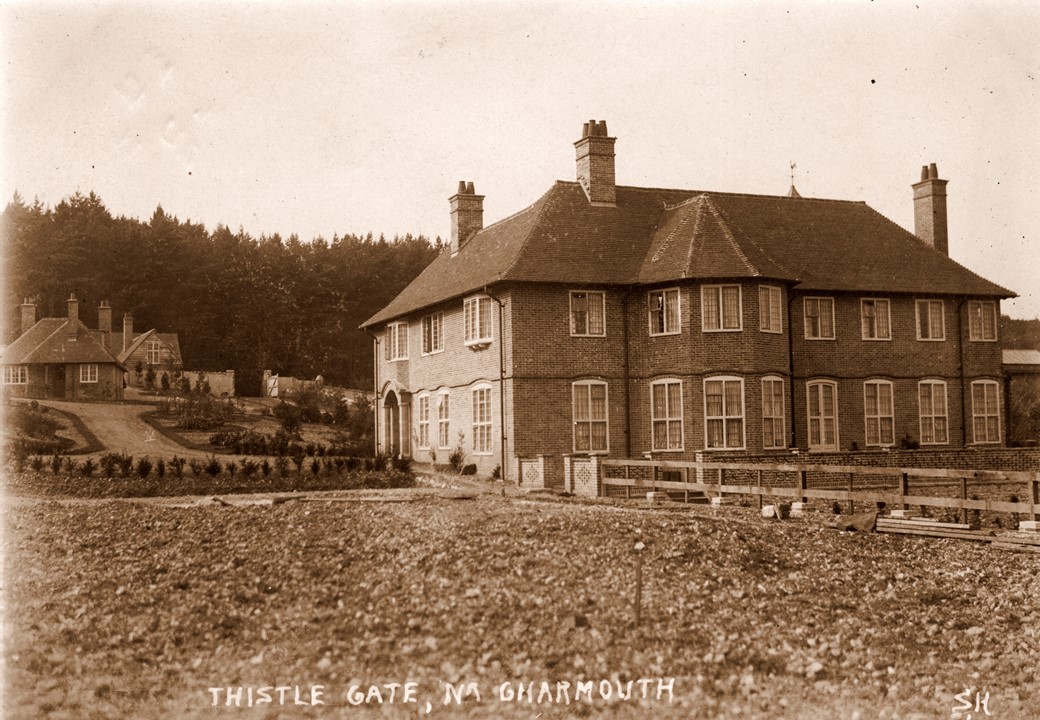 On the death of Alfred Capper Pass, his wife moved to Thistle Gate House on the outskirts of Charmouth which is photgraphed here by Samuel Hansford.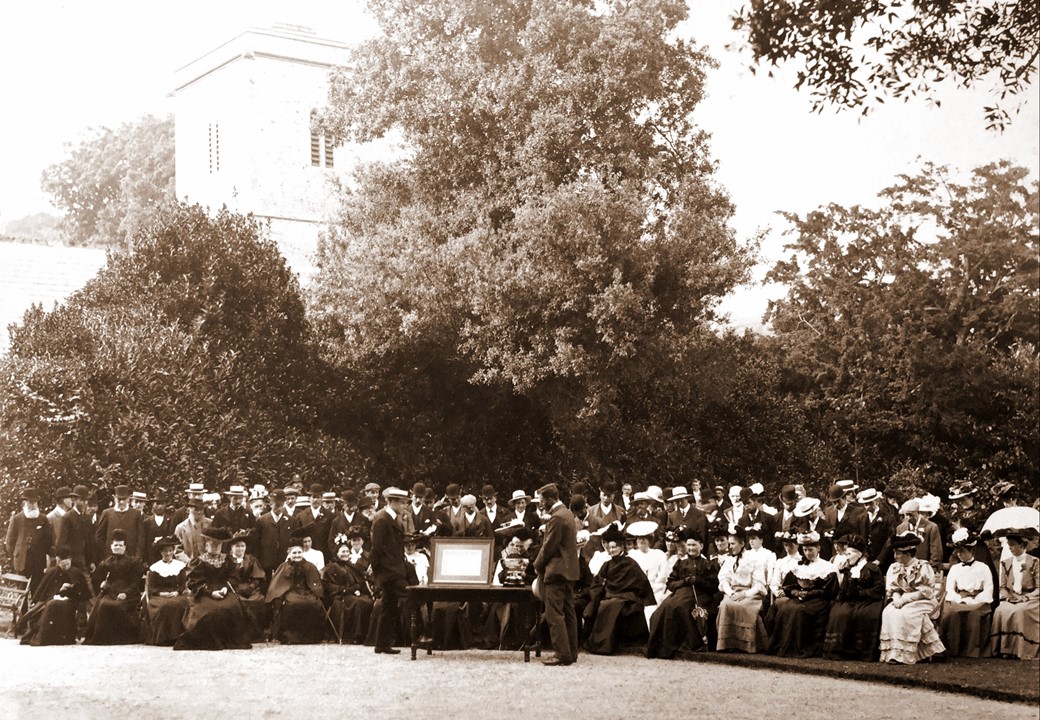 The year after his father died on his 21st birthday, Douglas was presented with a Silver cup and this decorative plaque shown here by his tenants and staff in the grounds of The Manor in 1906.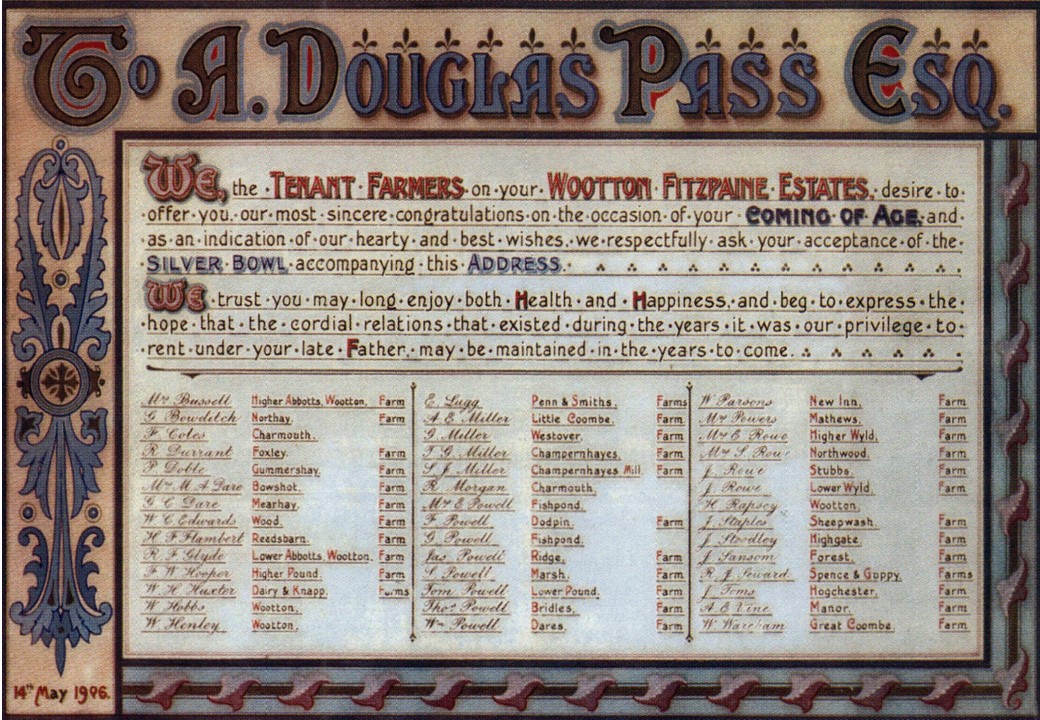 The decorative plaque is inscribed with the owners and names of the 36 farms that were bought by his father before he died in 1905. Included were Foxley, Charmouth Manor, Lilly Farm and Hogchester in Charmouth. He also owned Charmouth Stores and The Bakery in the village as well a number of houses.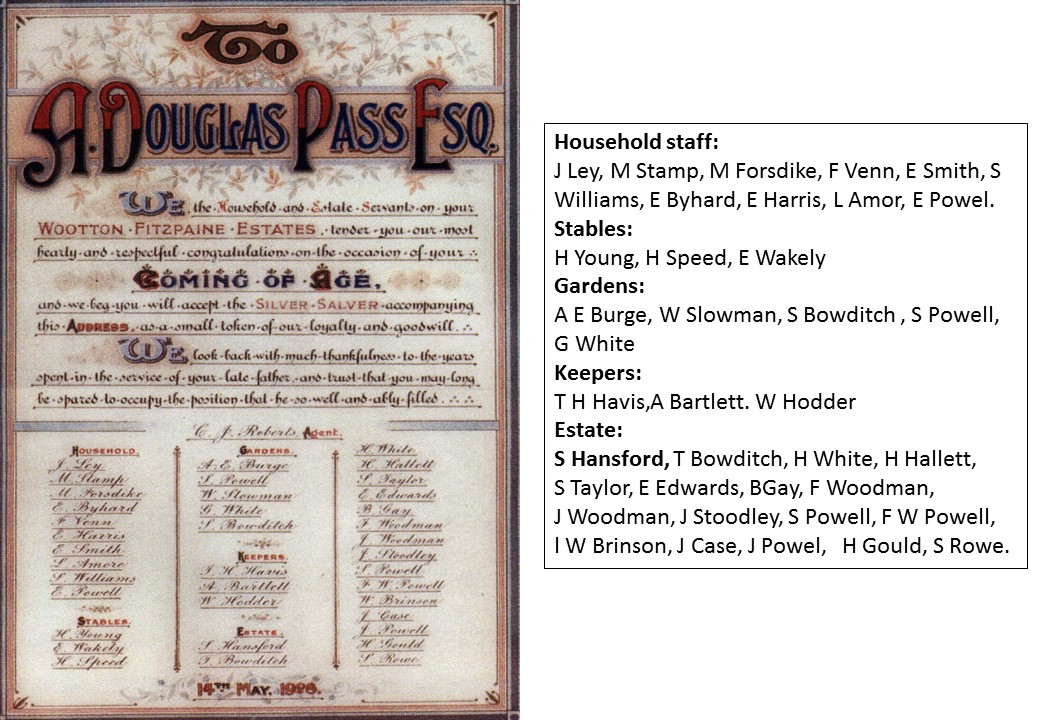 The long list of the staff is shown above, including Samuel Hansford who was in charge of the Works.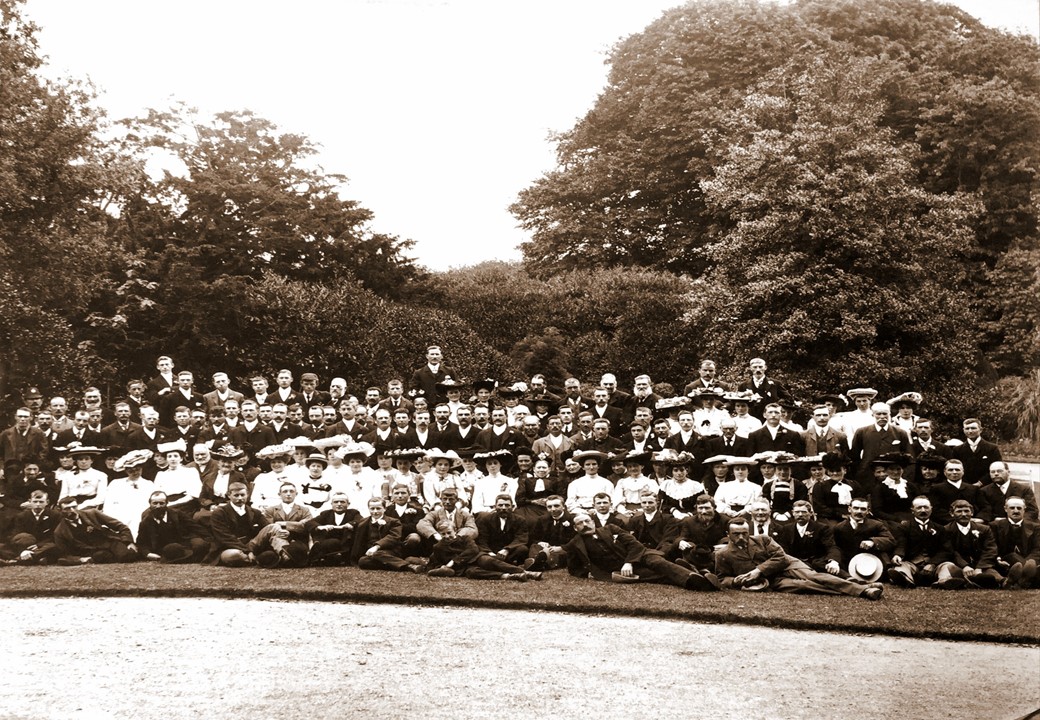 Wootton Fitzpaine and surrounding villages have their photograph taken in 1911 during the celebration of King George V Coronation.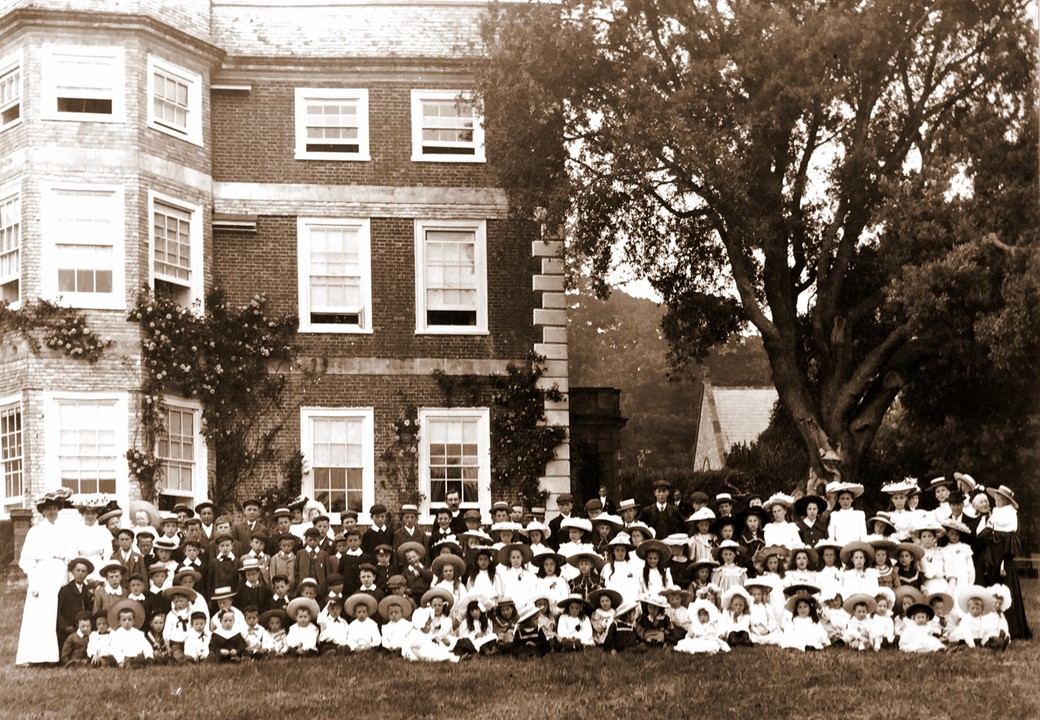 Children are in front of the Manor for the Coronation of King George V in 1911.
One of the Marquues that were erected on the lawns for the Coronation lunch.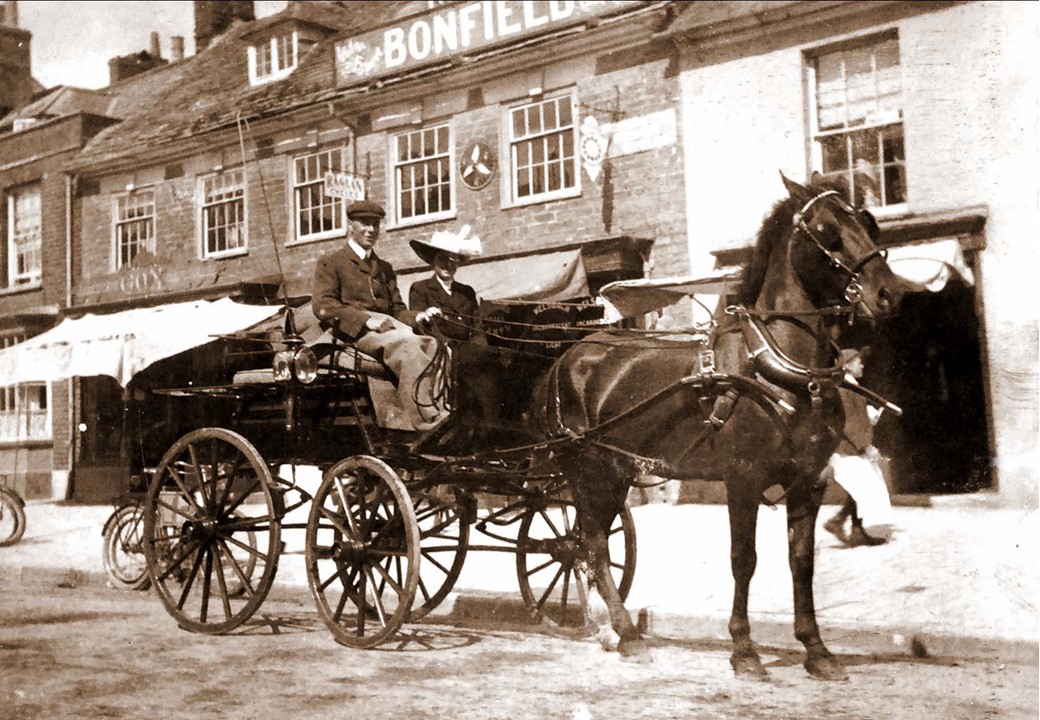 Douglas Pass in his carriage outside Bonfields Cycle shoip in East Street, Bridport in 1906.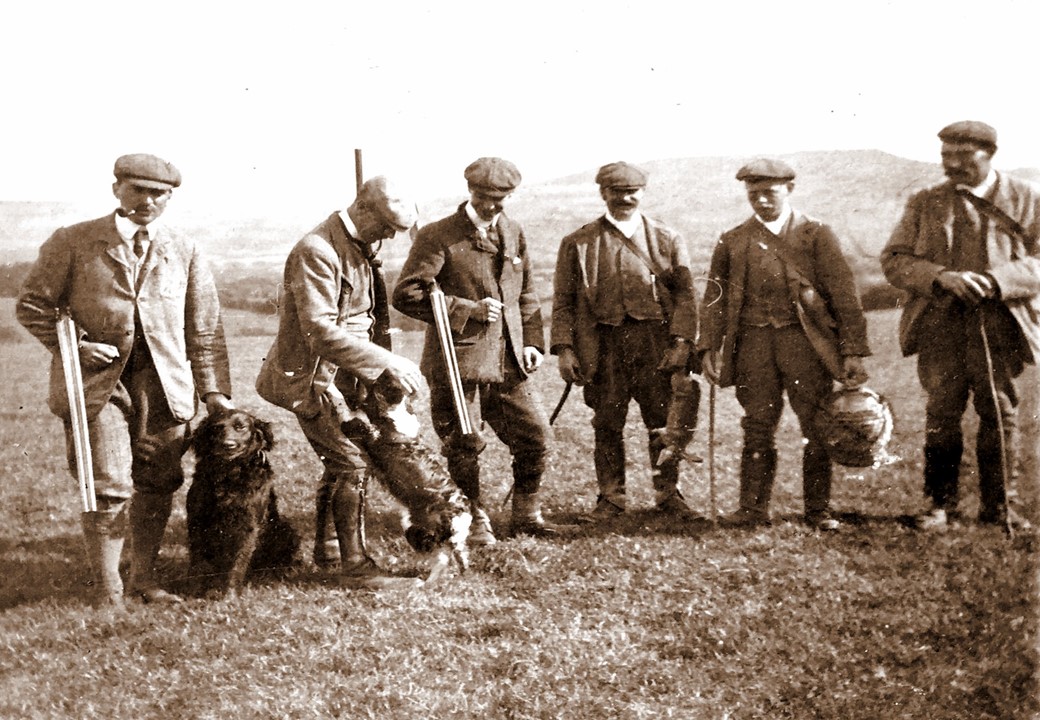 The Estate was primarily used for hunting.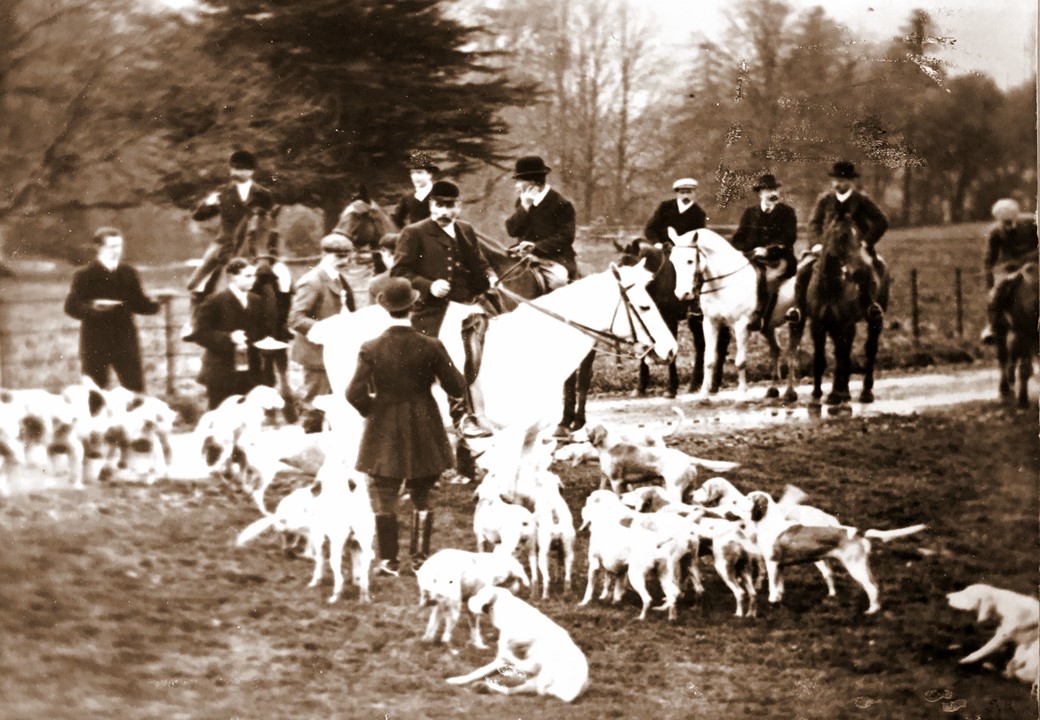 The Cotley Hunt , which is still going strong today is seen here on the lawns of Wootton Manor House.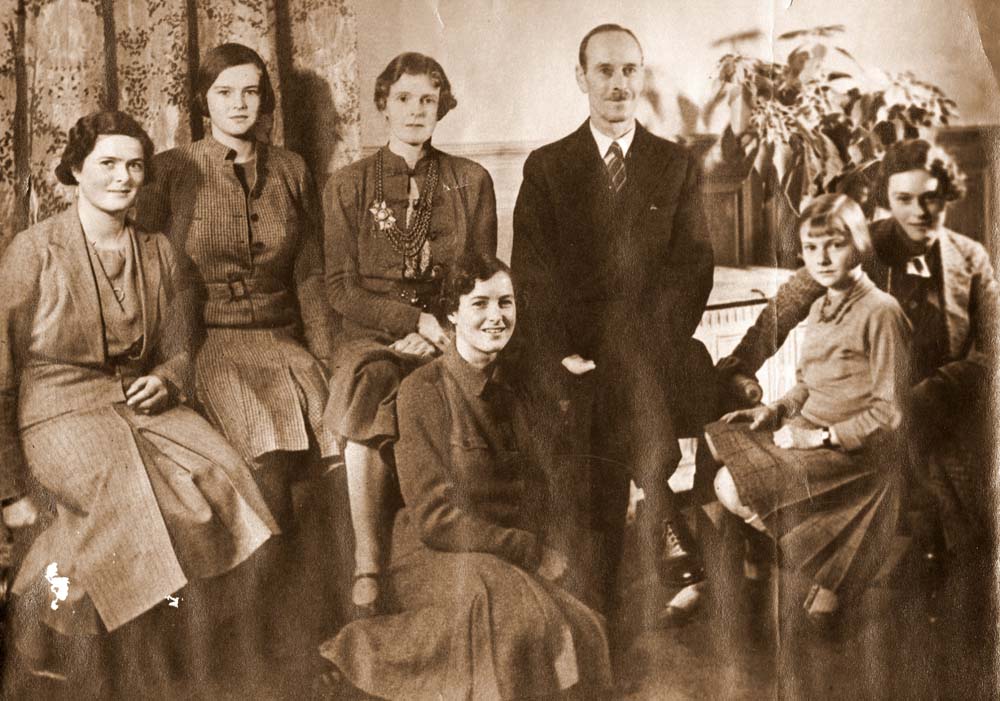 During the Second World War, Colonel Pass became army welfare officer for the area. At the same time he continued to run the family tin smelting works in Bristol. Douglas Pass had long been on the Dorset County Council and a Bridport magistrate. He was also a scout commissioner. He loved Wootton and for many years it was run at a loss as he regarded it as a special place to be cared for jointly with his tenant farmers. 
Having originally owned Charmouth foreshore, he sold it to the Parish Council. He also sold them their playing fields, and land for the tennis courts in Lower Sea Lane for nominal amounts. Much was given to Enterprise Neptune, helping to buy the farms that now provide the wonderful walk from Golden Cap to Charmouth along the cliffs. He also gave them Lamberts Castle and much of Fishpond and his wife gave Coney's Castle to the National Trust. Most of the estate was disposed of after his death though there are still links in Wootton with the family today. 
On a personal note it was Douglas who sold an acre plot to Grace Icombe in 1922 for £130 on which she was to build Thallata where Neil lives today.
The Pass family: L-R - Diana, Philippa, Mrs. Olive Pass. Joan, Colonel Douglas Pass, Honor Matilda, Katherine.