Mables , the Street, Charmouth
Scroll down to find out more about the property.

Click on images or Charmouth Home to return back.
We are fortunate in that the Dorset Family Centre ( Randall v Parish Officers alleged unfairness in Poor Rates demand PE /CMO//OV2 1779- 1782) has a series of documents concerning an enquiry at Bridport on 3rd October 1780 relating to John Randall who appealed against the amount he was levied for the Poor Rate for his house and lands known as Yendovers. It cost the Churchwardens & Overseers of the Poor to the village £17-3-8d in legal expenses to fight it at the General Quarter Sessions of Dorset. John Randall was to appeal against the ammount in each of the following 2 years.
Mr Coombe is also rated for a tenement late Elizabeth Mabells (otherwise Hammetts) who gave it him in the year 1753,she died in June of that year. And Mr Combe has been rated for it ever since by the name of Mr. combe for Mabel's 1d. Prior to the year 1750 Elizabeth Thomasin Mabel was charged 4d being for a field in the poor rate of 1768 it stands as Miss Henvill (amongst divers others) for Mabells 8d the rev Mr Combe for Mabells House 1d and thus the rate stands from thence to the present time. Except that Miss Henvill afterwards was married to then Rev. Durston and so the said from thence stood in his and since his death in her name.
Fernhill deeds 1753 sold by Jacob Burrow, blacksmith to Samuel Burrow, blacksmith for £60 all that piece of ground for,early enclosed by Edaard Mabel. Of about 3 acres converted into an orchard lying at Langmoor and adjoining lands formerly of John Burridge, esq. lately purchased by Jacon Burrow with other lands of Thomas Rose,esq( possibly Hillside) whourchased with other lands from Elizabeth Mabel. And Thomasin Mabell, spinsters and daughters of Edward Mabell, who was brother of John Mabell deceased.
It would seem for awhile that all three estates would be owned by the Henvill family. In the 1754 Poor Rates Richard Henvill Esq is shown as paying 4d for Mabells (Newlands). There are a number of references in the Parish records in the 17th and 18th centuries to the family who farmed the estate called Mabell, and there is a will in the Dorset Record Office to an Edward Mabell who died in 1699. He is also shown in 1664 paying Hearth Tax on his house with 3 chimneys, which may well have been the building now known as Stonebarrow Manor.
1783 Property Owneship no.88.Freehold & Long Leaseholds, Rev. B. Coombe, Late Mables (£3-0-0d) 0a 1p 6r
Marker's or the Poor's Charity. Deeds of ground enclosed by Edward Mabell containing 3 acres, which was converted into an orchard at Langmoore, and another orchard; pedigree of Oke family; letter 1837; notes on charity by R W J Pavey
Edward Mabel was born in 1630 in Charmouth, Dorset. He had one daughter in 1655. He died as a young father in 1657 at the age of 27, and was buried in his hometown. He had a son Edward born in 1653.
When Joane Mabell was born in 1655 in Devon, her father, Edward, was 25. She married Rev. Joseph Bragg on 5 February 1673 in Charmouth, Dorset. They had seven children in 14 years. She died on 8 June 1704 in Charmouth, Dorset, at the age of 49.
Elizabeth Mabel died in 1753
"Whereas by an Indenture of 26 th February 1673 made between Anthony Tutchen of Limehouse, Middlesex, Mariner and Richard Rose, Benjamin Bird, clerk of Wootton Fitzpaine, William Ellesden, Anthony, his son. Edward Mable, Yeoman
1663 Hearth Tax Edward Mabel`s house has 3 Hearths.

1657 Charmouth Parish Records show Edward Mabel Esq. sonne of Edward Mabel was buried
Peter Mabel was buried

1653 Edward Mabell, son of Edward Mabell baptsied. In 1663 Edward is paying Hearth Tax for 3 chimneys.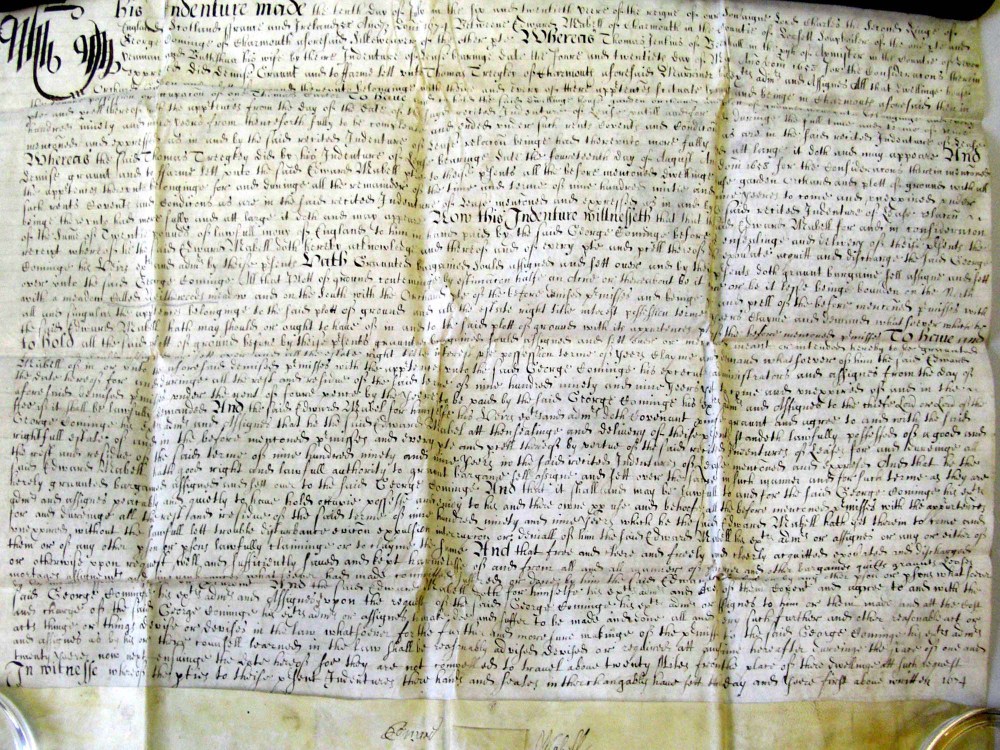 This Indenture made the 10th July 1674 between Edward Mabell of Charmouth, Soup Boiler and George Comninge of Charmouth, Silk Weaver, of the other part, whereas Thomas Jenkins of Beerhull in Axminster... his wife.. by an indenture 25th May 1658 let unto Turteyley of Charmouth, ..winder.. all that dwelling house ...
Mentioned: Thomas Jenkins of Beerhull, Axminster, Devon, yeoman & Buthshua his wife, Thomas Treegkey of Charmouth, mariner, Thomas Carter. Witnesses: Joseph Bragge, Simon Orchard, Robert Payne and Agnes Tanner.
to be translated in the future.
1788 Land Tax shows that Catherine Coombe, wife of William Coombe was occupying Hansfords and Mables. I would assume that her unmarried son, Brian and sister Mary Coffin alos lived with her.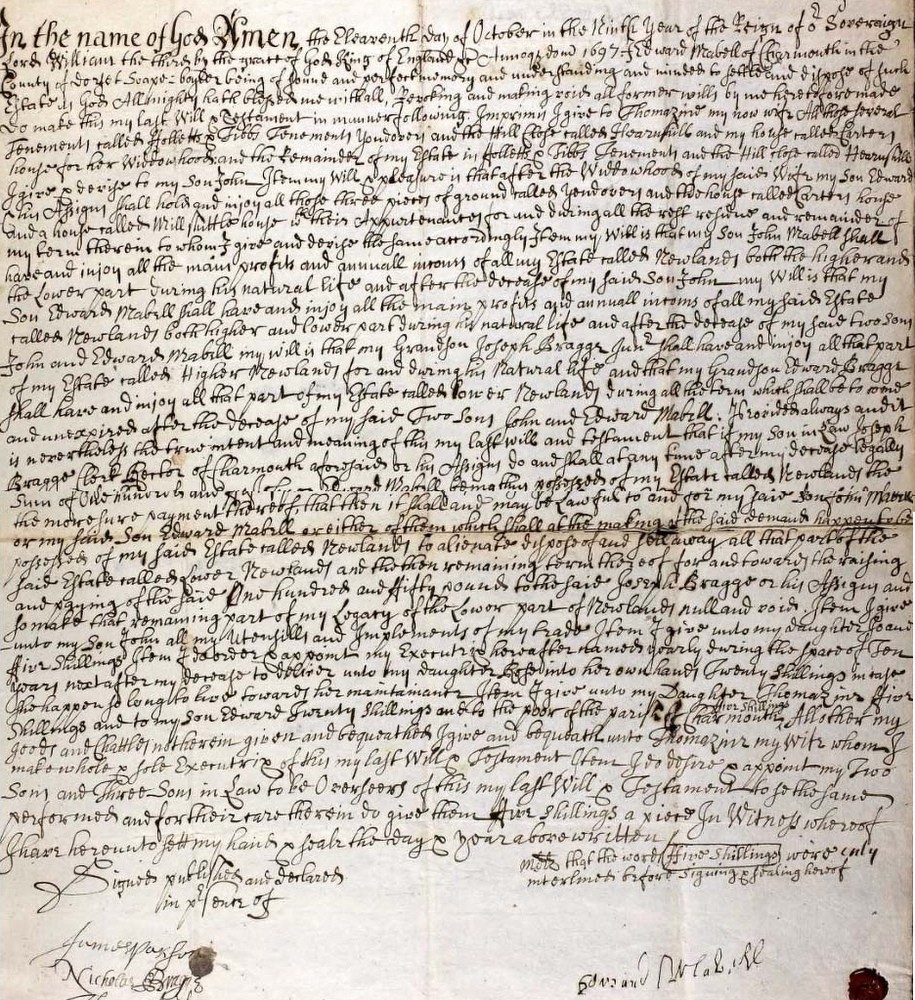 Edward Mabels Will of 1697.
I Edward Mabel of Charmouth give to Thomasine, my wife all those several Tenements called Follett's and Tibbs Tenements Yondover and the hill Close called Harnhill and my house called Carters House for her widowhood and the remainder of my estate in Follett's and Tibbs tenements and the hill Close called Hearnes Hill I give to my son, John. My son Edward shall hold and enjoy those three pieces of ground called Yondover and the house called Carters House and a house called Mill Shittle House and their appurtenances. My son shall shall enjoy all the profits of my estate called Newlands, both the Higher and lower part during his natural life. After the decease of my said two sons John and Edward Mabel, my will is that my grandson Joseph Bragge, Junior shall have and enjoy all Higher Newlands and my grandson Edward Bragge shall have lower Newlands. Son in law Joseph Bragge, Rector of Charmouth.shall receive £150 by virtue of a mortgage on newlands. Carters House must be refer to Thomas Cater who appars on the Protestation List for the village in 1641.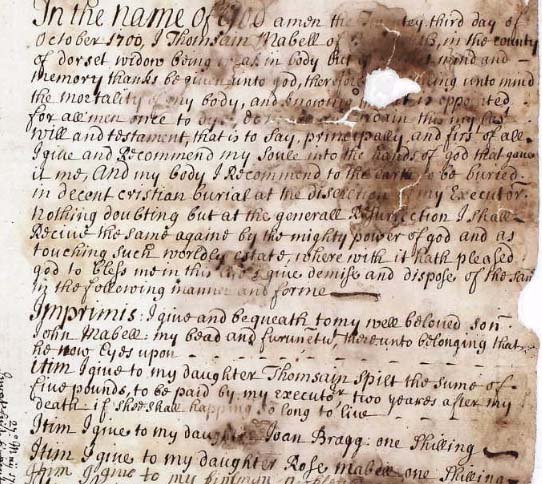 Thomasin, wife of Edward Mabells Will of 1700